Fatboy Mini BMX Bik
e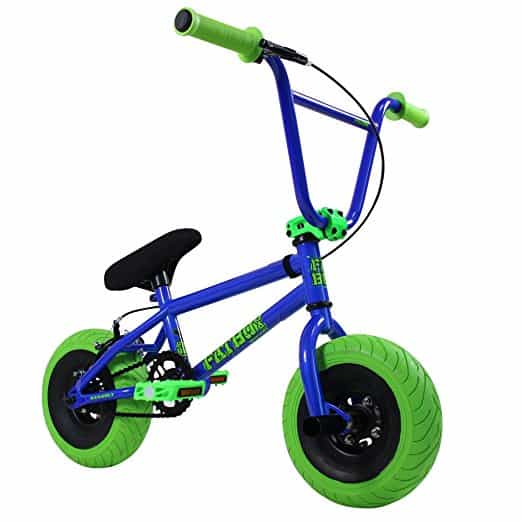 Fatboy Mini BMX Bik
e 
If you are looking for a super fun mini bmx bike to cruise the streets or skate parks on, look no further than the Fatboy mini bmx bikes. Not only are these bikes good for cruising around your neighborhood, you can also tear up the skate parks with these mini bmx! Fatboy mini bmx bikes performs great on dirt, asphalt or just about anywhere else that you want to ride. There are a number of different color schemes ranging from black & red to Rasta. The Fatboy can also be upgraded with a number of components including Aerospoke rims, 3 piece cranks, aluminum front forks and much more. And don't be fooled by its size, the Fatboy can be ridden by both kids and adults. So what are you waiting for? Grab your very own Fatboy bike today and start shredding the neighborhood!
What does the Fatboy Mini BMX cost?
There are 2 different Fatboy mini bmx models available – the Pro and the Stunt. From there, the individual models are named after their color scheme.
The Pro series include the Black Hawk, Hawker, Jet Fighter, Tiger Shark, Toma Hawk, Viper, Warhead and Wulf A4.
The Stunt series include the Atomic (shown above), Hellcat, Nuclear, Smoke Bomb, Spitfire and Thunderbolt.
The 2017 Pro mini bmx models are going to run you somewhere between $280 and $290. However, depending on the color scheme that you are looking for and the amount of upgraded components, the price tag could be a little bit more or less. Check out all of the Pro series models now. If this mini bmx is outside of your budget, you should take a closer look at the Stunt model (minus the Pro upgrades).
The 2017 Stunt mini bmx models are going to be priced around $250 or $260. The Stunt Mini comes with a 1-piece crank and 6 ply tires whereas the Pro series includes an upgraded 3-piece crank and 6 ply tires. Check out the Stunt series models now!
You might even be able to find one of last year's models for as low as $230. These kind of deals are pretty rare but can be found online from time to time.
In terms of finding the best price, we've found the most competitive pricing to be on Amazon.
Fatboy Mini BMX Bik
e Specs
The Fatboy frame is constructed with a Hi Ten Steel Tig Weld.
The handlebars measure 26 inches wide by 11 inches in height with trick BMX grips. (Pro black handlebars are available as an upgrade)
The Fatboy crank is typically 1-piece with BMX trick pedals. (3 piece cranks are available as an upgrade)
The tires measure 10.5 inches with a steel ball bearing wheel and front pegs.
Fatboy Mini BMX Bike Reviews
"I'm really impressed with the overall quality and design of the Fatboy mini BMX. Super easy to put together and I love the color scheme!"

"This is the best mini bmx ever! I can do so many tricks on this bike!"

"Very well built BMX bike. Lots of fun on ramps or even just the road."

"Very versatile and maneuverable for a mini bmx bike."

"Very easy to ride, even as an adult. My kids and I love these mini BMX bikes!"
Fatboy Mini BMX Videos
Check out the Fatboy Mini BMX bike in action!
Venice Beach Skatepark on a Fatboy Mini BMX!
Here's another video from the Fatboy blog featuring Peyton Wessells shredding the Venice Beach Skatepark on his Rasta Mini BMX.
Be sure to check out some of these other great action sports toys brought to you by Wild Child Sports!
(Visited 9,064 times, 1 visits today)