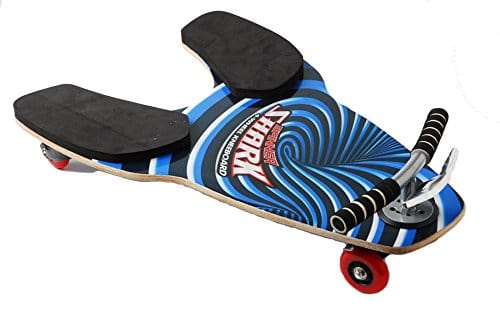 The Fuzion SpinnerShark 4 Wheeled Kneeboard combines element of a sled and a skateboard then mix these elements with the versatility of caster wheels and you've got one exciting ride.
Fuzion SpinnerShark presents maximum maneuverability with controlled steering braking mechanism to make360° fishtail spinning easy and have added stability.
Fuzion 360° Caster Knee Board is designed to perform ground-shredding and tail-whipping in a playground and neighborhood sidewalk with its rear caster wheels. Powered by pumping action on quality 7-ply wood deck provides low gravity stable cruising fun. Smooth drifting and spinning of Fuzion SpinnerShark is also controlled with responsive steering hand brake along with dual wheel braking system.
7-Ply Skateboard Quality Wood Deck
360 Degree Caster Trucks For drifting and spinning action!
Fuzion Cast PU Wheels
180 Degree Super Responsive Steering
Front Handbrake Lever and Dual Wheel-Braking
Here's a cool little video that shows you all the fun you can have with the Fuzion SpinnerShark, check it out!
List Price: $ 74.99
Price:

(Visited 440 times, 1 visits today)