Check out the new Hoverseat, the ultimate addition to your hoverboard.  It's a quick simple install and you can be riding is style everywhere you to.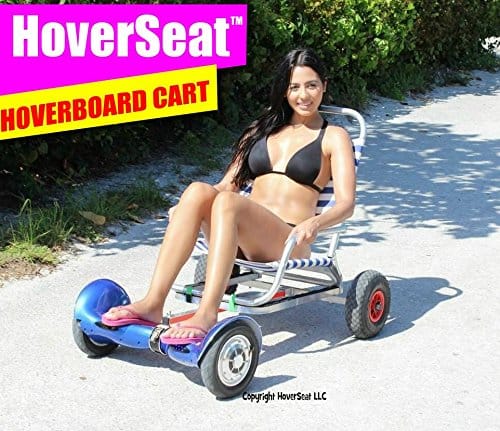 We created patent pending HoverSeat to solve the problems typically associated with hoverboards and we have created a new, fun mode of transport that virtually anyone can drive. As well as being easy for any age to steer and operate, the HoverSeat is comfortable, versatile and has many practical uses.
List Price: $ 89.00
Price: $ 99.00

Benefits of HoverSeat:
HoverCooler Sit-On Attachment For Hoverboard. Ride cooler in style!Simple to set up: The hoverboard cart is a light aluminum frame which fits easily in the trunk of the car. When you want to use it, simply attach it to the bar in the center of your hoverboard with the specially adapted clamp – and then choose what you would like to go on top of your unique mini-vehicle.
Comfortable: Attach your favorite beach chair to the platform, relax, and drive! Any box or seat that can stand on a flat surface and is strong enough to support your weight can be installed on the hoverboard cart. Attach a cooler box and ride it to the beach!
Easy to drive: Navigate the hoverboard using only your feet; it can even reverse. The hoverboard cart can be used on or off-road, and can ride over grass, gravel, and packed sand.
Practical: The hoverboard cart is ideal for a cooler box that is strong enough to sit on. Use the hoverboard cart to tow a wheeled cart and then transport bags, boxes, groceries, or a paddle board, or use it to transport heavy or awkward tools. The hoverboard cart is strong enough to pull a kayak down to the beach.
Safer than a hoverboard: No more falling off when the hoverboard hits a crack or bump in the pavement – and sitting on a hoverseat is far safer than standing.
List Price: $ 89.00
Price: $ 99.00

Check out the Hoverseat in action.
Here's what others are saying about the Hoverseat
"My family and I took a trip to the beach and we used this to lug our stuff around, in a more comfortable way. Cold drinks, foldable chairs, boogie boards. We brought the whole nine yards, and this attachment helped us out. Very helpful accessory product."

"I know my nephew has one of those hoverboards, so I got it as a gift for him. I think I'll have the coolest gift of the party.
Glad to be the cool Uncle. Shipped well, with good packaging. Seems like a cool product."

"My kids just love sitting on their hoverboards with this hoverseat chair attachment. Every day they pull it out of the garage and have races down the street. Glad it's safe and reliable. I even snuck a ride on it myself when they were getting ready for bed. So much fun!"
(Visited 314 times, 1 visits today)