Kids Electric Quad – Rosso Motors Kids ATV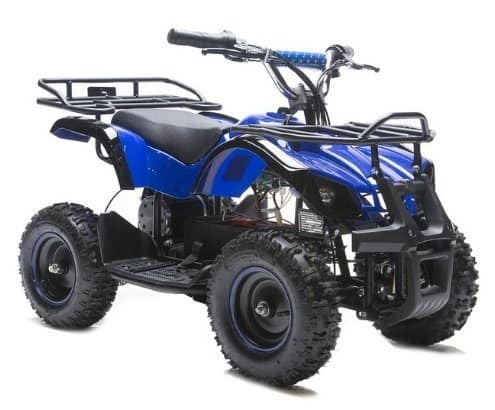 Kids Electric Quad by Rosso Motors
This kids electric quad by Rosso Motors is a super reliable, well build electric quad at a reasonable price. This kids quad is a great entry level ATV to get your child familiar with operating something motorized with a twist grip throttle. They will be able to focus on throttling and steering without having to worry about balancing as you would on any 2-wheeled electric or gas powered dirt bike. There are a lot of great safety features with the eQuad that you just don't find with a lot of other kids ATVs currently on the market.
Who is this Kids Electric Quad designed for?
This electric quad is designed for kids ages 3 to 8. Adult supervision is always required when operating this ATV.
What is the top speed of the Rosso Motors eQuad?
This kids electric quad has a top speed of 12 mph with 2 hours worth of drive time on a full charge!
How much does the Rosso Motors Electric Quad cost?
This kids electric powered ATV is going to run you just under 550 bucks. Get your Rosso Motors Kids ATV Today!
Top Features of the Kids ATV by Rosso Motors
Rosso Motors Kids eQuad
 Specs
800 watt electric motor
36 volt battery with a 4-6 hour charge time
All terrain rubber tires
Full disc braking
3 speed governor
Off road suspension
Dual LED headlights


Check out the Rosso Motors Kids eQuad in Action!

So what are you waiting for? Get your electric powered eQuad by Rosso Motors TODAY!
Be sure to check out some of the other great actions sports toys brought to you by Wild Child Sports!
(Visited 663 times, 1 visits today)