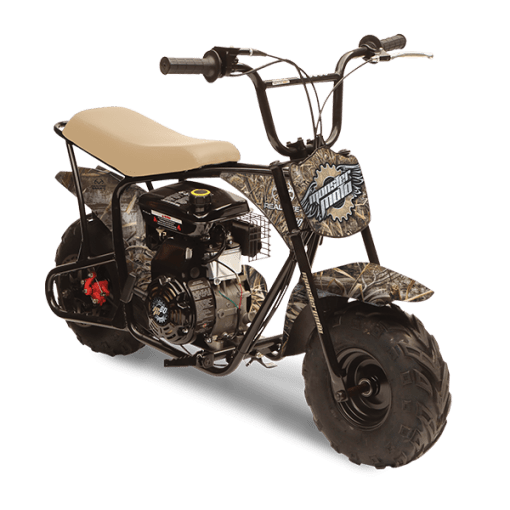 Monster Moto Mini Bike
Monster Moto is changing the game when it comes to mini bikes. They've taken what we already love about the classic mini bike and added some fresh new features. The end result is a fun, yet safe riding experience for all younger riders. The Monster Moto mini bike is available in 4 different models. These models are the Classic, Realtree, American Flag and the Muddy Girl. A 79.5cc OHV engine powers these all terrain mini bikes, while the centrifugal clutch ensures easy operation. Just twist the throttle and go. The sturdy frame is ready for young riders of all ages and abilities. The rear disc brake makes sure your new rider is able to stop quickly and safely. The Monster Moto Mini Bike comes pre-assembled. Just gas it up and go!
Bottom line, if you are looking for a very well built and affordable mini bike, look no further than the Monster Moto Mini Bike.
Monster Moto Mini Bike Spec:
Engine Displacement: 79.5cc OHV, Rated Power: 2.5 hp, Starter Type: Pull, Transmission Type: Automatic
Brake Type: Disc Brake, Wheel Size: 14.5 x 7-6, Seat Height: 24″, Wheel Base: 36.5″
Top Speed: 23 MPH, Max Rec Rider Weight: 150 lbs
Heavy Duty Overhead-Valve (OHV) Engine, Adjustable Handlebars, Super Grip Tires
Rear Disc Brake, Rugged, Reinforced Frame, Tough, No-Dent Polypropylene Fenders, Large Comfortable Seat
Check out all of the Monster Moto Mini Bike models below!
Monster Moto Classic Mini Bike
If the clean, classic look if what you are looking for, then look no further than this mini bike.

Monster Moto Realtree Mini Bike
If camouflage is what you are looking for while cruising in the great outdoors, the Realtree mini bike is for you!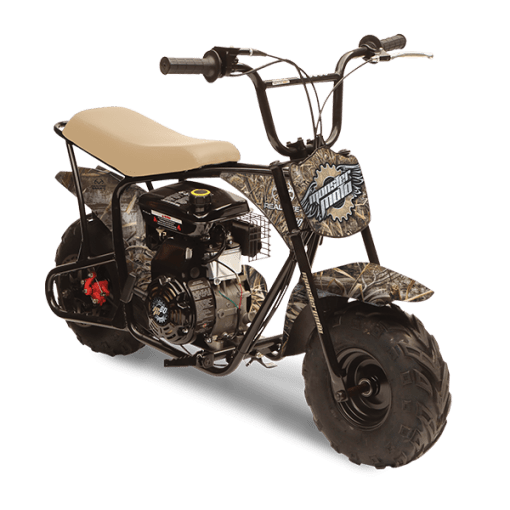 Monster Moto American Flag Mini Bike
The American Flag mini bike is the ultimate all American mini bike!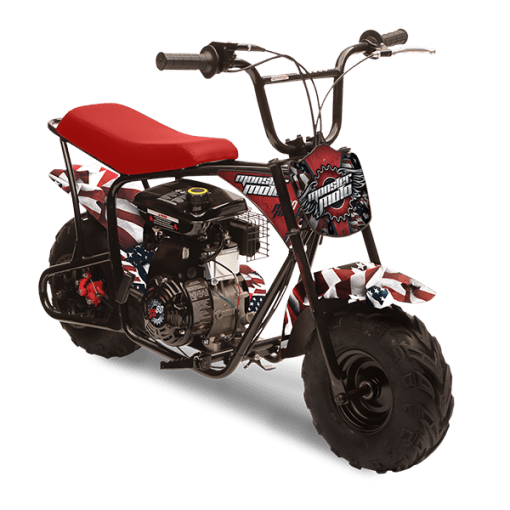 Monster Moto Muddy Girl Mini Bike
Who says that boys should be having all of the fun?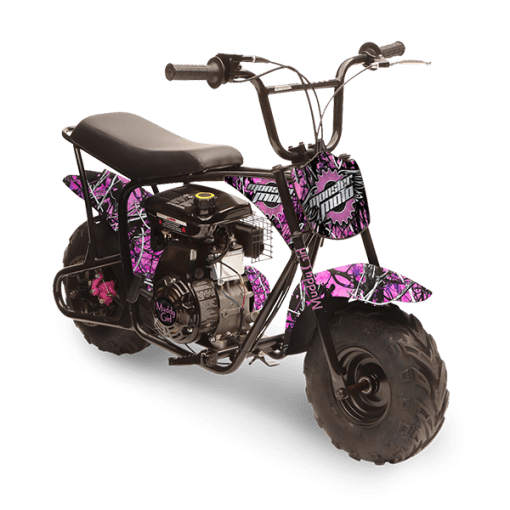 Check out the reviews of the Monster Moto Mini Bike:
"This mini bike is just perfect! its really strong and the engine is great! I would recommend this to everyone! You will have a blast on it!"

"So Much Fun The Kids Love It !!!!!!!!!"

"This unit is a great successor to the mini-bikes of yesterday. Good quality frame with substantial welds looks like it should last a long time."

"This is the great bike & would recommend this for kids."

"Great minibike for my 10 year old. Seems to be reliable and a great time for him to ride. For a small 79 cc engine, it moves! American made…."

"I am a long time Harley Davidson owner and appreciate the rugged yet simple qualities of this well made mini bike."
Check out the Monster Moto Mini Bike in action!
Be sure to check out some of the other great Monster Moto products and actions sports toys available through Wild Child Sports!
(Visited 3,935 times, 1 visits today)