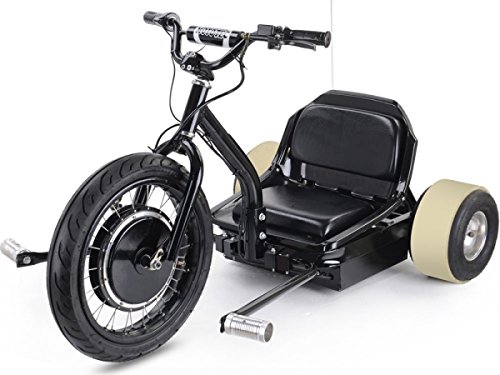 Drifting on a trike used to be a downhill sport, but with the emergence of motorized drift trikes you can drift almost anywhere. The new MotoTec Motorized Drifter Trike delivers high power and speeds for the ultimate electric drift trike ride. Having a front powered wheel allows the rider to hold precise drifts versus a rear powered model. The front wheel uses a 500w 48v hub motor with 4 large 12v 12ah batteries and reaches speeds of 22 mph.  This powerful motor can haul around some of the heartiest extreme sports enthusiasts hauling weights up to 240 pounds.   It includes long comfortable foot rests, front hydraulic disk brake, adjustable handle bars, a seat that folds down and easily changeable plastic disks around the rear tires, making this sporty drift trike a sweet and fun ride.
Here's the MotoTec electric Drift Trike in action:
Top Features of the Mototec Electric Drift Trike
Rated Speed: 22 MPH (weight dependant), Range per charge: 20-25 Miles
Max Weight Capacity: 240 Lbs., Recommened Age: 13 and up
Brakes: Front Hydraulic Disk. Climbing Ability: 15 Degrees
Motor power: 500 Watt Brushless Hub Motor
Charger Included, Battery life: Over 300 charges
List Price: $ 629.00
Price: $ 629.00

Like this drift trike Check out some of the other top drift trikes featured by WildChildSports!
(Visited 147 times, 1 visits today)