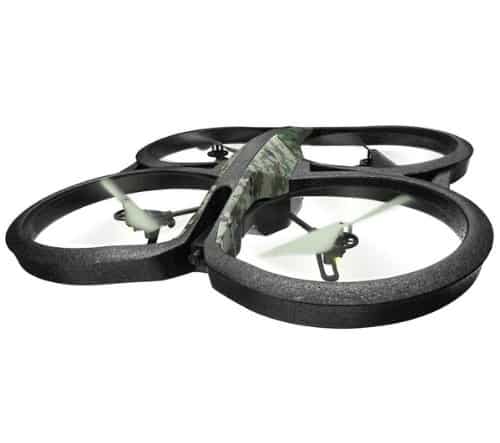 Easily controlled by Wi-Fi using a smartphone or tablet, the latest Parrot AR. Drone 2.0 Elite Edition collection offers enthusiasts a choice of three classic camouflaged styles: sand, snow or jungle. Inspired by desert, arctic and rain forest landscapes. Each individual product is supplied attractively packaged in its own specially designed printed carton with a distinctive indoor and outdoor hull, plus one pair of black propellers and another customized pair of propellers to compliment the color scheme. The exclusive Elite Edition packaging includes one 1000mAh lithium polymer battery to provide up to twelve minutes of flying time, plus a convenient battery charger with international adapters. Featuring a high definition camera with a video recording facility, plus flight data sharing, a patented piloting mode, and an innovative pressure sensor for increased stability at any altitude, Parrot's amazing AR. Drone 2.0 Elite Edition quadricopter can even perform four axis flips on command.
Remote control quadricopter controlled using an iOS or Android smartphone or tablet
720p high-definition live video streaming & recording to smartphone or tablet while flying
Record & share videos & pictures straight from piloting app
List Price: $ 299.99
Price:

Check out the Parrot AR Drone Video
More about the Parrot AR Drone 2.0
Director Mode
The Director mode lets you program automatic movements so that you can shoot great videos just like a movie director. The new AR. Drone 2.0 firmware will eliminate most of the hiccups due to light wind conditions or sudden stop to deliver the smoothest video you'll ever shot with an AR. Drone 2.0. The settings menu lets you fine tune exposure, color saturation, and white balance or choose from an array of presets to quickly find the setting that will fit your needs. *In-app purchase on ar. freeflight
HD 720p Camera
The AR. Drone 2.0 is equipped with a high definition front camera that will let the pilot view exactly what the AR. Drone 2.0 sees, just as if they were in the pilot seat. Download the free AR. FreeFlight application (available on the App Store and Google play) and take control of the AR. Drone 2.0 in just seconds. The user-friendly control interface will appear over the video feedback streamed straight from the AR. Drone 2.0 with no latency, thanks to its self-generated Wi-Fi network. The automatic stabilization system of the AR. Drone 2.0 will ensure an image of high quality indoors, or outdoors even in light wind conditions. Whether using a smartphone or a tablet, the pilot will see a clean, crystal clear image straight from the sky.
Absolute Control Piloting Mode
A brand new and exclusive piloting mode, patented by Parrot for the AR. Drone 2.0. The Absolute Control piloting mode makes life much easier for beginners, by only using your device position as a point of reference. The result is simple, regardless of which direction the front of the AR. Drone 2. 0 is facing, you just have to tilt your smartphone in any direction to see the AR. Drone 2.0 fly towards it. A beginner can now become an expert pilot in a matter of minutes.
Record Directly on Your Device
AR. FreeFlight lets the pilot record video and pictures while flying the AR. Drone 2.0. Simply press the record button to start and end the recording, and use the dedicated photo/video section of the application to watch what you've shot immediately after you have landed. No cables, SD card or PC required. Everything has already been pre-programmed in your smartphone/tablet, so that can watch your performance instantly.
Record & Share on USB
For users wishing to shoot longer videos, without using their smartphone/tablet memory, a USB plug is located inside the AR. Drone 2.0 for easy USB recording. Shoot as much footage as you want, and share easily on YouTube or Picasa when finished, thanks to the embedded options of the application.
Higher & Faster
The Parrot AR Drone 2.0 offers unique stability, thanks to its embedded sensors and navigation system. Any movement not solicited by the pilot will be automatically corrected by the AR. Drone 2.0 to maintain a perfectly still position in the air, while you are not controlling it. Push it, fly it in windy conditions (up to 15 m/h), and it won't move an inch until you decide to make it move. Thanks to its new pressure sensors, the AR. Drone 2.0 will provide this automatic stability even further, by making sure it remains stable whatever the altitude
The Flip
(Visited 48 times, 1 visits today)