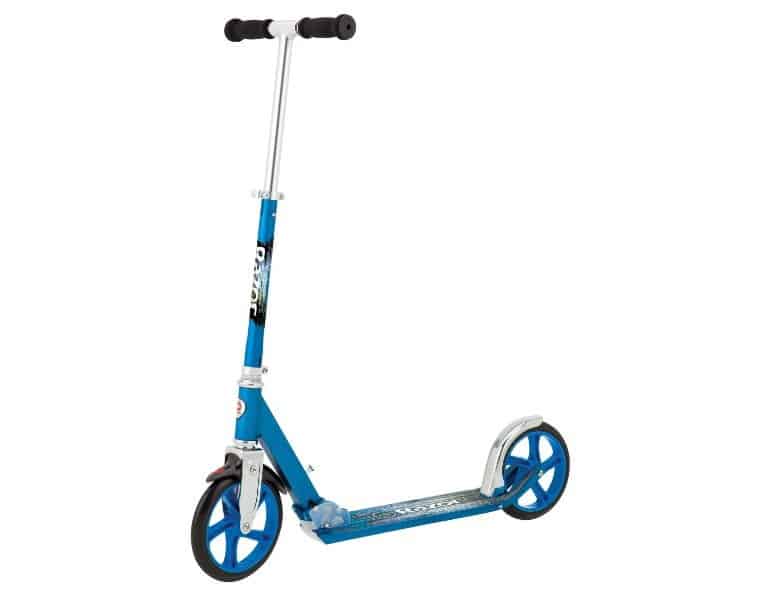 Razor A5 LUX Scooter: The legendary scooters that started it all! Shred the pavement, bust out big tricks, or just cruise around town in style. With innovative design, quality construction and cool features, these are the scooters that sparked a revolution. The popular kick scooter comes in a deluxe size and is built for taller riders. With extra-large urethane wheels and a cool profile, it's the smoothest ride around! The A5 LUX kick scooter is easy to fold and ready to go. No assembly required.
Introducing the Razor A5 Lux Adult Scooter
When we first hear about Scooters, then there are a lot of brand names which will pop up into our minds. But, when we go specific and talk about a scooter for adults. Then there are very few options available. One of the Most famous Scooters available in the market is Lux A5 for Adults with larger wheels. It has comparatively larger size than the normal kid's scooter. The alloy V- braking system ensures that you have a safe braking system when you require it. People are nowadays using this scooter to have ridden from home to work. It is good for the Health and is probably fun to ride.
Benefits of the Razor A5 Lux Scooter for Adults
The first added feature of Razor A5 Lux Scooter is that it has larger wheels base. Adjustable handle helps you to adjust the height as per your requirement. It should not be confused with that little scooter available in the market. According to Razor, it can carry up to 220 lbs of weight over its board. Its body is fully made up of Aluminium of aircraft grade which ensures the stronger built design.  Welding of the parts together looks very bold and strong. The aluminum used in this Product also ensures that is light and fast.
Features of A5 Lux
Among the features that came packed inside the Lux A5 Scooter includes the following:
It is made up of Aircraft-grade Aluminium t-tube, and the board easily supports riders up to 220 lbs
It has Rear Fender Brakes which are Patented
Patented Folding System
Adjustable Handlebars
Extra-large Urethane Wheels 200mm.
Easy to carry and Fold
Strong built design for large people
No assembly required
Greater performance on bumpy roads and rough pavement
Measures 35 by 41 by 21 inches (W x H x D)
The A5 Lux Pros and Cons
The Adjustable handle and the braking system in this Scooter are two main features of this scooter. Moreover, the Larger wheels also ensure that you enjoy more ride with less paddling.  The overall built design is light but strong. However, the handlebars are a bit spongy, so they don't give you much confidence while holding them. The folding mechanism of the scooter is very easy, and they can be carried over satisfactorily. The tiny little stand for this scooter is also quite useful to display it's brushed aluminum chassis.
So what's this scooter for adults going to cost me?
List Price: $ 109.99
Price: $ 69.00

The Razor A5 Lux Scooter comes ready to go, just check out this unboxing video.  
It takes about a minute to pull it out and it's ready to ride.
Need a second opinion about Razor A5 Lux Scooter?
Hear what others have to say about it.
I have so many push scooters I bought from Amazon. My all time favorite was the Goped because of the high weight capacity, and its soft comfy tires.

I bought my A5 Lux in early December, 2008. Even in Denver in the winter months, there are many days suitable for scooting, and I've put about 100 miles on my A5 since then.

Bottom line: I like my A5 very much, I'm glad I bought it, and I would make the same choice again. I would choose it over a Xootr or a Know-Ped. (Amazon sells both of these, too. I encourage you to check them out.

Excellent scooter. Doesn't rattle too hard, the fold up lever works excellent.
When folded it does swing around a bit but that seems unavoidable.

Got this for our 6 year old. He loves it. (And I kinda love it too.)

Really like it. don't need to walk for a long distance for long time. it would be better if has other color for options.

Best scooters for adults around 180 lbs. Big wheels make for safer city sidewalk and street travel. Will buy again. Only complaint is the foam rubber handles soften and stretch then tear easily

I have this for more than a year. I also bought a much more expensive scooter from other brand. Found myself riding the A5 more often as it is lighter, faster, easy to fold and feels more agile. Don't think that the relatively lower pricing as compared to others means that its inferior to those pricey ones. The A5 structure is light but solid and rides better than most.
Never get an expensive, "over-engineered", heavy and bulky scooter, you won't use it too often. Stick to the basics that scootering gives the mobility, convenience and fun.
Frequently Asked Questions about the Razor Lux A5 Scooter for Adults
Here are the top three questions most people ask.

There are a lot of questions which are asked by the customers all around the world. Some of them are:

What age of adults does Razor's Lux A5 support?

The recommended age must be above 10.  The larger wheels will make it difficult for the rider to have a comfortable ride.

How can I get this Scooter?

You can order this scooter from the various e-commerce website like Amazon. Or From the Razor's own website.

The strong and light built ensures a safe and durable life as it is made up of aircraft grade aluminum.
(Visited 253 times, 1 visits today)