Razor E200 Electric Scooter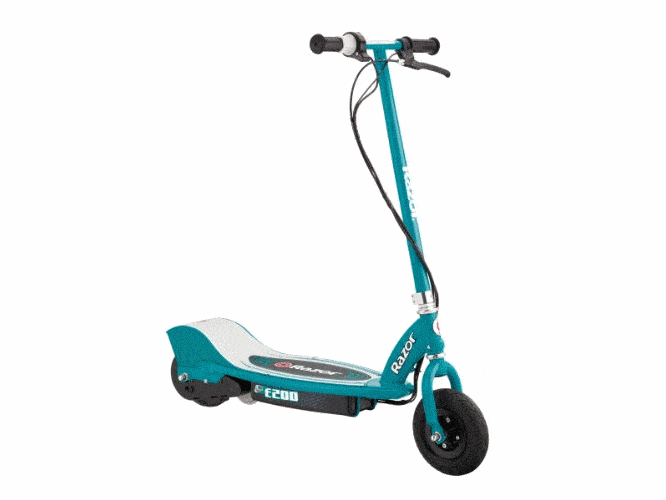 E200 Electric Scooter by Razor
Get around with power and style on this cool electric scooter by Razor. The Razor E200 Electric Scooter includes everything that parents and teens have loved in the past with new styling. Boasting a high-torque, ultra-quiet single speed chain-driven motor, and a handy twist-grip throttle, the E200 is the perfect device for pre-teens and teens wanting to zip over to a friend's house or head to the park. The thrill of power meets the latest technology and high-quality materials that Razor is known for – in the form of electric scooters. With a full size deck and frame, the E200 electric scooter is designed for ages 13 and up and travels at speeds up to 12 miles per hour. The child-friendly electric power engages a super quiet chain driven motor – applauded by neighbors everywhere.
How much does the Razor E200 Electric Scooter cost?
List Price: $ 229.99
Best Price: $ 179.99
Razor E200 Electric Scooter Features
Boasting a high-torque, ultra-quiet chain-driven motor, and a handy twist-grip throttle
High-performance motor with speeds up to 12mph
Powered by a long lasting rechargeable 24V Seal battery system
Features a hand operated rear brake, spring loaded kickstand, and large 8-inch pneumatic tires for a smooth ride
Scooter includes with a UL Approved battery charger, and all the tools needed for its light assembly
Initial charge time: 12 hours. Charge the battery prior to use.
Recharge time: Up to 12 hours, even if the light turns green. Recommended maximum charging time is 24 hours.
Run time: Up to 40 minutes of continuous ride time. Run time may vary depending on riding conditions, climate and/or proper maintenance.
Check out the Razor E200 Electric Scooter in Action
Razor E200 Electric Scooter Reviews
I will tell you that I think my 11 year old hates it. Because I STEAL it from her, lol. No really, great battery life and handles very well.
---
This thing fly's. I weigh 240 pounds and after my kid road it I had to try it. It is very sturdy, well made, looks nice, and can handle someone as big as me!
I'm glad I ordered this model. A little bigger and faster than the 100 series. Though my son is only 9, I'm hoping that this lasts long enough for him to use it as he gets a bit older. It's a huge hit!
---
this thing is awesome. Its very stable and not wobbly at all. The controls are easy to use and it gets up to speed quickly. great tires and breaks as well.
---
It is the best choice of an electric scooter for kids 10-13 years old. It goes about 10-12 mph. First charge requiems about 12 hours but then about 4 hours each (hold battery life up to 1:20 hours.

AWESOME SCOOTER BUY IT!!!!!!!!!!!!!!!!!!!!!!!!!!!
---

If you liked this Razor kids electric scooter, be sure to check out some of these other great action sports toys brought to you by Wild Child Sports!
(Visited 164 times, 1 visits today)