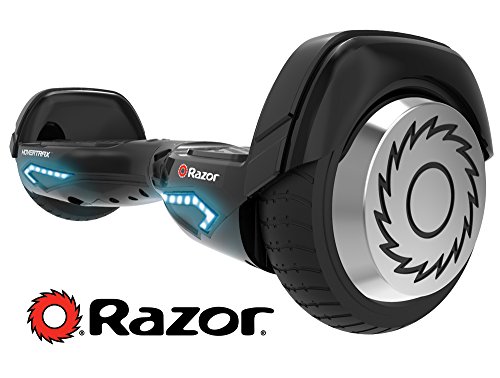 Step on the deck and go with Razor Hovertrax 2.0, the world's smartest self-balancing electric scooter. It's the ultimate ride. Intelligently-engineered with EverBalance technology and machined with precision Razor craftsmanship, Hovertrax 2.0 is the only board that auto-levels for a safer, easier mount and a smoother ride. Whether you're coasting, racing, or commuting, Hovertrax 2.0 is always in balance. Indoors or out, Hovertrax 2.0 does the work so you can enjoy the journey. Hovertrax 2.0 has technology so advances, it's simple.  Once you learn how to ride, it becomes second nature.  Many of the new Razor Hovertrax 2.0 include; cool-blue LED light bar display, dual riding modes for training and normal use, a safe and easy quick change 36V lithium ion battery pack, rubber tires with aluminum hub wheels, LED indicator shows battery power and riding mode, shatter resistant polymer frame with fender bumper protection and anti-slip rubber platforms.
Razor Hovertrax 2.0 Key Features:
The world's smartest self-balancing electric scooter, made by Razor, the trusted global leader in electric recreational products
UL 2272 certified, ensuring that the patented Razor Hovertrax 2.0 meets the industry's highest electrical safety standards
Cruising speed of 8+ mph with silent 350-watt motors and a run-time of up to 60 minutes of continuous use for riders up to 220 lbs
Easy, quick-change 36V lithium ion battery pack made with authentic LG cells, so you can always extend your ride
Built with Razor's exclusive EverBalance technology, which automatically levels the Hovertrax 2.0 for an easier mount and extremely smooth ride
New features include cool-blue LED light bar display, fender bumpers, LED battery power indicator, and two riding modes for training & normal use
List Price: $ 459.99
Price: $ 298.00

Check out more popular products from Razor!
Check out the Razor Hovertrax in action:
Be sure to check out some of these other great action sports toys brought to you by Wild Child Sports!
(Visited 270 times, 1 visits today)