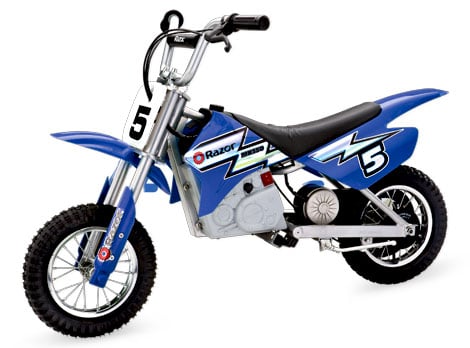 Razor MX350 Electric Dirt Bike
The Razor MX350 electric dirt bike is an awesome starter bike for your child. The MX350 features a rear adjustable suspension and front inverted authentic motocross suspension fork. It has a chain drive with an automatic adjuster.  The MX350 is very easy to assemble and all tools are included. If you're not sure which of the Razor electric dirt bikes is of best fit for you or your child, be sure to check out our article on choosing the right model. Get out in the dirt with the Razor MX350 electric dirt bike today!
How fast does a Razor MX350 go?
The Razor MX350 top speed is 13 mph and is designed to carry riders up to 140 lbs.
What does the Razor MX350 cost?
The MX350 is going to run you somewhere between 250 and 275 bucks. Amazon continues to be one of the best places to find the most competitive price on the MX350 and virtually all of the other Razor dirt bike models.
Specifications of the Razor MX350 Electric Dirt Bike
Next, let's check out the specs of the electric powered Razor dirt bike MX350.
Compact electric dirt bike with powerful yet quiet variable-speed, chain-driven electric motor
Super quiet, single speed, chain driven motor with a twist grip throttle control
24 volt sealed lead acid rechargeable battery system with a charge time of 12 hours
The max speed is 14 mph with up to 30 minutes of continuous use with a full charge
Authentic motocross-style spoke wheels with a large knobby tires
Shatter proof plastic fairings and fenders
Recommended for ages 13 and up
Reviews of the Razor MX350 Electric Dirt Bike
Finally, here's what people on Amazon are saying about the Razor MX350 dirt bike:
"It is a great bike for kids ages 5 -8 years old. Perfect for in town residence, super quiet."

"Easy to assemble – just attach the handle bars and works perfectly for my 8 year old."

"Excellent!! Purchased for my 6 year old son and he absolutely loves it! Perfect! Not too fast or slow for him."

"Perfect starter bike for a young kid trying to learn to ride."
Take a Ride on the Razor MX350
Check out the Razor dirt bike MX350 in action!

So what are you waiting for? Order your MX350 today!
Be sure to check out some of these other great action sports toys brought to you by Wild Child Sports!
(Visited 333 times, 1 visits today)