Razor Pocket Mod Electric Scooter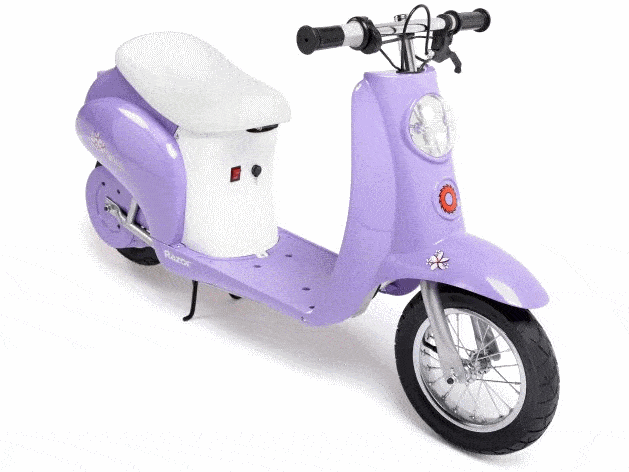 Pocket Mod Miniature Euro Electric Scooter by Razor
Cruise the side streets in style with this Euro-style electric scooter from Razor. Featuring a high-performance, chain-driven electric motor and a vintage-inspired body, the Razor Pocket Mod can reach speeds of up to 15 miles per hour–plenty fast enough for a quick trip to the corner store or a fun ride in the country. The scooter also teams a pair of 12-inch pneumatic tires with a rear suspension system to ensure a comfortable ride. Other features include a retractable kickstand, variable-speed accelerator and more.
How much does the Razor Pocket Mod Electric Scooter cost?
List Price: $ 289.99
Best Price: $ 258.65
Razor Pocket Mod Electric Scooter Features
Vintage-inspired scooter with chain-driven electric motor
Variable-speed engine reaches speeds of up to 15 miles per hour
12-inch pneumatic tires with rear suspension system
Built-in battery runs for up to 10 miles on single charge
Designed for ages 13 and up; max weight of 170 pounds; 90-day warranty
Check out the Razor Pocket Mod in Action
Razor Pocket Mod Electric Scooter Reviews
"When my 11-year old started begging for an electric scooter, we were very hesitant.  Seeing her ride it is incredible! It is VERY easy for any child that can balance and ride a bike. The handle brakes/gas takes a bit of getting used to, but after a few days she was a pro! Her papa rides a motorcycle, so he was dying to check it out. Weighing in about 180lbs, he was able to ride it as well! My daughter got a big kick out of that."
---
"The box says it's for ages 12 and over, but I think that's a bit silly. Our daughter is just 8 and is also the smallest kid in 3rd grade and the scooter is perfectly sized for her."
---
"I bought this for Christmas for my 10 yr old. He rides it every day. It goes quite fast and holds the charge for approx 45 minutes."
---
"This is super cool! It goes faster than expected but I jump on it with my daughter who is 6 and she drives me around! So much fun cruising the beach now!"
---

If you liked this Razor electric scooter, be sure to check out some of these other great action sports toys brought to you by Wild Child Sports!
(Visited 293 times, 2 visits today)