Check out the Swagtron T1 Hoverboard, a self-balancing scooter.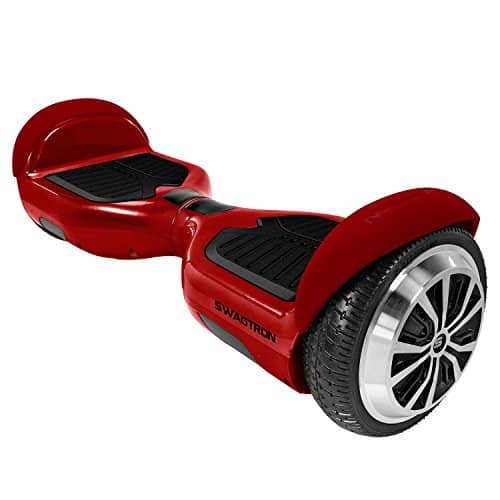 Time to Roll! Adventures Begin With Your Feet. SWAGTRON T1 is the highly popular, rideable, self-balancing electric scooter aka hoverboard. It deploys gyroscopic technology totally revolutionizing the way you travel on your hover scooter. Steering and stopping are controlled by Dynamic Equilibrium all based on the shifting of your body weight. You lean – It responds! It's super simple to operate, extra easy to control, and looks incredibly swag!
You'll confidently cruise on this mo
Swagtron T1 Highlights
Cruise with swag on your hoverboard boasting an 8 mph top speed and 11 mile range
This scooter can haul weights up to 220 lbs
UL 2272 certified – the SWAGTRON 2-wheel self-balancing scooter excelled in all electrical safety tests
This swag motorized scooter's new features include: LED headlights, battery indicators, rubber bumpers, and two riding modes
Patented SWAGTRON SentryShield smart battery management system provides multi layered hover skate-board protection
This balance scooter features an upgraded 250 Watt motor and gear stabilization for tighter control and downhill traction
Swagtron T1 Color Choices
List Price: $ 349.99 for the Swagtron T1 In Blue
Price: $ 299.00

Check out the Swagtron Instructional Video
Swagtron's Commitment To Safety
First On The Market To Be UL 2272 Certified
SwagTron is the only hoverboard brand to include the patent-pending, UL 2271 certified SentryShield battery pack and was first to market wth an overall UL2272 certification. With its flame-resistant frame, hard shell design strong enough to support up to 220lbs, Stop Safe Technology, and the new smart Battery Management System (BMS) you are free to adventure, safer.
The BMS system monitors and protects:
Be sure to check out some of the other rides brought to you by WildChildSports!
(Visited 92 times, 1 visits today)