70cc Dirt Bike – Coleman Powersports 70DX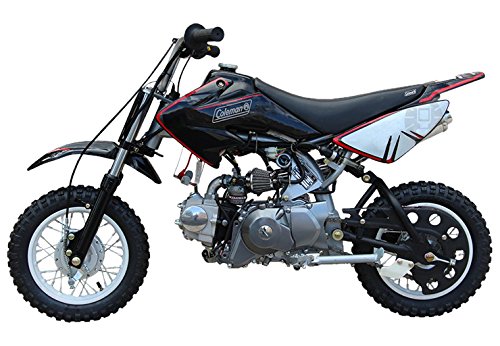 Coleman Powersports 70DX Dirt Bike
Here at Wild Child Sports, we pretty much love the entire lineup of Coleman Powersports products. Today, we want you to check out their 70cc dirt bike. The Coleman Powersports 70DX dirt bike is a great entry level gas powered dirt bike. Let's take a closer look at what this 70cc dirt bike has to offer.
Who is the Coleman Powersports 70DX Dirt Bike designed for?
This 70cc dirt bike has a maximum rider weight of 200 pounds. This makes the 70DX a great start bike for both teenagers and adults.
What's the top speed of the 70DX Dirt Bike?
This gas powered dirt bike has a top speed of 25 mph.
How much does the Coleman Powersports 70DX Dirt Bike cost?
This 70cc dirt bike is going to run you around $800.
Coleman Powersports 70DX Dirt Bike Specs & Features
72cc air -cooled, 4 stroke engine
CDI Ignition System
4 speed semi-manual transmission
Front dual hydraulic forks
Rear adjustable mono shock
Kick start
High strength steel frame


So what are you waiting for? Get your Coleman Powersports Gas Powered Dirt Bike Today!
Be sure to check out some of the other Coleman Powersports products and mini dirt bikes brought to you by Wild Child Sports!
(Visited 264 times, 1 visits today)