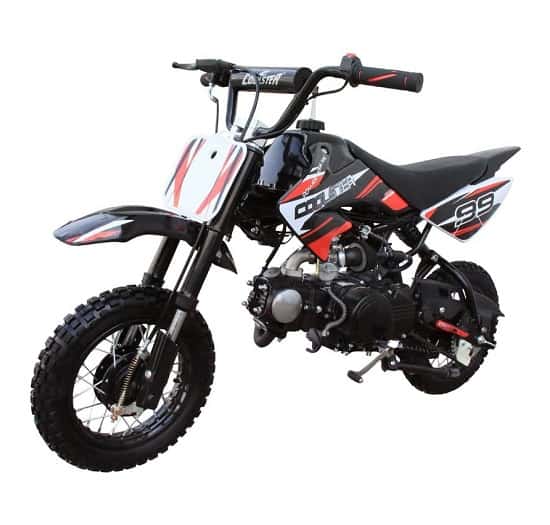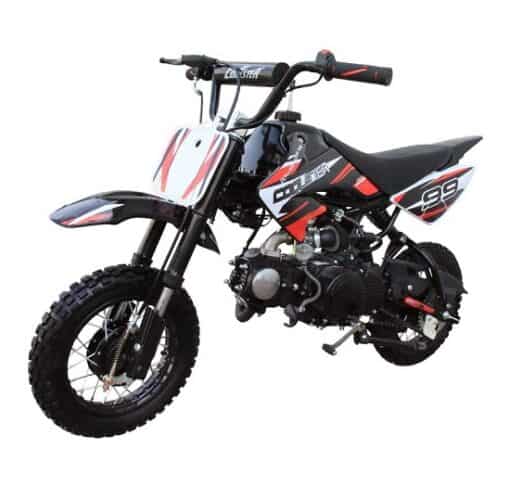 70cc Pit Bike by Coolster
If you're looking for a great entry level dirt bike that won't break the bank, you've got to check out the Coolster 70cc Pit Bike. This kids mini bike comes 90% assembled and replacement parts are pretty easy to come by. Bottom line, the Coolster pit bike is a well built and affordable bike that will deliver some serious outdoor fun! Let's take a closer look!
Who is the Coolster Pit Bike designed for?
This 70cc dirt bike has a recommended rider age of 7-13 with a maximum rider weight of 130 pounds. This makes the Coolster Pit Bike a great option for younger riders looking to get some ride time under their belt before moving on to bigger, faster dirt bikes.
How big is this kids mini dirt bike?
The Coolster 70cc weighs 88 pounds. Here are its other dimensions:
Length: 52.8 inches
Width: 24.8 inches
Height: 32.5 inches
Seat Height: 24.5 inches
Ground Clearance: 7.5 inches
Wheelbase: 36.4 inches
Fuel Capacity: ~ 1 gallon
What's the top speed of the Coolster Pit Bike?
The Coolster 70cc Pit Bike has a top speed of 30 mph. This mini dirt bike definitely packs some punch!
Where can you buy the Coolster Pit Bike?
Here is where you can find the current price of this pit bike:
Coolster 70cc Pit Bike Specs & Features
70cc, 5.44 horsepower, air cooled, 4-stroke engine

Semi automatic transmission (4 gears)
CDI ignition
 420 Chain with 14 tooth front and 37 tooth rear sprocket
Kick start w/ foot brake
12 volt 9 Ah battery
CRF50 replica forks w/ 8.5 inch rear mono shock
Front and rear 2.50-10 offroad tires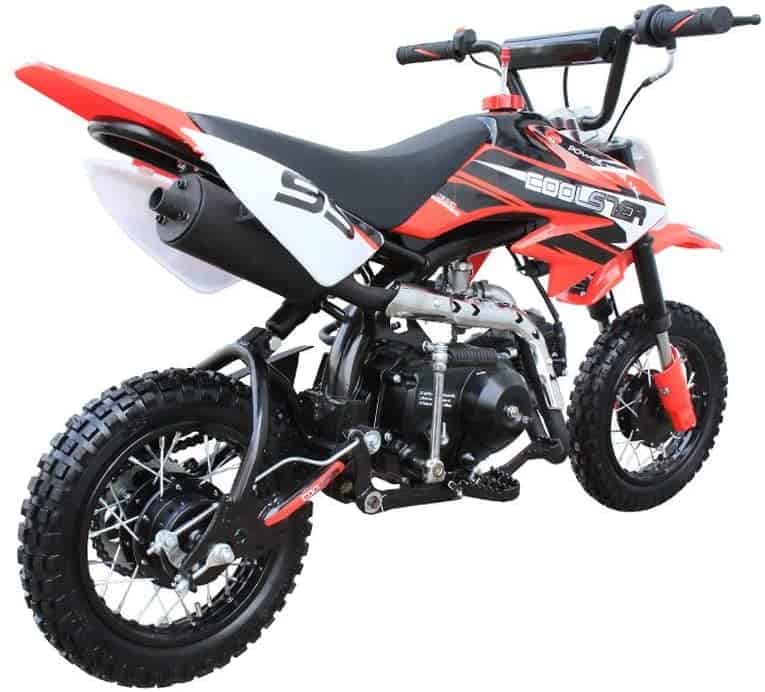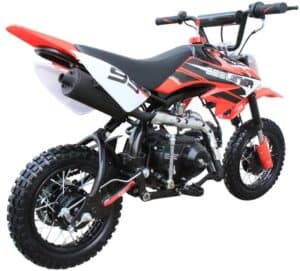 So what are you waiting for? Get your Coolster Pit Bike Today!
Be sure to check out some of the other mini dirt bikes brought to you by Wild Child Sports!
And remember to always educate your child on motorcycle safety and have them always wear the appropriate safety gear!
70cc Pit Bike – Coolster Gas Mini Bike