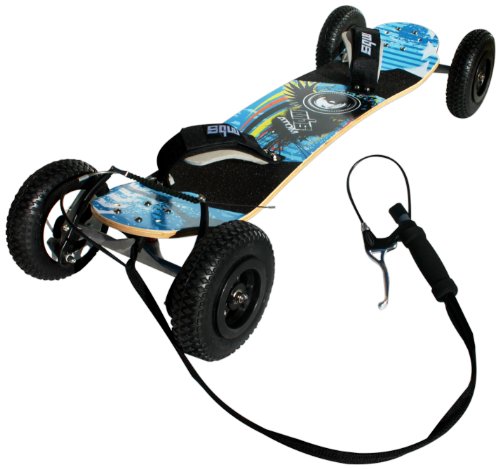 The MBS Atom 95X Mountainboard is the perfect board for entry-level action sports mountain riders wanting to experience all aspects of mountainboarding. Beefy deck, F1 bindings and a completely installed V brake system give this board everything it needs to perform while keeping some change in your pocket. If you're wanting to get into the sport of mountainboarding at dirt cheap prices without sacrificing quality, this is the board for you. One run and you're hooked.The Atom 90X is an ideal mountainboard for entry-level enthusiasts looking for a fun ride.
How much does the MBS Atom 95x cost?
Hey this is a great entry-level mountain board, but that said mountain boards aren't always cheap.  This one however is reasonable at about $200.
Here's the current Amazon Price: [wpramaprice asin="B002ZF6HZ0″]
Atom 95x Mountainboard Specs
15.5-pound overall weight
4.5-pound deck weight
41.4-inch overall length
34.4-inch axle-to-axle length
9.5-millimeter axle diameter
15.3-inch axle width
38.2-inch deck length
8.7-inch deck width
20-degree deck tip angle
0.375-inch by 50-millimeter chromoly king pin
9.5 by 22 millimeter bearing
Accepts 22-millimeter bearing
Other Cool Features of the Atom 95x
Maple laminate deck
PHT graphic material
46 grit aluminum oxide grip tape
ATS trucks made of die-cast aluminum hanger and base, and chromoly axle
Orange Bushing suspension
Tri-spoke hubs
Knobby eight-inch tires
F1 bindings
Grab handle compatible
Pre-installed V-brake system
Here's a video of the Atom 95x in action
Check out the detailed review of the Atom 95x Mountainboard


Be sure to check out some of the other great skateboards brought to you by Wild Child Sports!