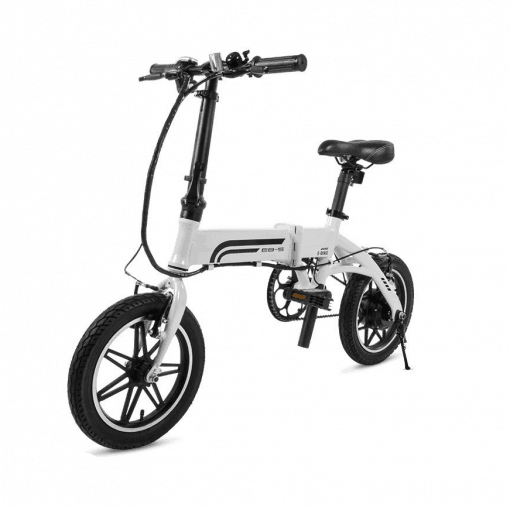 Best Ebike Under $500 – Swagtron Swagcycle EB-5
So your're in the market for an ebike but you've quickly realized that these things aren't cheap! Most electric bikes are going to run you well over a thousand bucks. Today, we want to showcase the best ebike under $500. After all, we want to make sure that you get the best bang for your buck.
The Swagtron Swagcycle EB-5 is a great entry level ebike that won't break the bank. Let's take a closer look at this Swagtron ebike!
Who is the Swagtron Swagcycle EB-5 designed for?
This ebike is designed for teens and adults with a maximum rider weight of 264 pounds.
How big is the Swagcycle EB-5?
This Ebike weighs 37 pounds. Here are its other dimensions:
Length: 49.2 inches
Width: 21.7 inches
Height: 34.9 inches
How fast does this Swagtron Ebike go?
The Swagtron Swagcycle EB-5  top speed is 15.5 mph with up to a 15.5 mile range!
How long does it take to charge this Ebike?
The Swagtron Swagcycle EB-5 has a charge time of 4-5 hours.
Where can you buy the Swagtron EB-5 E-Bike?
As we mentioned earlier, this is the best ebike under $500. Here is where you can find the current price of this Swagtron Ebike:
Swagtron Swagcycle EB-5 Specs & Features
Next, let's check out the rest of the specs of the high-performance ebike by Swagtron.
250-watt hub motor with a 36 volt battery
Lightweight aluminum frame that folds to easily fit in small spaces
Fold-able handlebars, frame and pedals for portability and storage
14 inch wheels with air filled tires
Battery indicator on handlebars
Adjustable seat and handlebars
Available colors: Black and White
Max climb: 25 degrees
One year limited warranty
Check out this Swagtron Ebike in ACTION!


So what are you waiting for? Get your Swagtron Ebike TODAY!
Thanks again for stopping by and checking out the best ebike under $500! Be sure that you check out some of the other great ebikes and actions sports toys brought to you by Wild Child Sports!