That need for speed bug hit some earlier in life than others. Many of us enjoy a good car ride and oftentimes even the youngest of kids wish they could be behind the wheel of their very own vehicle. Well, turns out, they can! Take your tot from learning to walk to learning to drive with this list of some of the best electric ride on toys for toddlers currently available on the market! It can be a lot to figure out which ride on toys are the best and, most importantly, age-appropriate for the next little Dale Earnhardt in your family so here's a few to get you started and free up some time for you to plan out that NASCAR career coming up!
Best Choice Products Kids Electric Ride On Truck
| | |
| --- | --- |
| Recommended Age: | 3+ Years |
| Battery: | 12V |
| Max Speed: | 3.7mph |
| Weight Capacity: | 128lbs |
| Battery Life: | 2 Hours |
This beast of a truck is an excellent ride on toy for your toddler. This electric truck can tackle all kinds of terrain indoor and out to fuel the budding adventurer in your child. Safety is a priority for this model including safety belts, locking doors, and a max speed of just under 4mph so nothing gets too out of hand. The truck also has several additional features including fully functioning LED headlights, a bluetooth enabled speaker, and five different colors to choose from making this a great gift choice for any kid!
Kidzone Electric Ride On Bumper Car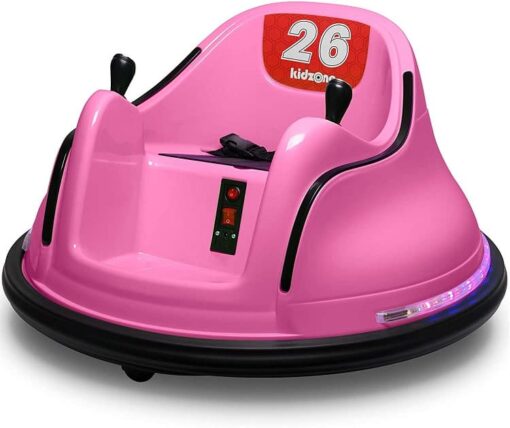 | | |
| --- | --- |
| Recommended Age: | 18 Months+ |
| Battery: | 6V |
| Max Speed: | .75mph |
| Weight Capacity: | 66lbs |
| Battery Life: | 1-2 Hours |
Made for a slightly younger audience than our last pick, this electric ride on bumper car is an excellent choice for one or multiple kids to race, bump, or just generally explore. Built for smaller children, the bumper car features a safety belt and a max speed of under 1mph has made this a priority safety pick for many parents with over 10,000 positive reviews on Amazon. 12 different colors, LED lights, and included race stickers 00-99 all make this 360 degree spinner an excellent choice!
Radio Flyer Grow With Me Racer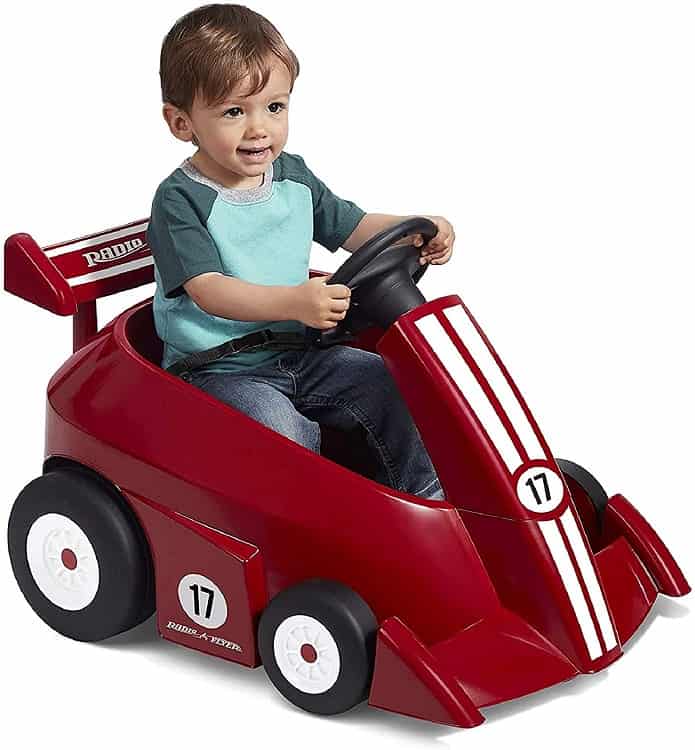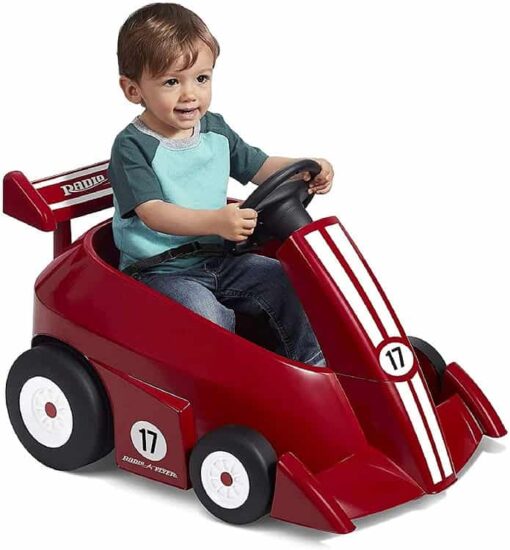 | | |
| --- | --- |
| Recommended Age: | 18 Months+ |
| Battery: | 6V |
| Max Speed: | 2mph |
| Weight Capacity: | 42lbs |
| Battery Life: | 1-2 Hours |
The Radio Flyer 'Grow with Me' Racer is a toy that is meant to grow and adapt with your child. It has multiple modes including adult remote-driven, adult corrective driving, and child driving allowing for greater freedom and control as your kid gets older. This makes it a perfect ride on electric toy for toddlers who are always learning and changing every day. The greater selection of Radio Flyer electric vehicles for children includes an even wider range suited to your individual needs ranging from simple ride-on starter toys for under $100 to more souped-up electric trucks for kids that can get in the the multiple hundreds of dollars but pack a lot more power. The choice is yours!
Benz Large Ride On Classic Car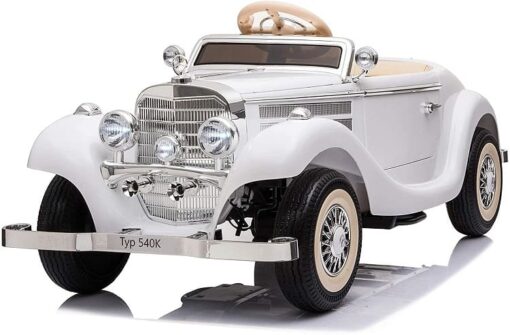 | | |
| --- | --- |
| Recommended Age: | 3 Years+ |
| Battery: | 12V 14Ah |
| Max Speed: | 4.3mph |
| Weight Capacity: | 220lbs |
| Battery Life: | 4 Hours |
Now if you really want to be the classiest kid in the neighborhood, this is the ride for you. With a powerful battery meant to last and the durability to put it to the test, this classic looking car will definitely turn heads when rolling down the sidewalk. It also comes with a secondary raised seat in the back and a load capacity of 220lbs making this a perfect choice for siblings, friends, or even a parent who feels like riding shotgun.
While there are a lot of electric ride on toys for toddlers on the market, hopefully this list will give you a good jumping off point to get started. While there are a lot of things to consider, electric ride on toys can be a safe and fun way for young children to feel more independent as well as develop motor skills and start developing an active lifestyle that only becomes more important over time. Check out some of our other great articles on great products for kids and adults alike below!
Best Electric Dirt Bikes for Kids Under 8 
Best Electric Scooter for 300lbs Man
Electric Quad for Kids – SYX Moto Bruiser
Best Electric Go Karts for Kids Under 8
Kids Electric Quad SSR ABT-E350