Looking for the Best Electric Skateboards? Here are the Top 5!
Electric skateboards are so popular among children, teens and adults because they are fun and fast. They provide a unique way to travel while enjoying the view and staying in style. But finding the best electric skateboards is not an easy task since you want to buy something that is going to get you the best bang for your buck. You also want something that is safe to ride. There are a lot of cheap electric skateboards out there that cut corners with cheap batteries and sub par construction. So remember these word: "you get what you pay for." So we decided to prepare this review of our top 5 electric skateboards to help you when purchasing your our board.
1. Boosted Dual+ 2000W
Best Price: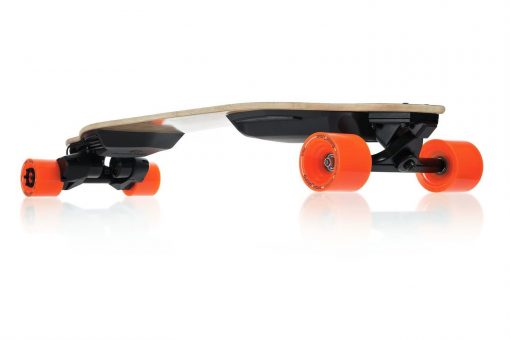 This is one of the best electric skateboards available on the market as reviewed by online buyers. It is made of sturdy metal and this means that it will live longer than other boards made from cheap plastic. Boosted Dual+ 2000W weighs about 15 pounds and has a top speed of 22 MPH.
Pros:
An excellent ride experience.
Powerful and fun to ride.
Easy to learn with different skill levels and speeds for all skaters of various levels of experience.
Reversible drive and a quick charge time.
High quality and sturdy.
2000 watts of power means that you are having a revolutionary skateboarding experience.
100 % bamboo long board with true flexibility.
Cons:
It is a little bit heavy.
The motor can get easily damaged in rain.
2. Yuneec E-GO Cruiser
Best Price: $ 799.00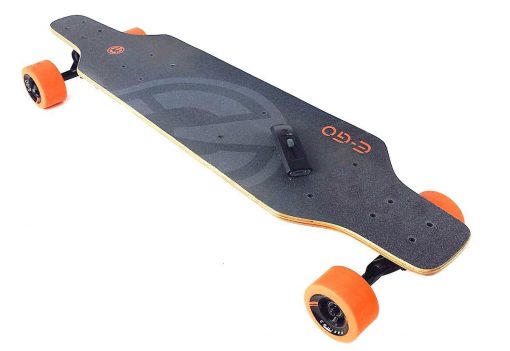 The wireless handheld remote controller of this electric skateboard makes it a customers' favorite. The Yuneec E-GO Cruiser can go for 18 miles per charge and can climb up to 10 degrees. It weighs almost 14 lbs.
Pros:
The lightweight and the streamline design integrates the electric system.
Super fun and the acceleration is exceptional.
It is weather proof but not waterproof.
Cons:
The top speed is rather slow at 12-13 MPH.
This electric skateboard has brakes on only one wheel.
It is an attention getter due to its design. If you want something that is less discrete you might want to consider another option.
3. Atom Electric B.36 Longboard Skateboard
Best Price: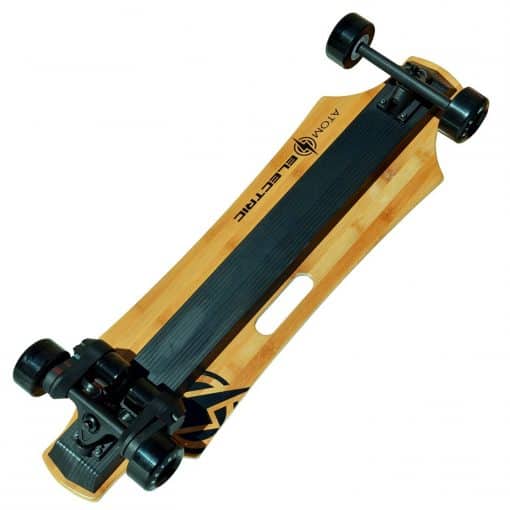 This is another one of the best electric skateboards currently on the market! Read our more in depth review of Atom Electric B.36 Longboard Skateboard.
Pros:
Solid and sturdy design that will last for long.
Good top speed that will allow you to enjoy the full skateboarding experience.
Well-made skateboard that is reliable, fun and safe to ride wherever you choose to ride it.
Cons:
This is one of the more pricier models.
Takes some time until you get used to it.
At about 17 lbs it's a little on the heavy side.
4. Boosted Dual 1500W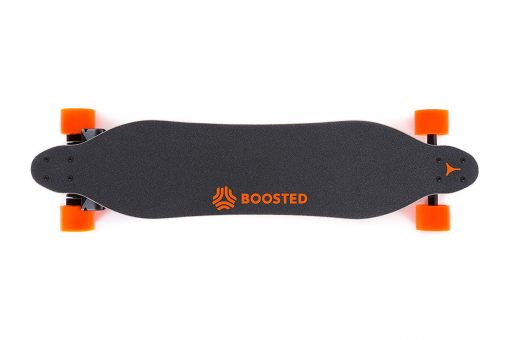 The twin motor technology caters for a unique and exceptional riding experience that will allow you to enjoy this skateboard for long hours. Everybody will love the feeling of carving that this exceptional skateboard allows for. You can alter the power of this amazing skateboard so that you can easily control it before riding it.
Pros:
Reaches a top speed of 20 MPH.
Has a maximum climbing degree of 20 degrees.
Super easy to control and maneuver on the road for an exceptional skateboarding experience.
The power can be controlled if you are not an experience rider so that you can learn comfortably before hitting the road.
Cons:
Range per charge of 60 minutes is only 7 miles.
The skateboard is rather heavy weighing 15 lbs.
5. Luoov 1200w Longboard: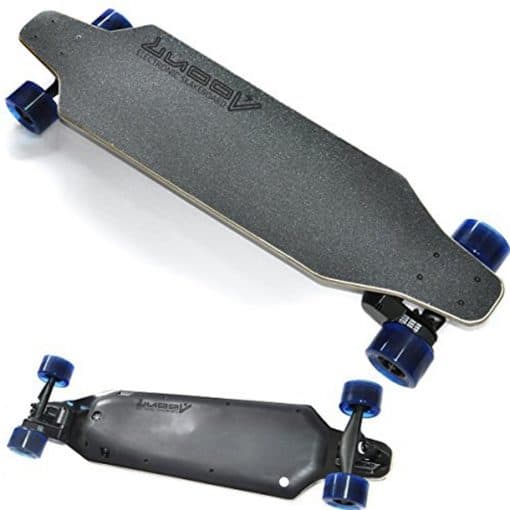 This powerful electric skateboard is light and very sturdy that will give you an amazing experience of climbing hills, carving and revolutionary braking. It features 4 modes for beginners, economic riding, expert riding and pro riding.
Pros:
The top speed is up to 18.6 MPH.
Maximum climbing degree of 20 degrees.
Weighs only 13.2 lbs.
Cons:
It takes about 2 hours to fully charge.
The skateboard will only run for 8 miles on a full charge.


There are a lot of electric skateboards on the market and finding the best electric skateboards requires a little research in order to find the best board to fit your specific needs.
Be sure to check out some of the other great skateboards available through Wild Child Sports!
(Visited 543 times, 1 visits today)