Electric Mini Quad – MotoTec 24V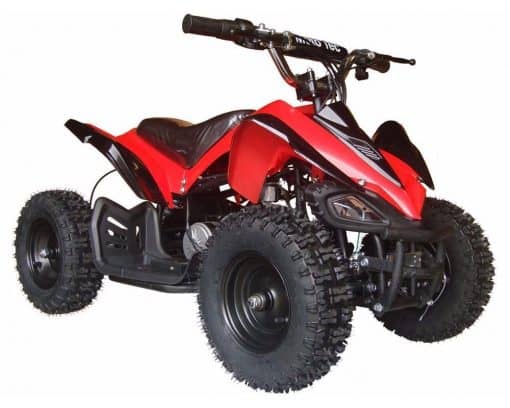 MotoTec 24V Mini Quad
This kids electric mini quad is a great entry level ATV to get your child familiar with operating something motorized with a twist grip throttle. Your child will be able to focus on throttling and steering without having to worry about balancing as you would on any 2-wheeled electric or gas powered dirt bike. This kids ATV will provide hours of outdoor fun in your backyard or even just in your driveway. Let's take a closer look at this 24V mini quad!
Who is this Kids Electric Mini Quad designed for?
This MotoTec 24V Mini Quad is designed for kids ages 6 and up with a maximum rider weight of 150 pounds. Adult supervision is always required when operating this ATV.
What is the top speed of the MotoTec 24V Mini Quad?
This kids electric mini quad has a top speed of 10 mph. This mini quad is equipped with 2 speed modes – 5 mph & 10 mph. This is a great feature to have especially when your child is first learning to ride this quad. You will be able to control the top speed with the twist of a key.
How much does the MotoTec 24V Mini Quad cost?
This kids electric powered ATV is going to run you between $500 and $600.
Here'a a quick video of the Features of the MotoTec Mini Quad
MotoTec 24V Mini Quad Specs & Features
350 watt motor
Two 12v 12ah batteries
Steel frame
Knobby pneumatic 13 inch tires
Full disc brakes
Full suspension
Variable twist-grip throttle
Padded seat
Adjustable handlebars
Charge time of 4-6 hours
Charger included
30 days parts replacement warranty


So what are you waiting for? Get your MotoTec 24V Electric Mini Quad TODAY!
Be sure that you check out some of the other great actions sports toys brought to you by Wild Child Sports!
(Visited 170 times, 1 visits today)