Electric Offroad Skateboard by Outstorm
Today, we'd like to introduce you to one lean, mean offroad machine – the Outstorm electric offroad skateboard.  Let's take a closer look at this awesome electric skateboard.
Who is this electric skateboard designed for?
The Outstorm electric skateboard is a great option for both teens and adults and has a maximum rider weight of 340 pounds.
How big is this offroad skateboard?
The Outstorm weighs 32 pounds. Here are its other dimensions:
Length – 42 inches
Width – 17 inches
Height – 9 inches
What is the top speed of this electric skateboard?
The top speed of the Outstorm offroad electric skateboard is 31 mph with a range of up to 19 miles on a full charge. This makes the Outstorm one of the fastest electric skateboard on the market!
How long does it take to charge this electric skateboard?
The Outstorm has a charge time of 3 hours. The charge time for the wireless remote is 1.5 hours.
Where can you buy this electric skateboard cost?
Here is where you can find the current price of the Outstorm:
Outstorm Electric Skateboard Specs & Features
Dual 3300 watt dual motor (1650 watt x 2)
36 volt lithium-ion battery
Wireless remote
11 ply Canadian maple deck
7.8 inch large offroad tires
Climbing grade: 30 degrees
Rugged suspension
One year warranty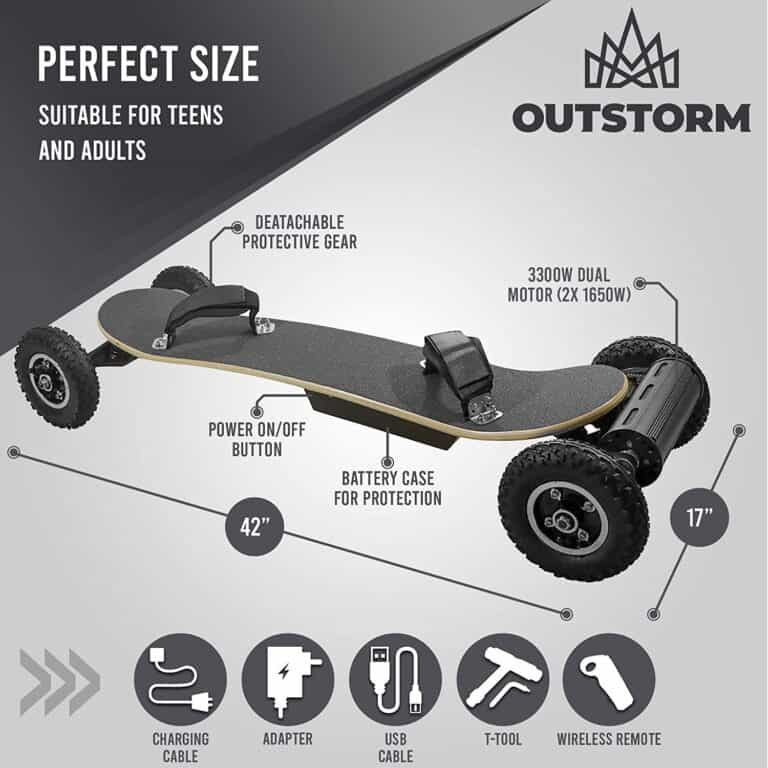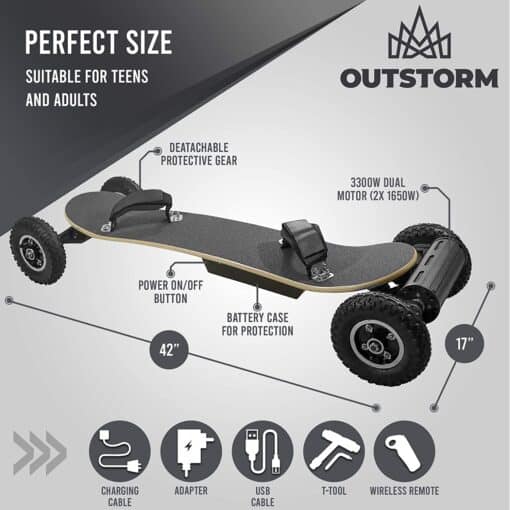 So what are you waiting for? Get your Outstorm electric skateboard today!
Be sure to check out some of the other great skateboards brought to you by Wild Child Sports!