Ancheer Mini Electric Skateboard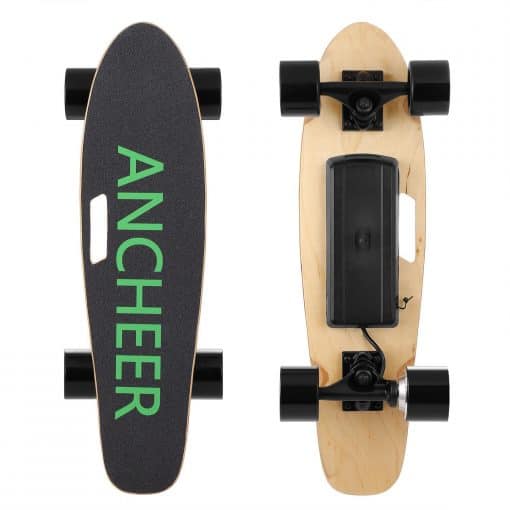 Electric Skateboards Cheap – Ancheer Mini Cruiser Skateboard
You may have already figured this out but its hard to find electric skateboards cheap. At the same time, we know that you're here because you're looking for a cheap alternative to some of the higher end boards currently on the market. Let us start out by saying that "cheap" doesn't necessarily mean that you won't be stoked on this Ancheer board. It just means that this particular electric skateboard will not have all of the bells and whistles that you see with other boards. It also means that things like top speed will more than likely be a bit lower.
Let's take a closer look at the Ancheer Mini Cruiser Skateboard!
Who is the Ancheer electric skateboard designed for?
This electric skateboard is recommended for riders ages 8 and up with a maximum rider weight of 260 pounds. This makes the Ancheer electric skateboard a great option for both kids and adults looking for a good low cost option.
What is the top speed of the Ancheer Cruiser skateboard?
The top speed of this electric skateboard is 12 mph with a cruising distance of up to 6 miles on a full charge. The charge time itself is about 2 hours.
How much does this Ancheer electric skateboard cost?
This skateboard is going to run you between $150-$160. This price makes it very affordable for someone just starting out in electric skateboarding.
Electric Skateboards Cheap -Ancheer Mini Specs & Features
Canadian maple deck
350 watt hub motor
29.4 volt lithium-ion battery pack
Wireless remote control
Total weight – 8.5 pounds
2 riding modes – low speed & high speed
Reversible riding option
Quick slide booting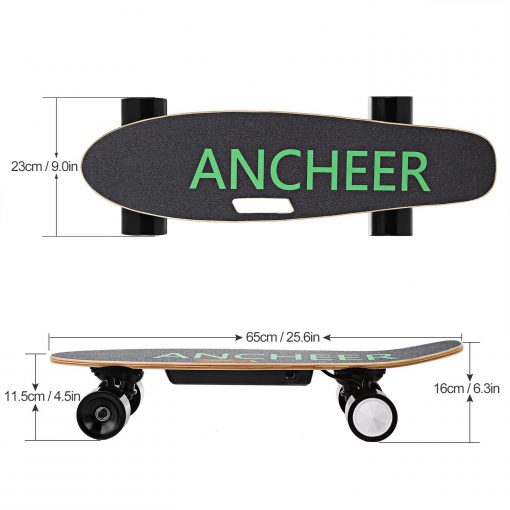 Be sure to check out some of the other great electric skateboards brought to you by Wild Child Sports!
(Visited 164 times, 1 visits today)