Comparison of Evolve's Bamboo GT vs Skatebolt's Tornado B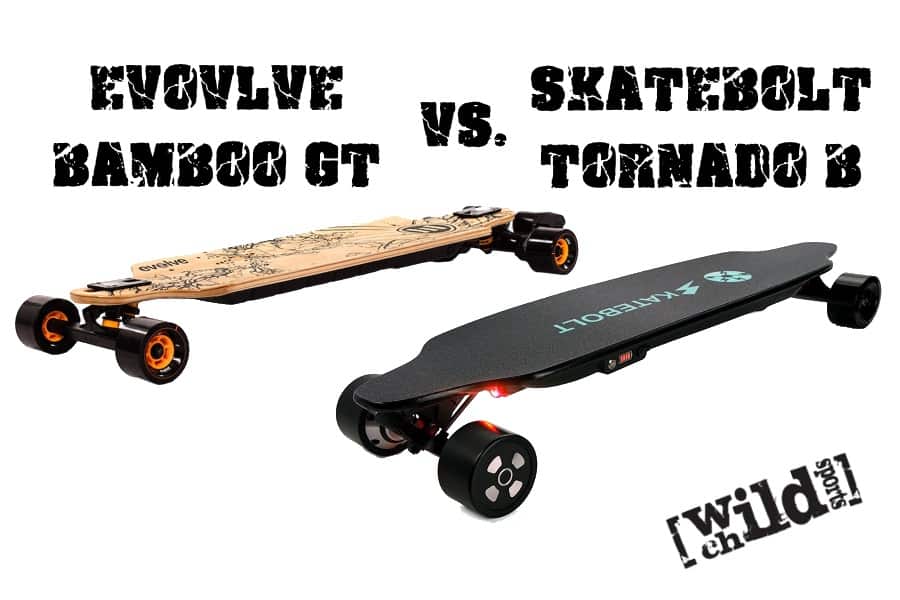 When looking for a high end electric skateboard it's always a good idea to check out some of the competition.  Evolve Skateboards makes some of the fastest electric skateboards and tend to run on the more expensive side.  Today we want to compare Evolve's Bamboo GT with a board that keeps up in speed but won't hit your wallet quite as hard, the Skatebolt Tornado B.
Top Speed and Distance
First question on our list is usually which is faster and how far can they go?
Both of these electric skateboards are pretty fast each topping out in the mid 20s as far as speed goes.  If you are looking for all out speed though the Bamboo GT wins according to the specs, topping out at 26mph, while the Tornado B by Skatebolt tops out at 25mph.  Of course, these results depend on a number of variables and were not tested against each other on the same course.  Does 1mph really make that much difference to you?
As far as the total distance you can go on a single charge is concerned, the Bamboo GT takes it home there as well.  The Tornado B has a range of 17 miles per charge while the Bamboo GT comes in at 21 miles.  It doesn't sound like a lot, but if you had to walk the difference carrying your board, 4 miles is a long way to go.
Hill Climbing Ability
In this case both the Bamboo GT and the Tornado B are equal.  According to the specs they each can climb hills upwards of a 25 percent incline grade depending on the mode you choose to ride in.
Motor
Now we're talking.  What's under the hood here making these bad boys go?  The Bamboo GT is powered by 3000 watt high performance custom made sensored dual brush out-runner motors. The Tornado on the other hand is powered by 1000 watt dual hub motors.  What's the big difference here?  The Bamboo GT's motors use a belt drive system.  The motor is separate from the wheel.  In the case of the hub motor in the Tornado, the back wheels have the motor in them.  No belts.

Battery
I guess this is really more like what's under the hood since both boards have the battery installed on the underside of the deck.  The Bamboo GT is equipped with a 36 volt 6500AH Lithium Ion battery.  The Tornado has a similar battery as far as AH is concerned, but beats the Bamboo when it comes to volts.  The Tornado come with a 42 volt 6600AH battery.
Remote
Like almost all electric skateboards, the Bamboo GT and the Tornado B are controlled by a hand held remote.  Here's a few of the things you can do with your Bamboo GT remote.  First and foremost you can control your speed
Size and Weight
Both boards have a total board length of 38 inches.  They do differ a little in the weight though.  The Bamboo GT comes in at 17 pounds while the Tornado B tops the scales at 19.5 pounds.  it doesn't sound like much, but if you're out and about and end up having to carry your board around for a while, that extra pound or so might make a difference.  For us though, it would not be a deciding factor, just something to consider.
When it comes to wheel size, Evolve's GT comes equipped with the Black Evolve GT 83mm 76A wheels.  Skatebolt's Tornado is advertised with 3.5 in wheels which is equivalent to about 89mm, so the Tornado has a slightly larger wheel.  We also want to mention that the GT is compatible with the ABEC11 83mm, 90mm and 97mm if you would like to upgrade for a larger wheel.  Keep in mind changing the wheel size could change the overall top speed and performance from the original specs.
Deck Construction
The Skatebolt Tornado is constructed of 9 ply maple hardwood for a good durable standard board. The Bamboo GT differs in that it takes a 7 ply Canadian maple hardwood and ads 2 ply of bamboo vertically laminated deck.
Final Thoughts
Both boards are well built and have great top speeds.  If you are looking for just that standard board and cost is a factor you may want to look at the Skatebolt Tornado B.  However if you like the ability to customize your board a little more, or even have the option of outfitting it as an off road board, you probably better off with the Evolve Bamboo GT.  Yeah, we hear ya.  You're probably asking how much these boards cost today right?  Prices are always changing and sometimes sales and discounts are available so go ahead and check the current prices in the links below.
Evolve Bamboo GT
Skatebolt Tornado B
Still here? looking for some more really cool electric skateboards, why not check out some of our other WildChildSports reviews? You'll probably like them.