Fat Tire Electric Bike – Cyrusher XF660


Cyrusher 500W Fat Tire Electric Bike
If you're looking for a great all terrain electric bike, you've got to check out this Ebike from Cyrusher. The Cyrusher 500W fat tire electric bike was released in December of 2017. This is a super fun electric bike that can tackle just about any terrain, even SNOW! Let's take a closer look at this Ebike!
Who is the Cyrusher XF660 electric bike designed for?
This fat tire electric bike is designed for intermediate to advanced riders. The bike itself weighs 55 pounds so it's obviously not a good fit for younger, smaller riders. The maximum rider weight is 330 pounds and recommend rider height is between 5′.5″ – 6′.3″.
What is the top speed of the Cyrusher XF660 Electric Fat Tire Bike?
The top speed of the Cyrusher 500W is about 26 mph. The range on a full charge depends on the ride mode that you are using. While in full electric mode the range is 28 miles.
How much does the Cyrusher XF660 bike cost?
This Cyrusher Electric Bike retails for around $1,800 and comes in four color combos: black/green, black/orange, black/red and white/blue.
Cyrusher Electric Fat Tire Bike Specs & Features
500W 48V Motor
Removable 48v 13amh battery with a battery life of 500 charges
3 Riding Modes: full electric power, pedal assist or pedal only
Dual hydraulic disc brakes
Full suspension
Aluminum alloy frame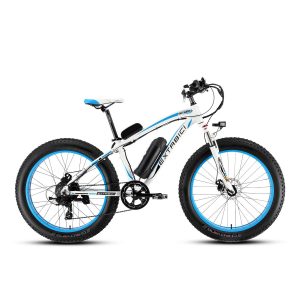 So what are you waiting for? Get your Cyrusher 500W Ebike today!
Thanks again for stopping by and checking out the Cyrusher XF660 Ebike! Be sure that you check out some of the other great Ebikes and action sports toys brought to you by Wild Child Sports!
(Visited 97 times, 1 visits today)