Gas Mini Dirt Bike by Coleman Powersports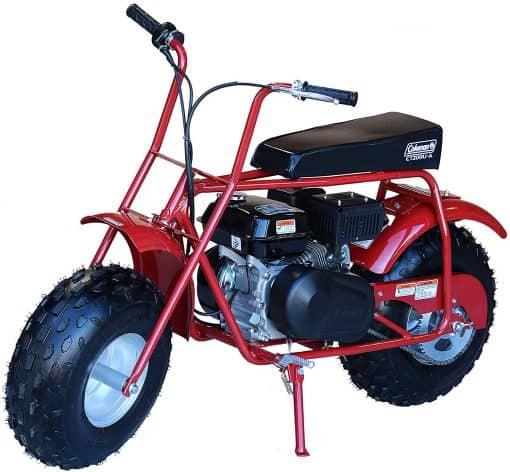 Coleman Powersports CT200U Mini Dirt Bike
We love us some Coleman Powersports dirt bikes here at Wild Child Sports. Today, we want you to check out the Coleman Powersports CT200U gas mini dirt bike.
Who is the Coleman Powersports CT200U Bike designed for?
This gas mini dirt bike is recommended for riders ages 13 and up with maximum rider weight of 200 pounds. This makes the CT200U a great starter bike for both teenagers and adults.
What's the top speed of the CT200U Dirt Bike?
The CT200U gas powered dirt bike has a top speed of 20 mph.
How much does the Coleman Powersports CT200U Mini Bike cost?
This gas mini dirt bike is going to run you around $700. Be careful if you see this dirt bike for a much lower price. Often times that price does not include shipping and handling which can add up to $100 more to the price.
The CT200U is also available in Camo and should run you about the same price as the red CT200U.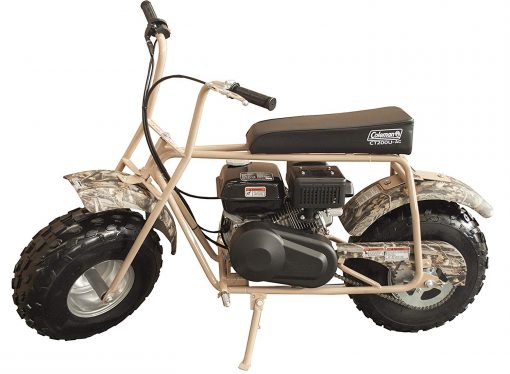 Coleman Powersports CT200U Mini Dirt Bike Specs & Features
196cc, 6.5 HP gas engine
Metal frame

Easy pull start

Over-sized, off road tires

Hand operated brakes
Weight of the mini dirt bike – 112 pounds
Dimensions of the mini dirt bike – 57 x 26.5 x 38 inches


So what are you waiting for? Get your Coleman Powersports Gas Mini Dirt Dirt Bike Today!
Be sure to check out some of the other Coleman Powersports products and mini dirt bikes brought to you by Wild Child Sports!
(Visited 50 times, 1 visits today)