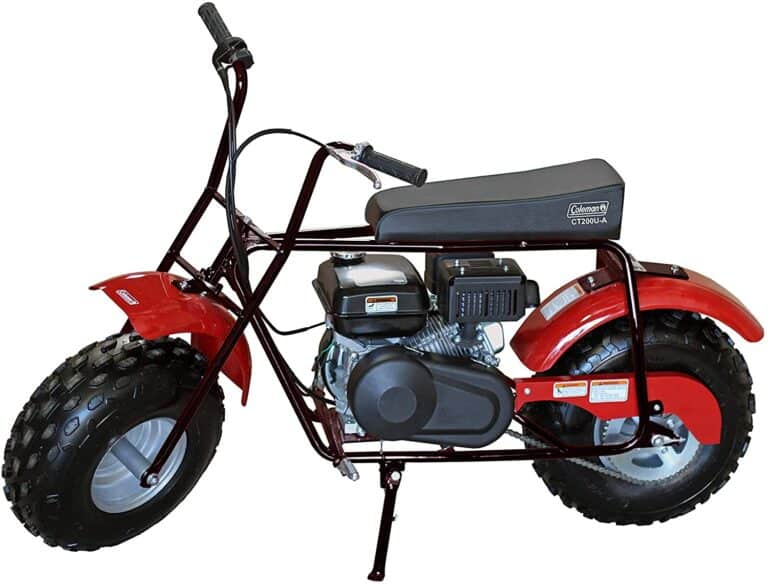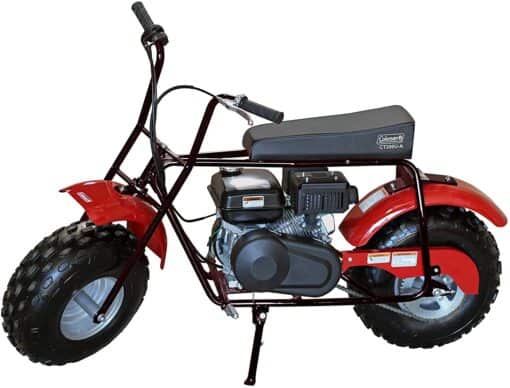 Coleman Powersports CT200U Mini Dirt Bike
We love us some Coleman Powersports dirt bikes here at Wild Child Sports. Our review of the CT100U is one of our most popular articles, so we decided to review another popular Coleman Powersports mini bike – the CT200U.
Who is the Coleman Powersports CT200U Bike designed for?
This gas mini dirt bike is recommended for riders ages 13 and up with maximum rider weight of 200 pounds. This makes the CT200U a great starter bike for both teenagers and adults.
How big is this Coleman Powersports mini bike?
The CT200U weighs 121 pounds. Here are the dimensions of the Coleman mini bike:
Length: 57 inches
Width: 38 inches
Height: 26.5 inches
Ground clearance: 6.5 inches
What's the top speed of the CT200U Dirt Bike?
The CT200U gas powered dirt bike has a top speed of 20 mph.
Where can you buy the Coleman Powersports CT200U Mini Bike?
Here is where you can find the current price of the CT200U:
Coleman Powersports CT200U Mini Dirt Bike Specs & Features
Chain driven 196cc, 6.5 HP gas engine
Metal frame

Easy pull start

Over-sized, off road tires

Hand operated brakes
How do you take care of the CT200U?
As you probably already know, gas powered mini bikes do require a fair amount of upkeep. Here's the maintenance chart that you should follow to keep your CT200U up and running:
Before each use, you will need to check:
Engine oil and air filter
All nuts and bolts for tightness
Chain tension
Brakes and throttle
Clean and lube clutch (after every 5 hours of use)
After the first month (20 hours) of riding your CT200U, you need to:
Every 3 months (50 hours)
Clean the air filter
Check/clean carburetor sediment cup
Every 6 months (100 hours)
Change engine oil
Clean and adjust spark plugs
Every 12 months (300 hours)
Change air filter
Replace spark plugs
Check fuel tube
Idle speed check and adjust
Check valve clearance
Check out the CT200U Gas Mini Dirt Bike in ACTION!


So what are you waiting for? Get your Coleman Powersports Gas Mini Dirt Dirt Bike Today!
Be sure to check out some of the other Coleman Powersports products and mini dirt bikes brought to you by Wild Child Sports!