Hands Free Electric Skateboard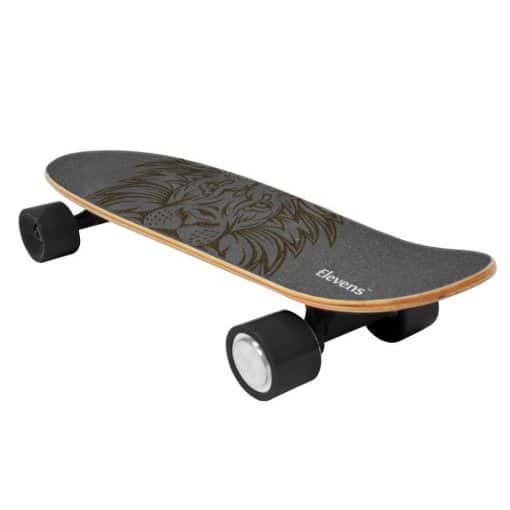 Elevens Hands Free Electric Penny Board
Electric skateboards continue to increase in popularity and manufacturers are constantly pushing the limits of these boards. We've come across a couple of electric skateboards that are now using hands free technology. Basically, with hands free technology the board has built-in sensor that detects the shifting of your body's weight to accelerate, stop and turn. Some of these hands free electric skateboards can be pretty pricey. If you're not sure if this is the best type of electric skateboard for you but want to try this new technology out, the Elevens Hands Free Electric Penny Board is a great, cost effective option. Let's take a closer look at this board!
Who is the Elevens Hand Free Electric Penny Board designed for?
This Elevens electric skateboard is designed for riders up to 201 pounds. This makes it a great entry level option for both kids and adults.
What is the top speed of the Elevens Hands Free Skateboard?
This Elevens electric skateboard has a top speed of 10 mph with a range of up to 7 miles on a full charge.
How much does electric skateboard cost?
This is the best part about this hands free electric skateboard. It is going to run you around 200 bucks.
Elevens Hands Free Electric Penny Board Specs & Features
400 Watt Brushless Single Hub Motor
Three Motion And Weight Sensors
Climbing capability of 15 degrees
25.2 volt LG Lithium-ion Battery
Board bag

12 Month Warranty for Battery Motor

Lifetime Technical Support for board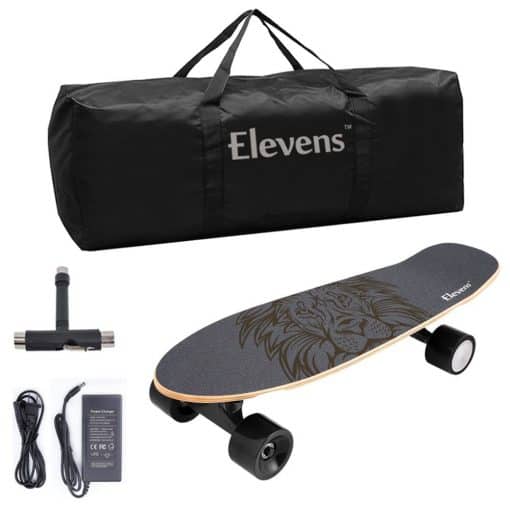 Why should you buy Elevens Hands Free Electric Penny Board?
Hands free technology is really cool
Very low cost option
Great entry level electric skateboard that doesn't go too fast
Cool board bag
So what are you waiting for? Get your Elevens hands free electric skateboard today!
Be sure to check out some of the other great electric skateboards brought to you by Wild Child Sports!
(Visited 410 times, 1 visits today)