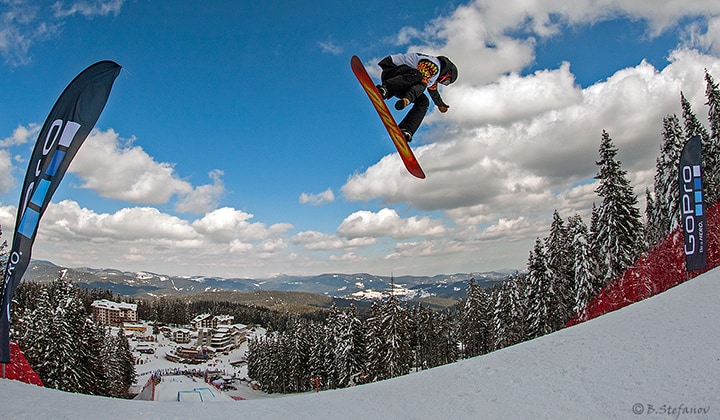 More than 60 pro riders from Europe, U.S. and Canada took part in the sixth edition of Pamporovo Freestyle Open. The beautiful Pamporovo resort and Pamporovo Funpark are one of the best freestyle spots in whole Eastern Europe.
Each year the organizers of the event aim to make it bigger and better, attracting more pro riders from all over the world to be part of it. This year the course was outstanding and the biggest in Bulgaria till that moment. The set-up included two different rail sections and two big jumps – 18 and 20 meters.
The best result of 94.7 was reached by Norwegian rider Marcus Olimastad followed by his countryman Mons Roisland with only two points difference. On the third rank Austrian rider Phillipp Kundratitz scored 83.7 points.
The ladies event was very interesting, as several girls at a very high level attended Pamporovo Freestyle Open. Karly Shorr from the U.S. managed to win first place, riding very strong, reaching the top spot with a score of 92 points. Followed by Slovenia's Urska Pribosits  with 78.3 points and Malla Partanen from Finland with a score of 69.7 points.
The participants in Pamporovo Freestyle Open 2015 showed a very high level of riding and a ton of style.
Pamporovo Freestyle Open was another successful event on the International Level of the World Snowboard Tour for 2015 with many friends and positive emotions. Everything finished with a wild party, new friendships and many good memories.
We hope that the event will grow in the future and much more riders will be able to be a part of it!
Final results
Women
1. Karly Shorr (USA)
2. Urska Pribosic (SLO)
3. Malla Partanen (FIN)
4. Merika Enne (FIN)
5. Michaela Varoshkina (BUL)
6. Camilla Lleby (NOR)
7. Betina Kuchikova (BUL)
8. Mina Bankova (BUL)
Men
1. Markus Olimastad (NOR)
2. Mons Roisland (NOR)
3. Phillipp Kundratitz (AUT)
4. Fritjof Tischendorf (NOR)
5. Henri Laakkonen (FIN)
6. Michael Schaerer (SUI)
7. Aleksi Partanen (FIN)
8. Marius Bakken (NOR)
9. Ian Thorley (USA)
10. Brett Moody (USA)
11. Sebbe De Buck (BEL)
12. Nuutti Niemala