Kids Electric ATV – GoTrax Rover Electric ATV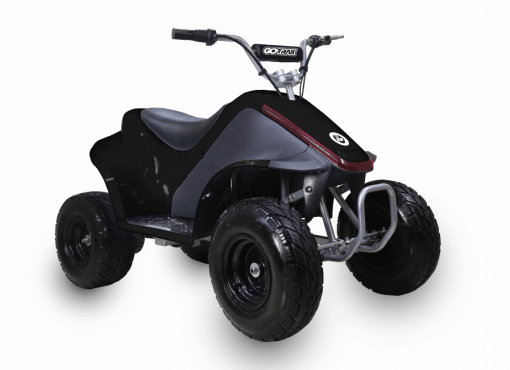 Kids Electric ATV by GoTrax
This kids electric ATV by GoTrax is a super reliable, well build electric quad at a reasonable price. The Rover Electric ATV ships 90% assembled and you will only need about 10 minutes to get it fully ride-able! This kids electric ATV is a great entry level quad to get your child familiar with operating something motorized with a twist grip throttle. They can focus on throttling and steering without having to worry about tipping over as you would on any 2-wheeled dirt bike.
Who is the GoTrax Rover Electric ATV designed for?
This kids electric quad is designed for both kids and teenagers with a maximum rider weight of 220 pounds.
What is the top speed of this Kids Electric ATV?
The GoTrax Rover Electric ATV has a top speed of 11 mph and a range of up to 12 miles on a full charge.
How much does the GoTrax Quad cost?
The GoTrax Rover Electric ATV  is going to run you right around $550.
GoTrax Rover Electric Quad Specs and Features
500 watt motor

Rugged, all terrain tires
Rear axle disc brake

Twist grip throttle

Hand activated brake
Droop travel rear suspension and coil shock absorption

Adjustable handlebars

Foam grips
Colors available: Black, pink, red and white
So what are you waiting for? Get your GoTrax Rover Electric ATV TODAY!
Thanks again for stopping by and checking out this kids electric ATV! Be sure that you check out some of the other great actions sports toys brought to you by Wild Child Sports!
(Visited 238 times, 1 visits today)