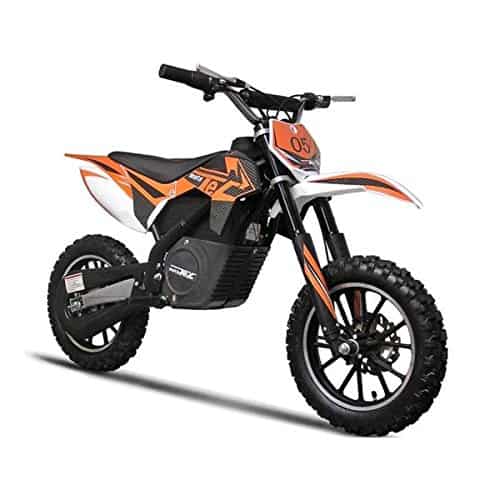 Kids Electric Dirt Bike by MotoTec
There are a number of different MotoTec products that we have reviewed here at Wild Child Sports. Today, we want to showcase the MotoTec 24V electric dirt bike. This electric dirt bike is a great option for your teenager. It features 3 different speed modes and has a really nice overall top speed. Let's take a closer look at this electric dirt bike!
Who is the MotoTec 24V electric dirt bike designed for?
This kids electric dirt bike is designed for riders ages 12 and up with a maximum rider weight of 150 pounds.
How big is this electric mini bike?
The Mototec 24V weighs 66 pounds. Here are its other dimensions:
Wheelbase – 34 inches
Seat Height – 23 inches
Ground Clearance – 9 inches
How fast does a MotoTec 24V go?
This MotoTec kids dirt bike has a top speed of 16 mph!
How long does it take to charge the MX-10?
This kids electric mini bike has a charge time of 4 to 6 hours.
Where can you buy the Mototec 24V?
Here is where you can find the current price of this electric mini bike:
MotoTec 24V Electric Dirt Bike Specs & Features
500-watt motor
Two 12V 12Ah batteries
3 speed modes: 5, 10 and 16 mph
Chain drive
Steel frame
2.5 x 10 knobby pneumatic tires with aluminum rims
Front and rear disc brakes
2 front shocks and 1 rear shock
Variable twist-grip throttle
Padded seat
Adjustable handlebars
Charger included




Thanks for stopping by and checking out our article on the MotoTec 24V kids electric dirt bike! Be sure to check out some of these other great electric dirt bikes brought to you by Wild Child Sports!