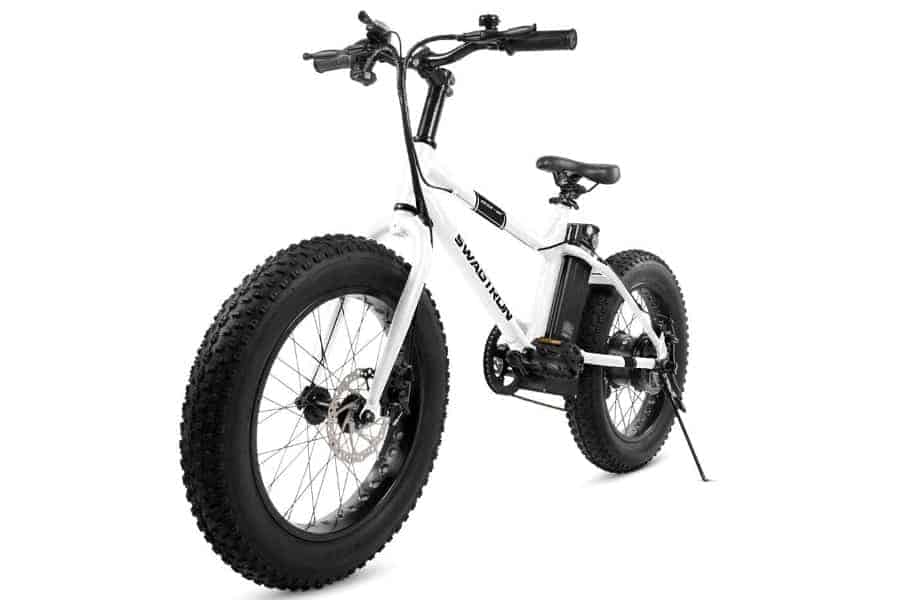 Kids Fat Tire Ebike – Swagtron EB-6 Bandit
Love hitting the trail, but don't love the burning legs the day after? The Swagtron Electric Bike EB-6 is the hybrid bike you've been looking for. This is an kids fat tire ebike that can be ridden as a manual bike when you want, meaning you get two bikes in one. Hit the trails but always have the backup of the electric motor if you need it. Or cruise around on your ebike, knowing that you'll be able to bike back home if you run out of battery power.
Who is the EB-6 Bandit electric bike designed for?
As the name implies, this electric bike is designed for kids. Don't get us wrong though, it's a powerful bike and can handle adults too.  The maximum rider weight for the EB-6 Bandit is 264.5 pounds, making it a great ebike for both kids and adults.
How big is the EB-6 Bandit?
This kids fat tire ebike weighs 48.5 pounds. Here are its other dimensions:
Length: 67.3 inches
Width: 22.5 inches
Height: 37.8 inches
What is the top speed of this kids fat tire ebike?
The Swagtron EB-6 Bandit has a top speed of 18.6 mph. Not only can you cruise along at a comfortable speed, you will also enjoy the ride time as this ebike can take you on a ride as far as 20 miles on a single charge.
How long does it take to charge this ebike?
The EB-6 Bandit takes about 4 to 5 hours to fully charge.  The battery is simple to remove so you can plug it into the charger without much inconvenience.
Where can you buy this kids fat tire ebike?
Here is where you can find the current price of this Swagtron Ebike:
Swagtron EB-6 Bandit Specs & Features
A pedal assist option that allows you to use the motor and manual pedaling at the same time.
A USB power port where you can charge your phone or plug in speakers for your ride.
Digital displays that inform you of your remaining battery time and your speed.
Ultra-fat tires that are made for trail riding. Tackle the roughest and toughest trails with these 20-inch rubber tires.
What else makes this Swagtron ebike so unique?
Removable battery that can be charged indoors, and a locking mechanism that protects the battery from theft when on the bike.
Freewheel feature so that you keep moving even if you've stopped pedaling for a moment.
Extremely durable components from trusted name brands like Shimano.
Unique 350 watt motor that offers power unlike any other kids fat tire ebikes on the market today.
Dual disc brakes for added safety.
Check out this Swagtron Ebike in ACTION!


So what are you waiting for? Get your Swagtron Ebike TODAY!
Thanks again for stopping by and checking out our review of one of the best kids fat tire ebikes! Be sure that you check out some of the other great ebikes and actions sports toys brought to you by Wild Child Sports!