Here's an electric skateboard for adults.  It's designed for big riders and high speeds to get your adrenaline going, check it out!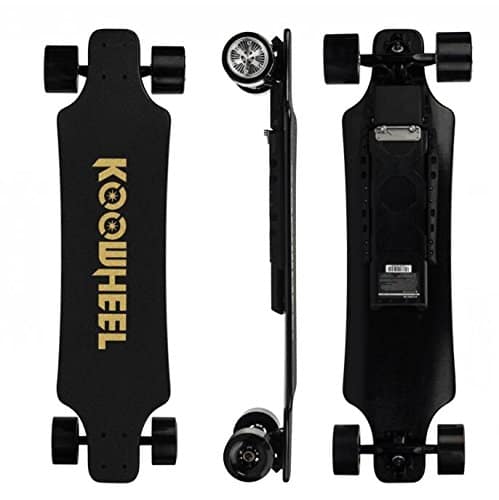 CHECK PRICE
So tell me more about the Koowheel electric skateboard for adults
First let's say this is built to handle almost any rider.  Designed to deliver the thrill of speed for the electric skateboard enthusiast.  So whether looking for a great board to get around town or are the avid thrill seeker this is the board for you.  The Koowheel D3M is a great electric skateboard for adults as it can handle a hefty rider and can hit top speeds nearing 25 miles per hour.  This board is built well too.  Made of a 7 ply Canadian Maple Wood gives it better elasticity and toughness to handle all types of rugged use.  I't's dual brushless hub motors along with a large battery helps with speed as well as a long ride across ally types of terrain including inclines of up to 25%.
Who is is the Koowheel D3M really designed for?
This is an electric skateboard for adults and we would recommend it for intermediate to expert riders with a maximum rider weight of 268 pounds.
What is the top speed of this electric skateboard for adults?
The Koowheel electric skateboard has a top speed of 24.8 miles per hour and the 2 4300mAh litiium batteries gets you a ride of up to 20 miles.
Features and Specs of the Koowheel Electric Skateboard for Adults
Two 350W motors that come with easily replaceable wheels
Super stable 36 inch 7 ply Canadian Maple deck.
 Smooth acceleration and braking
Two 4300mAh lithium batteries that are easy to replace for a quick swap during your ride
Different riding modes, normal and Advanced (for the speed)
Remote controlled
Check out our quick video of the Koowheel electric skateboard for adults
Want to know more, check the current price here:
Thanks for stopping by to check out the D3M from Koowheel.  Also, be sure to check out some other great skateboards brought to you by Wild Child Sports!
(Visited 9 times, 1 visits today)