Orange Razor Dirt Rocket MX650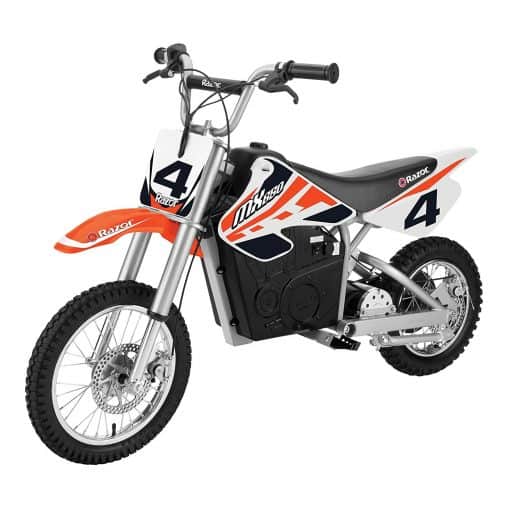 Orange Razor Dirt Rocket MX650
This new Razor electric dirt bike just popped up on our radar and we wanted to make sure and share it with all of our readers. Check out the all new orange Razor Dirt Rocket MX650! Razor has taken everything that we already love about the MX650 dirt bike and has now added a new color scheme. This all new Razor dirt bike is going to cost you a little bit more money but believe us, it's worth it! Be sure to check out our in-depth article on the Razor MX650 Electric Dirt Bike. Let's take a closer look at the specific details of the this Razor MX650!
Check out the New Orange MX650
Here's a closer look at the re-designed tank and orange MX650 graphics. You're also able to get a better look at the twist grip throttle and hand operated front/rear brakes.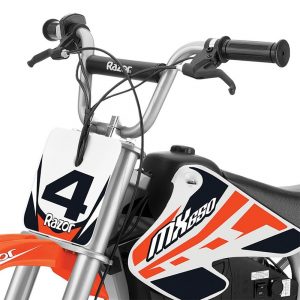 This is new orange front fairing. You also get an up close look at the front disc brakes and double crown fork.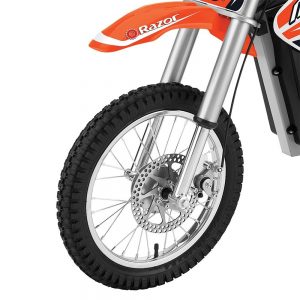 Last but not least is a closer look at the new orange MX650 graphics on the rear fairing. Check out the rear disc brakes, folding metal foot pegs and retractable kickstand!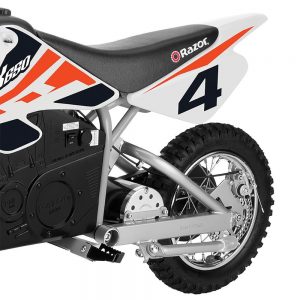 What does the Orange Razor Dirt Rocket MX650 cost?
Price:
As we mentioned earlier, this new MX650 is going to run you a little bit more than the other MX650 color schemes. Amazon continues to be one of the best places to find the most competitive prices on this new orange MX650. Order your Orange Razor MX650 today!
Here's a quick video with Features of the Razor Dirt Rocket MX650
Razor Electric Dirt Bike Buyers Guide
If you're not sure which of the Razor electric dirt bikes is of best fit for you or your child, be sure to check out our article on choosing the right model.


If you liked this Razor dirt bike, be sure to check out some of these other great action sports toys brought to you by Wild Child Sports!
(Visited 372 times, 1 visits today)