Shred the street and snow on the Railz Snow Scooter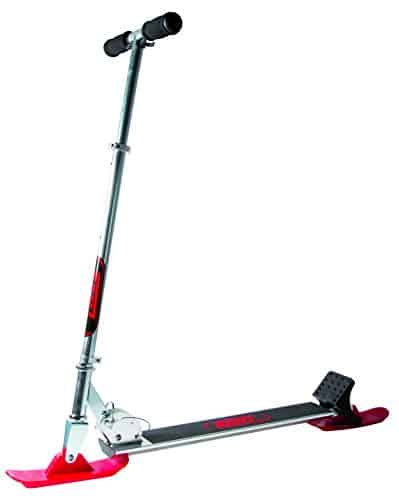 Railz Snow Scooter
Are you tired of having to buy new toys every time that the seasons change? Well, if you're ready to stop spending all of that extra money and get a new toy that you can enjoy the entire year, then you've come to the right place!
Check out the full size kick Railz snow scooter. This snow scooter converts from a traditional wheeled scooter for use on pavement to skis for use on the snow. Finally a scooter that can be used year around! The wheels and wheel brake included provide great handling and control on paved surfaces. The skis included are designed to turn and carve on snow exactly like a wheeled scooter does on pavement, and the snow brake (also included) allows you to slow and stop with confidence. First, let's take a look at who this snow scooter is designed for.
Who is this snow scooter designed for?
The Railz Snow Scooter is designed for riders ages 5 and older with a rider weight from 44 pound up to 200 pounds!
How much does this snow scooter cost?
Best Price:
The Railz snow scooter is only going to run you about 70 bucks!
Railz Snow Scooter Specs
Full size snow scooter that folds for easy storage & transport
Patented RAILZ ski assemblies
Comes fully assembled and ready to ride
Railz custom ski brake included
Adjustable handlebar: 26 – 30″
Now, let's take a look at this snow scooter in action!
Check out the Railz Snow Scooter in Action!


If you liked this cool snow scooter, be sure to check out some of these other great action sports toys brought to you by Wild Child Sports!
(Visited 760 times, 1 visits today)