Razor A5 Lux Scooter – Best Adult Kick Scooter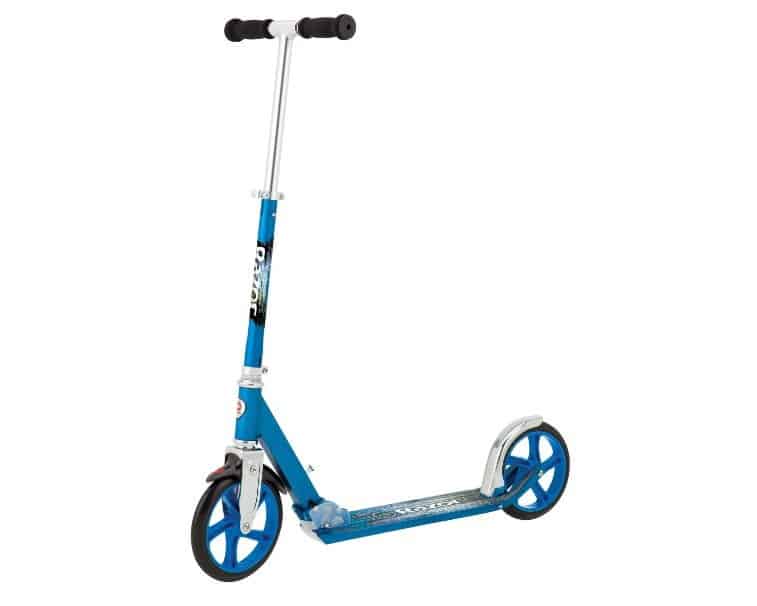 Best Adult Kick Scooter by Razor
Razor A5 LUX Scooter: The legendary scooters that started it all! Shred the pavement, bust out big tricks, or just cruise around town in style. With innovative design, quality construction and cool features, these are the scooters that sparked a revolution. The popular kick scooter comes in a deluxe size and is built for taller riders. With extra-large urethane wheels and a cool profile, it's the smoothest ride around! The A5 LUX kick scooter is easy to fold and ready to go. No assembly required.
Who is the Razor A5 Lux Scooter designed for?
When we go specific and talk about a kick scooter for adults, there are very few options available. One of the most well known scooters available for adults is Lux A5 by Razor. It has comparatively larger size than the normal kid's scooter. The Razor A5 Lux kick scooter can carry an adult up to 220 pounds.
So what's this kick scooter for adults going to cost me?
Razor Adult Kick Scooter Features
Aircraft-grade aluminium t-tube
Rear fender brakes
Patented folding system
Adjustable handlebars
Extra-large 200mm urethane wheels
Easy to carry and fold
No assembly required
Measures 35 by 41 by 21 inches (W x H x D)
Razor A5 Lux Scooter Unboxing
Razor A5 Lux Scooter Reviews
---
I bought my A5 Lux in early December, 2008. Even in Denver in the winter months, there are many days suitable for scooting, and I've put about 100 miles on my A5 since then.
---
Excellent scooter. Doesn't rattle too hard, the fold up lever works excellent.
---
Got this for our 6 year old. He loves it. (And I kinda love it too.)
---
Best scooters for adults around 180 lbs. Big wheels make for safer city sidewalk and street travel. Will buy again. Only complaint is the foam rubber handles soften and stretch then tear easily.
---


If you liked this adult kick scooter, be sure to check out some of these other great action sports toys brought to you by Wild Child Sports!
(Visited 398 times, 1 visits today)