Razor E300S Seated Electric Scooter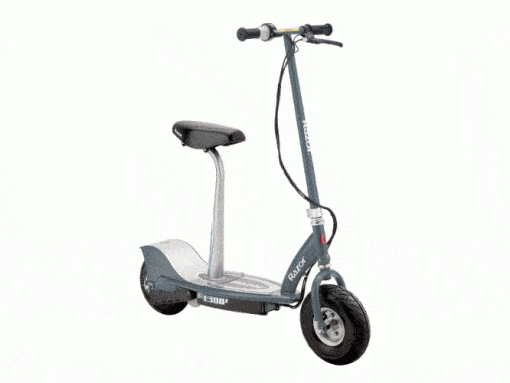 E300S Seated Electric Scooter by Razor
Built with a larger deck, frame and tires for teens and adult riders, the E300S is as comfortable as it is thrilling. The electric powered, chain-driven motor will have you cruising at up to 15 mph.
Boasting a high-torque, ultra-quiet chain-driven motor and a handy twist-grip throttle
High-performance motor with speeds up to 15mph
Powered by a long lasting rechargeable 24V Seal battery system
Features a hand operated rear brake, spring loaded kickstand, extra wide 10-inch pneumatic tires and a removable ridding seat
Super-sized deck and frame for riders of all sizes
Initial charge time: 12 hours. Charge the battery prior to use.
Recharge time: Up to 12 hours, even if the light turns green. Recommended maximum charging time is 24 hours.
Run time: Up to 40 minutes of continuous ride time. Run time may vary depending on riding conditions, climate and/or proper maintenance.
List Price: $ 289.99
Price:
Here's a quick video of the Razor E300S Seated Electric Scooter, Check it out.
Razor E300S Electric Scooter Reviews
---
This scooter is powerful and fast. It easily makes it up average hills.
---
got this scooter about 1 month ago, a little more. So far I am very pleased with it. The scooter is very easy to control, actually there is nothing really comlplicated about it. It is advertised as being able to go only 15 mph but I have clocked it at 19.7 mph.
---
This Electric Razor E300S with seat absolutely made our 13-year old son's Christmas!
---
The scooter is very well built. The basic components – frame, wheels, fork and handlebars are almost indestructible. In this age of plastic and throw away items, it is refreshing to come across a toy built for the long haul – much better than scooters in the 'good old days'.
---
Amazing! My tiny 12 year old loooooooves this! It's a great scooter! He has had it almost a year now and it's amazing!
---


If you liked this Razor electric scooter, be sure to check out some of these other great Razor electric scooters brought to you by Wild Child Sports!
(Visited 274 times, 1 visits today)