Razor Electric Skateboard – RazorX Cruiser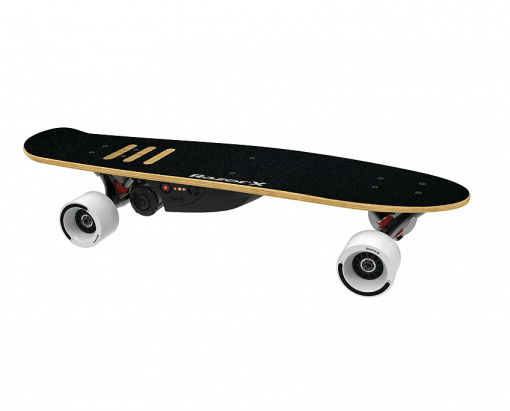 RazorX Cruiser Electric Skateboard
We are stoked on the new Razor electric skateboard! Razor is without a doubt of the best manufacturers of electric toys and we've been waiting a long time for them to create an electric skateboard. The RazorX Cruiser is everything that you'd expect to see from a cutting edge Razor product. And our favorite part about this electric skateboard is the price – less than 200 bucks! This makes the RazorX Cruiser one of cheapest electric skateboards currently on the market! Let's take a closer look at this awesome skateboard!
Who is the RazorX Cruiser designed for?
This Razor electric skateboard is recommended for riders ages 9 and up and can hold a rider up to 220 pounds.
What is the top speed of the RazorX Cruiser skateboard?
The top speed of this Razor electric skateboard is 10 mph with 40 minutes of continuous use on a full charge.
How much does this Razor electric skateboard cost?
This skateboard is going to run you around 180 bucks. This price point makes the RazorX Cruiser one of the cheapest electric skateboards on the market!
Best Kids Electric Skateboard
 -RazorX Cruiser
Specs
125-watt, geared, rear-wheel-drive motor
22V rechargeable lithium-ion battery pack
Wireless, digital, hand-held remote with wrist strap
80mm, 80a wheels
Custom, reverse kingpin trucks for increased turning and stability
29.7" deck length made of high-quality, 5-ply maple
Check out the RazorX Cruiser Electric Skateboard in Action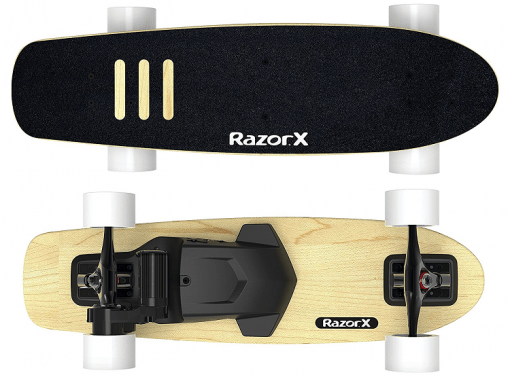 Check out the RazorX Cruiser in Action!


So what are you waiting for? Get your Razor electric skateboard Today!
Be sure to check out some of the other great skateboards brought to you by Wild Child Sports!
(Visited 387 times, 1 visits today)