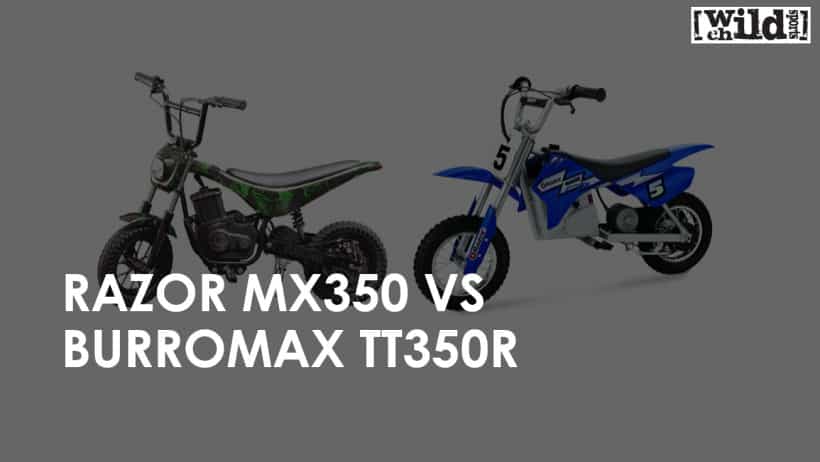 Razor MX350 Dirt Bike VS 
Razor MX400 Dirt Bike 
– What's the Difference?
Today, we are going to walk you through all of the main differences between the Razor MX350 VS Burromax TT350R. Be sure to also check out our full reviews of both the MX350 electric dirt bike and Burromax TT350R electric dirt bike!
Recommended Rider Age and Weight
The MX350 is recommended for riders ages 13 and up with a maximum rider weight of 140 pounds.
The TT350R is recommended for both kids and adults with a maximum rider weight of 250 pounds.
This makes both the MX350 and TT350R great entry level electric dirt bikes. However, the TT350R has a much higher maximum rider weight making it a great option for adults as well.
Top Speed of the Razor MX350 and TT350R
The Razor MX350 Mini Bike top speed is 14 mph.
The Burromax TT350R Mini Bike top speed is 17 mph.
If top speed is what you're looking for, the TT350R is the way to go!
Range
Run time for the MX350 is 30 minutes (~ 7 mile range) with a 24 volt rechargeable battery system.
The Burromax TT350R has a range of up to 14 miles (180 pound rider) with a lithium ion rechargeable battery system.
Once again, if you're looking for the longest ride time, the TT350R reigns supreme!
Finals Thoughts on these Electric Dirt Bikes
So there you have it! Now you know the main differences between the the Razor MX350 Burromax TT350R! If you're looking for a great starter bike at the lowest possible price, the Razor MX350 is a great option! The TT350R is your best option if you looking for a faster mini dirt bike with an awesome range that even adults can ride! So what are you waiting for? Get one of the best electric electric dirt bikes on the market today!
Razor MX350 Electric Dirt Bike
Burromax TT350R Electric Dirt Bike


Thanks for stopping by and checking out our article on the Razor MX350 VS Burromax TT350R! Be sure to check out some of these other great electric mini bikes brought to you by Wild Child Sports!