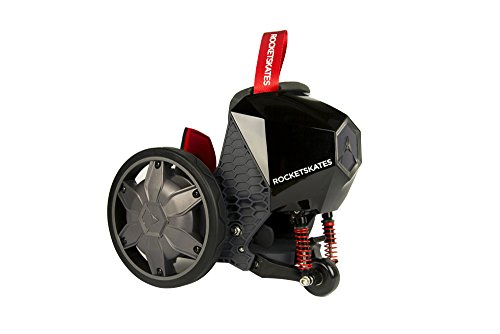 These are the motorized electric roller skates that propel a wearer at up to 12 mph. Two sets of step-in footplates secure most types of footwear with strap bindings similar to those on snowboard boots, accommodating small and large feet. Supporting riders up to 250 lbs., each skate's twin 6″-diam. wheels has a 55-watt motor integrated into its fiber-reinforced nylon frame. Tilting forward on the toes accelerates while tilting back on the heel gently brakes. The footplates also pivot down to put your foot in contact with the ground for walking or going upstairs. Each skate has a removable lithium-ion battery that provides up to 1 1/2 hours of continuous power (up to a 10-mile range), ideal for travel across a school campus, to a local cafe, or while roaming a neighborhood festival. Batteries recharge in 2.5 hours using the included AC adapter.
Check out the RocketSkates in Action
World's first smart electric skates
Can reach up to 12MPH with a range of 10 miles on a full charge
Download the mobile app and connect with the RocketSkates community
Battery charging time 2 hours
Fits men's shoe sizes 6 1/2+ and women's 6+. Ages 16 and up.
List Price: $ 699.00
Price: $ 1,413.99

(Visited 77 times, 1 visits today)