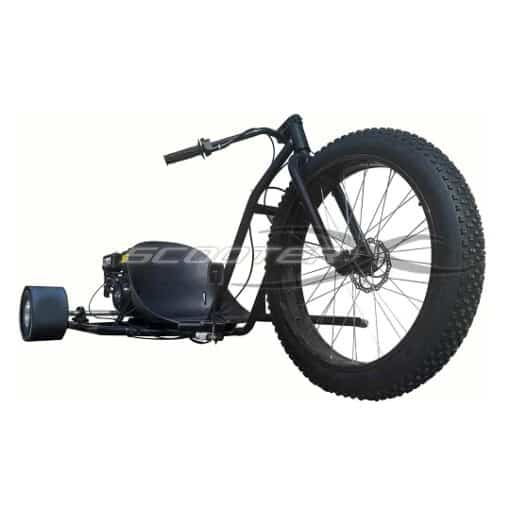 ScooterX Drifter Drift Trike
Ever wondered what it would be like cruising along at 30 mph riding a big wheel?  The ScooterX Drifter Drift Trike is like having a big wheel with a huge shot of nitrous! The new gas powered drift trike is seriously fun. This is a fully equipped with a powerful 6.5 horsepower engine mounted on the durable steel tube frame, connected to metal banded rear go kart tires for maximum drifting action. The wide bmx style handlebars with rubber grips let you control the wide street tread tire mounted on the 16″ front wheel equipped with hand operated disc brakes providing the ultimate drift trike ride .
If you're new to trike drifting and not sure what type of drift trike is best for you, be sure to take a look at our Drift Trike Buyers Guide.
Who is the ScooterX Drifter Drift Trike designed for?
This gas powered drift trike is for riders 16 and older.
What is the top speed of this drift trike?
The top speed of the ScooterX Drifter Trike is 30 mph.
Where can you buy this gas powered drift trike?
Here is where you can find the current price of the ScooterX Drifter: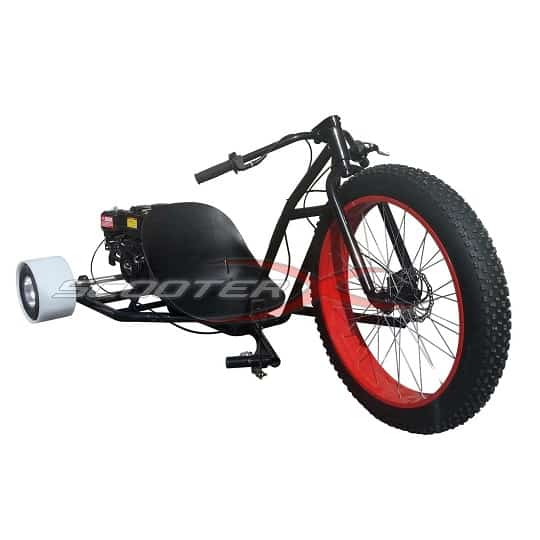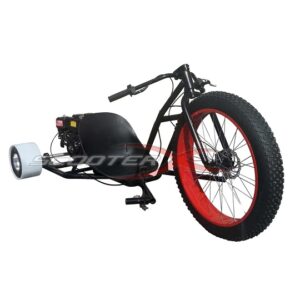 ScooterX Drift Trike Specs & Features
Tubular steel frame
Front disc brake with hand controls
Threadless headset
BMX style stem with chopper handlebar
Soft rubber handgrips
Adjustable foot pegs
Hard molded racing seat
16" Front wheel with wide street tire
Plastic sleeved rear wheels for maximum drift ability
6.5 Horsepower gasoline engine
ScooterX Drifter Drift Trike Assembly Video

So what are you waiting for? Get your ScooterX Drifter Drift Trike Today!
Like this Drift Trike? Be sure to check out some of these other drift trikes brought to you by Wild Child Sports!