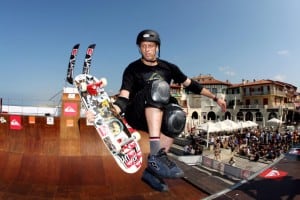 Pushing the limits day in and day out can get tough for anyone, especially an action sports athlete. It takes a lot of daily persistence to continue to push yourself to the limit day in and day out. So what do you do when you are faced with some serious burnout? Years ago, I read Tony Hawk's book, "How Did I Get Here: The Ascent of an Unlikely CEO", and was truly inspired by what he had to say about life, work and obviously skateboarding. Whenever faced with the burnout that comes from the daily grind, take some time to review some of these Tony Hawk quotes and life lessons. I'm sure that you too will agree that these Tony Hawk quotes are exactly what you need for your daily motivation. Enjoy!
Tony Hawk Quotes and Life Lessons from "How Did I Get Here: The Ascent of an Unlikely CEO?"
"Recognize where your talent lies, work hard on it and, when you reach the top of your profession, don't forget your roots." – Tony Hawk
---
"Never get cocky about your professional success, because the good luck that got you there can turn bad fast." – Tony Hawk
---
"Once you find your passion, run with it. Ignore what peers or career counselors say. Whatever you pick, as long as you truly love it, get really good at it. That means spending a lot of time at it." – Tony Hawk
---
"Become a mentor. Encourage people who will inevitably rise to replace you." – Tony Hawk
---
Other great Tony Hawk Quotes
"You might not make it to the top, but if you are doing what you love, there is much more happiness there than being rich or famous." – Tony Hawk
---
"I consider skateboarding an art form, a lifestyle and a sport. 'Action sport' would be the least offensive categorization." – Tony Hawk
---
"Big decisions in my life have always come easy and are made without hesitation. It is easier for me to make a life-changing decision than to decide what to get for dessert." – Tony Hawk
---
Motivational Sports Video from Tony Hawk
This motivational sports video features an entire interview packed with a bunch of great Tony Hawk quotes. He discusses pushing the limits of your success and what it takes for anyone to achieve the level of success that they are looking for. He also discusses the process that he goes through when faced with the challenges and setbacks of overcoming obstacles. Enjoy!
Thanks for stopping by and checking out these Tony Hawk quotes! Be sure to check out some of the other great sports motivation brought to you by Wild Child Sports!
(Visited 1,974 times, 1 visits today)