The Vestar Black Hawk an All Terrain Electric Skateboard for Adults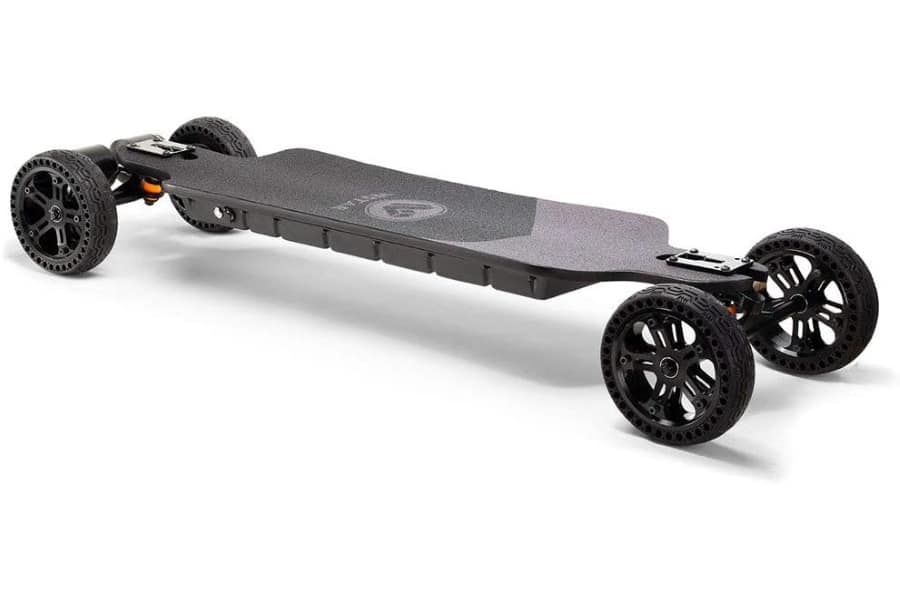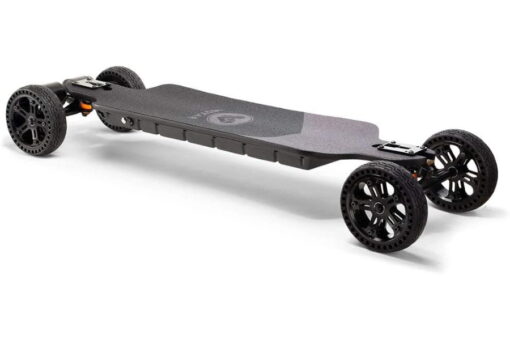 Vestar Black Hawk All Terrain Adult Electric Skateboard
First let's say this is built with an experienced rider in mind.  The Vestar Black Hawk all terrain electric skateboard is designed to deliver speed and power for the electric skateboard enthusiast who enjoys both street riding and off road adventures.  As a result, this 2 in 1 electric longboard has it all.  Furthermore, it comes equipped with both the larger all terrain wheels as shown in the pic above as well as smaller traditional wheels for streets and concrete.  So whether looking for a great board to get around town or are the avid thrill seeker this is the board for you.
The Vestar Black Hawk is an excellent all terrain electric skateboard for adults as it can handle a hefty rider and can hit top speeds that will get your adrenaline pumping!  This board is built well too.  Made of a 2 ply Bamboo and  7 ply Maple deck gives it both strength and flexibility to handle all types of excursions.  It's dual belt driven motors along with a large Samsung battery helps with speed as well as a long rides across ally types of terrain including hills with inclines of up to 30%.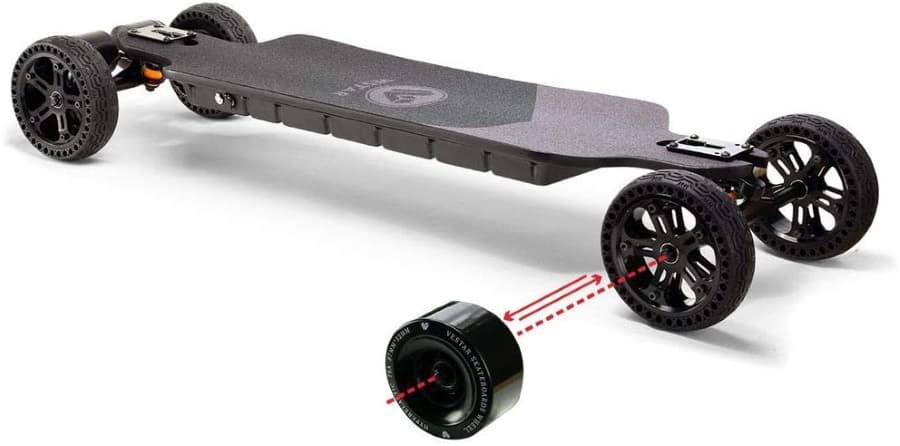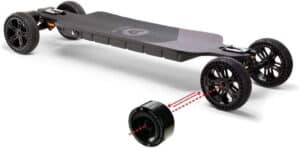 Who is is the Vestar Black Hawk really designed for?
This is an all terrain electric skateboard designed with the adult rider in mind and we would recommend it for intermediate to expert riders.  It's powerful motors can take a load too with a maximum rider weight of 260 pounds.
What is the top speed of the all terrain Black Hawk electric skateboard?
The Black Hawk AT/GTR 2 in 1 electric skateboard has a top speed of 27 miles per hour and gets you a ride of  between 27 and 32 miles based on the wheel configuration.  However, keep in mind that things like riding conditions, size and weight of the rider as well as experience will play into how far and fast you can go..
How much does the Vestar Black Hawk cost?
As one of the fastest electric skateboards that comes equipped with both street and all terrain wheels this board is in the higher end of electric skateboards like the Evolve electric skateboards or the AZBO all terrain boards.  You can check the current price on Amazon in the link below
Features and Specs of the Vestar Black Hawk All Terrain 2 in 1 Electric Skateboard
Two 20000W motors for optimum power
Belt drive system
Super sturdy 38 inch 2 ply Bamboo and 7 ply Maple deck.
Smooth acceleration and braking
Samsung 630Wh lithium battery
6.5 inch all terrain explosion proof tires
97*52 mm wheels
IP 67 Water resistance
Remote control


Be sure to check out some of the other great skateboards brought to you by Wild Child Sports!