Take Wakeboading to a whole new level with the Hoverboard by Zapata Racing.  No longer are you stuck behind a boat looking for a good wake, you are in total control of your ride, skimming on the water or shooting up to more than 20 feet above it.
This is the ideal action sports toy for those who love surfing.  This gives you the freedom to experience a sensational way of mixing the feeling of surfing with flying.  It's a whole new experience.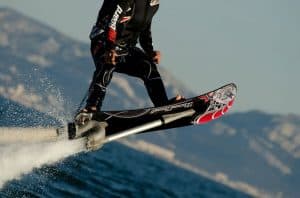 How the Zapata Hoverboard Works
The hoverboard is attached to a hose that provides the water jet.  That hose is connected to a personal watercraft, like a Sea Doo or a Wave Runner.  The thrust from the watercraft shoots through the hose and ultimately out the back of the Zapata Hoverboard.
Awww, who cares about the details, just check out the fun you could have with one of these in the video below:
Hoverboard in Action!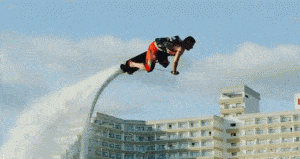 Wasn't that awesome? Start planning your trip for this summer now.  The Hoverboard is an experience you just can't miss.
What's the Hoverboard going to cost me?
Hey, you've probably heard the saying, "if you have to ask, it's probably out of your price range," right?  Not this time.  Don't get me wrong, it's not cheap, but it's far less than buying a wakeboard and the boat to tow you, not to mention all the drinks you probably have to buy your friends every time you take a trip to the lake.
Depending on where you buy one the price will vary Zapata Hoverboards are sold through dealerships.  We've found some ranging around $2700 for the board.  Here's one in Utah you can check out.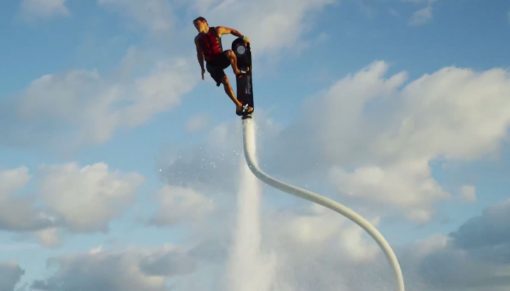 (Visited 857 times, 1 visits today)