Monster Moto Electric Mini Bike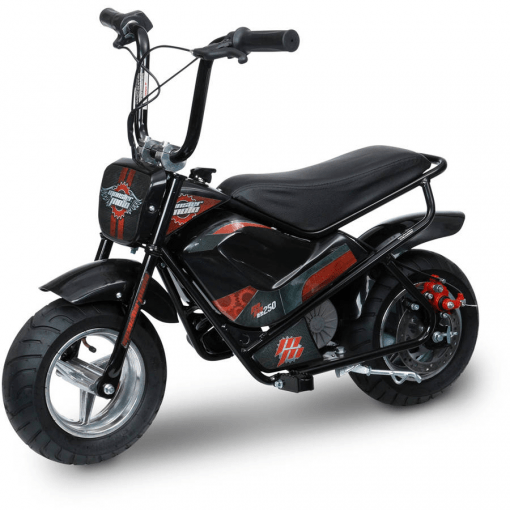 Monster Moto Electric Mini Bike
If your up and coming rider is ready to hit the trails but isn't quite ready for a gas-powered mini bike, then look no further than the Monster Moto e-Mini. If you haven't already noticed, the Wild Child Crew is especially stoked on all of the great products that Monster Moto has to offer. Today we want to take a closer look at the Monster Moto 250W Electric Mini Bike.
Their mini bike is built just the same way as the Monster Moto gas-powered mini bikes. The 250W electric mini bike will give your rider the same ride and feel of a gas powered mini bike without all of the power. It's a great starter bike for many riders and will really help them in making a smooth and comfortable transition later on to a more powerful mini bike. One of the coolest things about this particular electric mini bike is the ability to customize your bike with red and/or pink decals.
Who is the Monster Moto 250W Electric Mini Bike designed for?
This kids electric mini bike is designed for riders ages 6 and up with a maximum rider weight of 130 pounds.
What's the top speed of the Monster Moto 250W Electric Mini Bike?
The top speed of this Monster Moto mini bike is 11 mph with 45 minutes of continuous use on a full charge.
One of the best features of this Monster Moto electric mini bike is the 2 stage safety speed limiter. This allows you to set the top speed of the bike at either 7 or 11 mph.
How much does the Monster Moto 250 Watt Electric Dirt Bike cost?
This particular Monster Moto electric mini bike is going to run you somewhere between $230 and $250. From time to time we do see this kids electric mini bike drop below 200 bucks.
Monster Moto Electric Mini Bike Features
250 watt electric motor
24 volt. 7 amp hour electric power
Rechargeable and replaceable batteries
Built in battery charger hookup (charger included)
2 Stage Safety Speed limiter
Motorcycle-style throttle control with charge indicator
On & Off Toggle Switch
1-piece Cast Aluminum Wheels w/low-profile pneumatic tires
Rear disc brakes
Adjustable Handlebars
Check out the Monster Moto E-Mini in action!

Monster Moto 250W Electric Mini Bike Reviews
---
"This minibike is perfect for a child to learn on. Our 5 year old rides it easily and can reach the handle for the brakes. The adjustable speed is the best part as your child can learn to use the throttle and brakes on low speed and then switch when needed. The battery lasts awhile as well. Great buy and I recommend to anyone who wants there child to learn how to ride a motorcycle."
---
"Another great product from Monster Moto. Outstanding quality and just an overall awesome looking minibike."
---
"It's really quick and easy to assemble yet very well constructed."
---
"I love how long the charge lasts – almost a full hour!"
---
"Really a great bike, my son loves it! And it's built to last, very durable. Very satisfied with the buy and excellent customer service as well."
---
Thanks for stopping by and checking out these Monster Moto electric powered kids mini bikes! Be sure to check out some of the other great Monster Moto products and kids dirt bikes available through Wild Child Sports!
(Visited 1,415 times, 1 visits today)