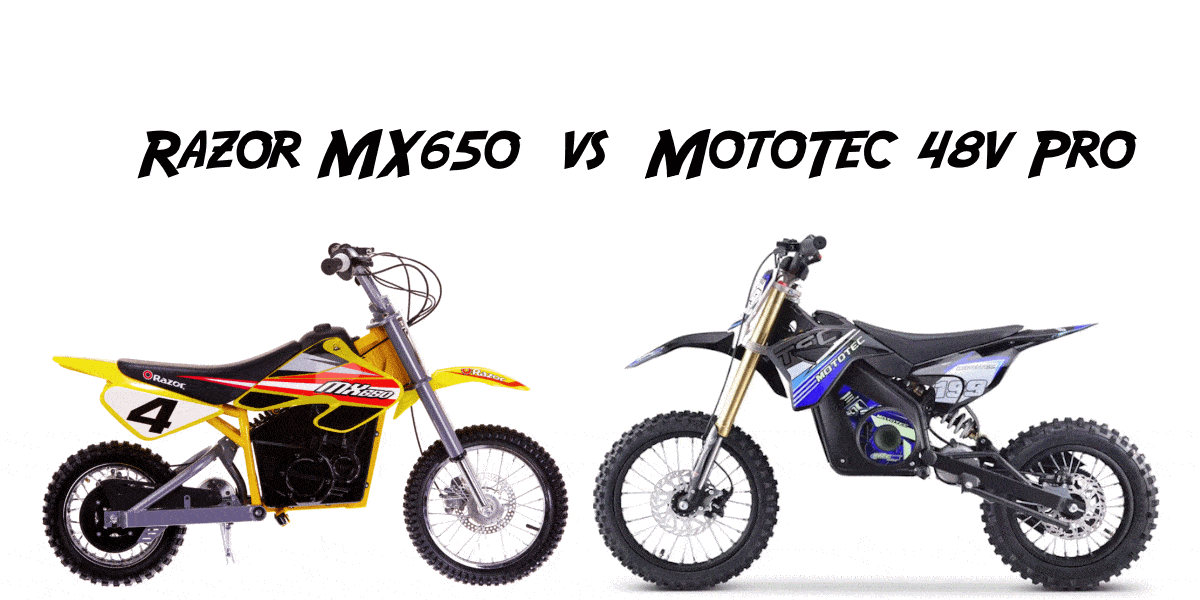 When it comes to electric dirt bikes, comparing the Razor MX650 vs MotoTec 48v Pro offers unique features and specifications catering to different riding preferences for each. Let's compare these two options to help you make an informed choice.
Who's Faster? Razor's MX650 or MotoTec's 48V Pro?
In terms of speed, the Razor MX650 takes the lead with a top speed of up to 17 mph (27 km/h). On the other hand, the MotoTec 48v Pro provides a variable top speed range of 5-25 mph.  It also has an adjustable know with a variable speed control, offering riders more control over their riding experience.
MX650 vs MotoTec 48V Pro motors Comparison
Both bikes feature powerful motors. The Razor MX650 boasts a variable speed, high-torque, chain-driven motor.  In comparison, the MotoTec 48v Pro comes with a 48 Volt 1500 Watt brushless motor, utilizing rare earth neodymium magnets for efficient performance.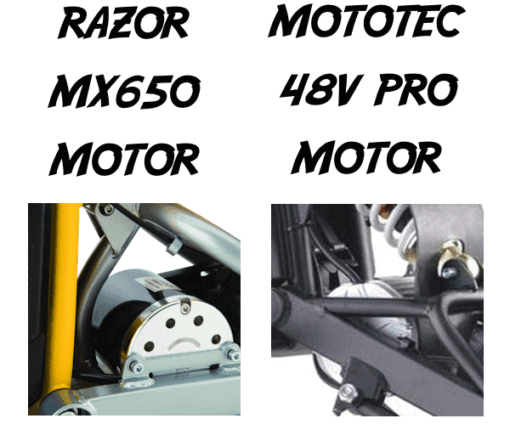 Are there battery differences in the MotoTec 48V vs the Razor MX650?
When it comes to battery capacity, the MotoTec 48v Pro stands out with its 48 Volt 13Ah Li-Ion battery. This battery technology provides lighter weight, improved performance, and a longer ride time.  In contrast the Razor MX650's comes with a 36V (three 12V) sealed lead-acid battery.
What about Suspension of the MX650 vs MotoTec Pro?
In terms of suspension, the Razor MX650 offers dual suspension and a front inverted authentic motocross suspension fork, ensuring a smooth and comfortable ride over rough terrains. The MotoTec 48v Pro features two hydraulic front shocks and one rear shock, providing adequate suspension for a variety of off-road conditions.
Braking System Comparison
When it comes to braking systems, both bikes feature reliable disc brakes. The Razor MX650 has hand-operated dual disc brakes, while the MotoTec 48v Pro comes equipped with front and rear disc brakes for efficient stopping power.
Other Features of the Razor MX650 vs the MotoTec 48V Pro
Design-wise, the Razor MX650 showcases a steel frame with authentic dirt bike geometry, adjustable handlebars, and soft rubber grips for comfortable handling. On the other hand, the MotoTec 48v Pro features a sturdy steel frame with adjustable handlebars and an adjustable forward/back seat, allowing riders to find their optimal riding position.
In terms of weight capacity, the Razor MX650 can accommodate riders weighing up to 220 lbs, while the MotoTec 48v Pro has a maximum rider weight limit of 150 lbs.
Both bikes require some assembly upon purchase, and they come with the necessary tools included. Additionally, safety is emphasized by both brands, with helmet usage and adherence to safe riding rules strongly encouraged.
Ultimately, the choice between the Razor MX650 and MotoTec 48v Pro depends on your specific requirements. If you seek a higher top speed and a longer ride time, along with a powerful brushless motor, the MotoTec 48v Pro might be the ideal choice. On the other hand, if you prioritize a slightly higher weight capacity, dual suspension, and a renowned brand name, the Razor MX650 could be the perfect fit.
If you are looking for more details on the Razor MX650, we did a more comprehensive review here.  Or if you are looking for the MotoTec 48V Pro bike you can find a review here.
Always consider your riding preferences, safety measures, and the age of the rider when making a final decision. Both the Razor MX650 and MotoTec 48v Pro offer exciting electric dirt bike options that can deliver an exhilarating off-road experience.