Razor MX400 Dirt Rocket Electric Dirt Bike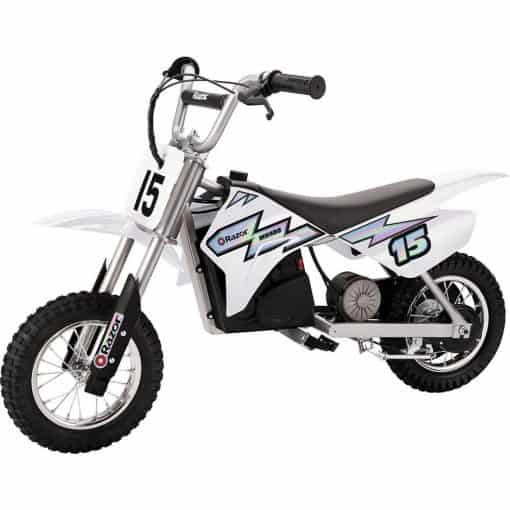 MX400 Dirt Rocket Electric Bike by Razor
The Razor MX400 Dirt Rocket electric dirt bike is an awesome starter bike for your child. If you're not sure which of the Razor electric dirt bikes is of best fit for you or your child, be sure to check out our article on choosing the right model. Get out in the dirt with the Razor MX400 Dirt Rocket electric dirt bike today!
Razor MX400 Review
[sc name="MX400″ ]
Let's kick things off with this Razor MX400 review by answering some of the most frequently asked questions about this kids electric dirt bike.
What's the difference between the Razor MX400 VS MX350?
This is a frequently asked question with a very simple answer. The Razor MX400 and MX350 are the same dirt bike but available in different color combos. We also get asked a lot about the youngest age that a child can ride the MX400. Since the MX400 and the MX350 are almost identical, be sure to check out our detailed review of the Razor MX350 where we answer these questions in a lot more detail.
Who is the Razor MX400 dirt bike designed for?
This kids electric dirt bike is designed for riders ages 13 and up with a maximum rider weight of 140 pounds.
How big is the MX400 Razor Dirt Bike?
The MX400 weighs 65 pounds. Here are the dimensions of the MX400:
Length: 44 inches
Width: 24.5 inches
Height: 31 inches
Seat Height: ~20 inches
How fast does a Razor MX400 go?
The Razor MX400 top speed is 14 mph with 30 minutes of continuous use on a full charge. The charge time for the MX400 is up to 12 hours.
What does the Razor MX400 cost?
For some reason the MX400 can vary in price quite a bit because of the different color combos. The MX400 is going to run you somewhere between 290 and 320 bucks. Amazon continues to be one of the best places to find the most competitive price on the MX400 and virtually all of the other Razor dirt bike models. Here's a look at the best pricing for each color combo:
Razor MX400 Electric Dirt Bike Specs and Features
Next, our Razor MX400 Review is going to take a closer look at some of the other specs and features of this of this kids electric dirt bike.
Chain-driven 350 watt electric motor
24 volt rechargeable battery system
Twist grip throttle control
Authentic motocross-style spoke wheels
Large knobby tires
Retractable kickstand
Shatter proof plastic fairings and fenders
Check out our Razor MX400 Features Video


Thanks for stopping by and checking out our Razor MX400 Review! Be sure to check out some of these other great electric dirt bikes brought to you by Wild Child Sports!
And remember to always educate your child on motorcycle safety and have them always wear the appropriate safety gear!