Razor MX400 Dirt Rocket Electric Dirt Bike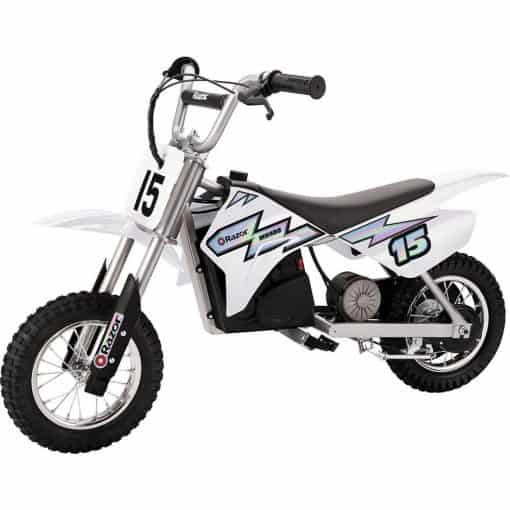 MX400 Dirt Rocket Electric Bike by Razor
The Razor MX400 Dirt Rocket electric dirt bike is an awesome starter bike for your child. This Razor electric dirt bike features a rear adjustable suspension and front inverted authentic motocross suspension fork. It has a chain drive with an automatic adjuster.  It is very easy to assemble and all tools are included. If you're not sure which of the Razor electric dirt bikes is of best fit for you or your child, be sure to check out our article on choosing the right model. Get out in the dirt with the Razor MX400 Dirt Rocket electric dirt bike today!
What's the difference between the Razor MX400 and MX350?
This is a frequently asked question with a very simple answer. The Razor MX400 and MX350 are the same dirt bike but available in different color combos.
Who is the Razor MX400 dirt bike designed for?
This electric dirt bike is designed for riders ages 13 and up with a maximum rider weight of 140 pounds.
How fast does a Razor MX400 go?
The Razor MX400 top speed is 14 mph!
What does the Razor MX400 cost?
For some reason the MX400 can vary in price quite a bit because of the different color combos. The MX400 is going to run you somewhere between 290 and 320 bucks. Amazon continues to be one of the best places to find the most competitive price on the MX400 and virtually all of the other Razor dirt bike models. Here's a look at the best pricing for each color combo: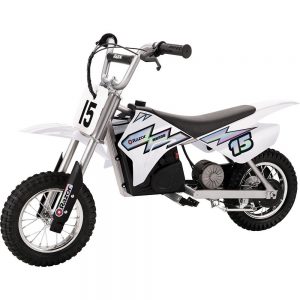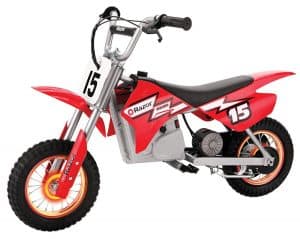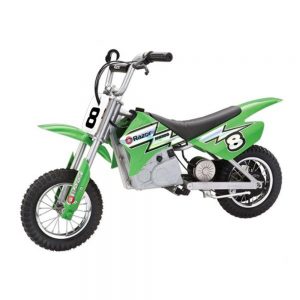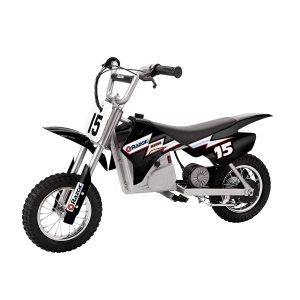 Specifications of the Razor MX400 Electric Dirt Bike
Next, let's check out the specs of the electric powered Razor dirt bike MX400.
Compact electric dirt bike with powerful yet quiet variable-speed
Chain-driven electric motor
Twist grip throttle control
24 volt sealed lead acid rechargeable battery system with a charge time of 12 hours
30 minutes of continuous use with a full charge
Authentic motocross-style spoke wheels
Large knobby tires
Shatter proof plastic fairings and fenders
Check out our Razor MX400 Features Video


Thanks for stopping by and checking out our article on the Razor MX400 Dirt Rocket Electric Dirt Bike! Be sure to check out some of these other great electric dirt bikes brought to you by Wild Child Sports!
(Visited 495 times, 1 visits today)