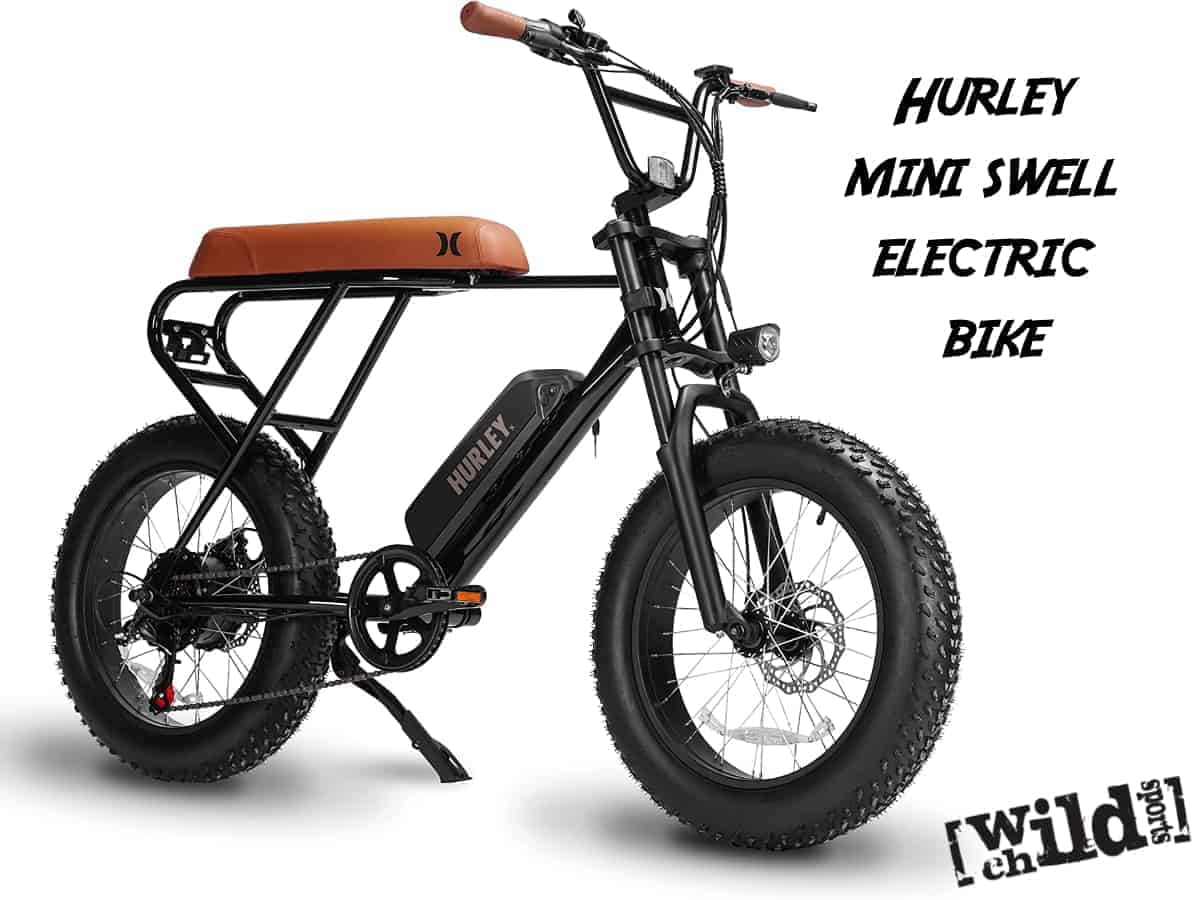 The Hurley Mini Swell Electric Bike is a great choice for those looking for an easy-to-ride, comfortable, and fun bike. The design of the bike is modern and sleek.  It's designed to suit your style.  The performance of the bike is impressive, with a powerful motor that can take you up to 20 miles per hour.  The range of Mini Swell bike is also excellent.  It even has a battery that can last up to 40 miles on a single charge.
Who can ride the Hurley Mini Swell?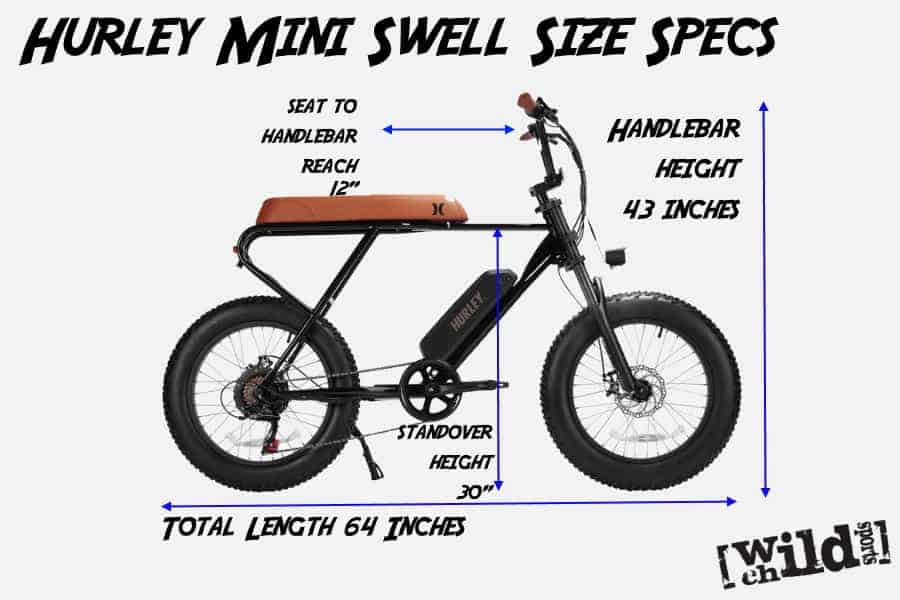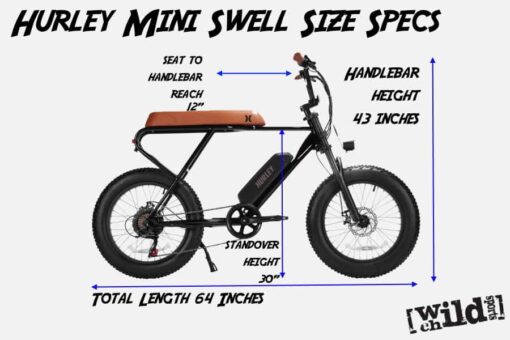 The Mini Swell is designed for adult sized, more experienced riders.  According the specs the bike is designed to fit a person 5'10" to 6'2″ comfortably.
How Fast does this Hurley electric bike go?
Twist the motorcycle-style throttle and reach top speeds of up to 20 mph.  Don't feel limited when you ride either because the Hurley Mini Swell has a range of 40 miles on a single charge.  Your backyard just got a little bit larger. Easily remove the battery with the included set of keys, toss it into a bag, and charge it on your next for you next all day epic adventure with the included charging cable. The battery pack includes a charge indicator and can be fully charged in 4-5 hours.
What powers the Hurley Mini Swell?
Powered with a brushless 500-watt motor and 48-volt battery unit, the Mini-Swell has a two-ride mode: ride assist, and throttle.  In ride assist mode you can use your 6 speed rear Shimano shifter to adjust the speed and assistance you want.  In throttle mode get ready to take off and not worry about pedaling at all.   This electric bicycle holds its own in a performance urban motorcycle style unsurpassed by electric bicycles, where users can either pedal or walk in one mode.
What kind of tires does it have?
The Hurley Mini Swell comes equipped with 4 inch fat tires to get you off the beaten path.  You can travel on roads, dirt, sand, or snow with the dual wall alloy 20 inch wheels.  In addition, the knobby tires provide a sharp bite and have an aggressive look that will catch some views as you are cruising by.
Is the Mini Swell a comfortable ride?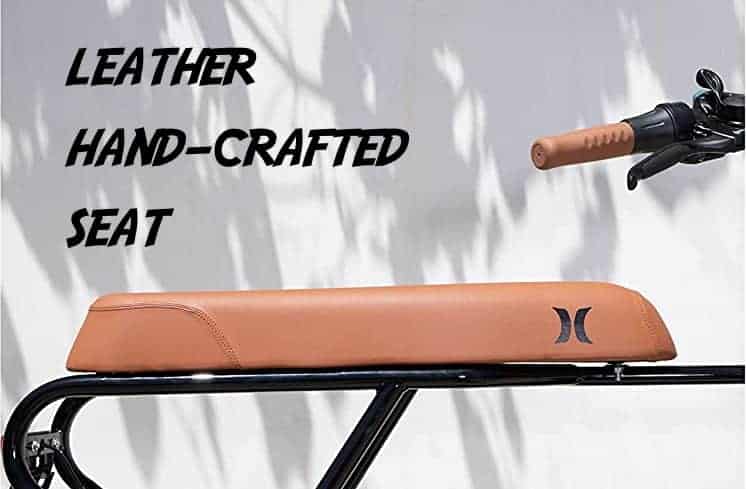 Yes, moreover, as you tackle sketchy terrain with the front suspension fork that smooths out the bumps, you'll also enjoy the leather handcrafted seat, and comfort grips.  It also has bmx styled handlebars with contoured grips to fight wrist fatigue on long rides.
What kind of braking system does the Mini Swell have?
Hey, if you want to ride fast you also have to stop.  This Hurley electric bike is ready to go with front and rear mechanical disc brakes to provide plenty of stopping power and keep you in control.  What happens is you decide to use the brakes while you are also using the pedal assist?  This bike has a built in safety switch that automatically cuts power to the motor during normal braking conditions.  In addition to ensuring a save non-powered stopping feature, it also protects the motor from working against the braking system when stopping the bike.
Where can I get a Hurley Mini Swell electric bike?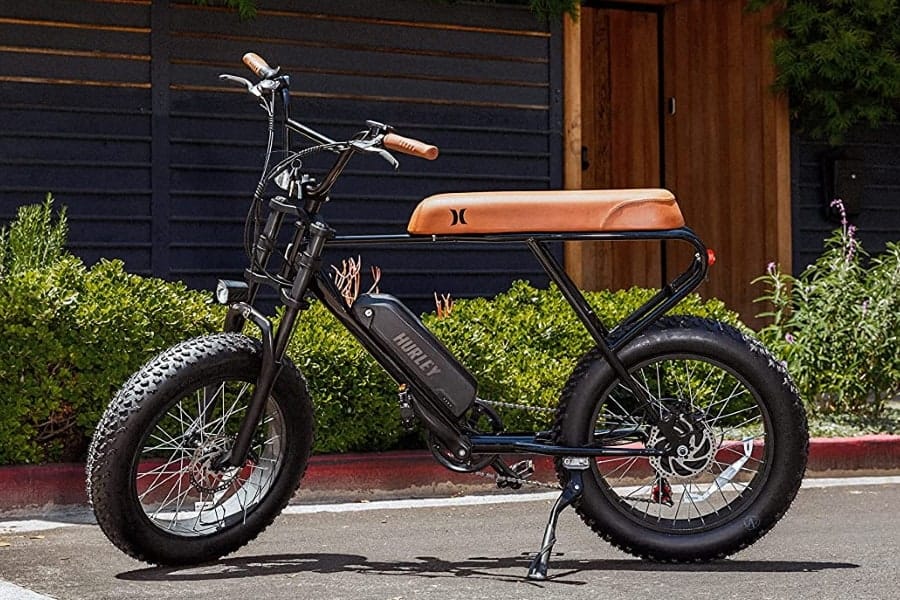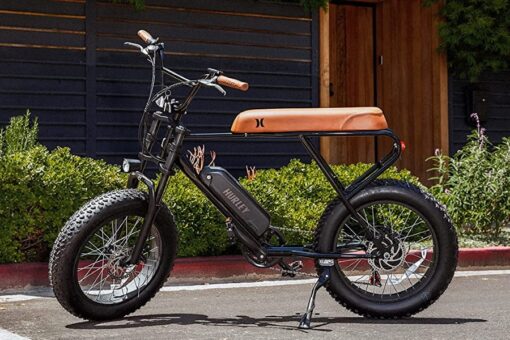 It's not always easy to find the Hurley Mini Swell as it's such a popular bike, but you can check prices online at Amazon and Walmart to name a few.  Click the links below for current pricing.
CHECK PRICE @ Amazon  CHECK PRICE @ Walmart
Quick rap up of the features and specs of the Hurley Mini Swell
RECOMMENDED RIDER: Adult up to 265 lbs
POWER: 500 WATT I 48 VOLT RIDE ASSIST & THROTTLE
MAX SPEED: 20 MPH
MAX DISTANCE: 40 MILES
CHARGE TIME:  4 to 5 hours
FRAME: STEEL
FORK: SUSPENSION
DRIVETRAIN: SHIMANO TOURNEY 6-SPEED
WHEELS: 20 INCH ALLOY DOUBLE WALL
BRAKES: MECHANICAL DISK
TIRES: WANDA 20 X 4.0
FRAME: SIZE LARGE FITS 5'6″ TO 6'2″
WEIGHT: 70 lbs
Thanks for stopping by and checking out our article on the Hurley Mini Swell electric bike! Be sure to check out some of these other great electric bikes brought to you by Wild Child Sports!