Razor has come out with a cool new minibike for older riders.  Today let's check out the Razor Rambler 16
Razor Rambler 16 Electric Minibike Review
Wild Child Sports is excited about the Razor Rambler 16!  This is one of the first minibikes built by Razor that was specifically designed for adult-sized riders!  Until now the biggest Razor electric ride was the Razor Dirt Rocket MX650, which is designed for ages 16 and up.  Now with the introduction of the Rambler 16, Razor is entering the adult commuter type electric minibike category.  This cool electric mini bike is designed to look like a modernized version of the retro mini motor-bikes popular back in the day.
Who can ride the Rambler 16?
The Rambler 16 is designed for riders 18 and up according to the owner's manual.  It's a sturdy bike too and can hold riders up to 220 pounds.  Although it is designed for riders over 18, we've seen lots of reviews that older teens are enjoying the bike too.  A good comparison is the MX650, which is designed for ages 16 and up, and also compares in size, but actually has a faster top speed than the Rambler 16.  Always keep safety in mind when deciding who will ride your Rambler.
What is the top speed of the Rambler 16 electric mini-bike?
The top speed of the Rambler is 15.5 mph.  It's powered by a 350-watt electric motor housed in the rear wheel.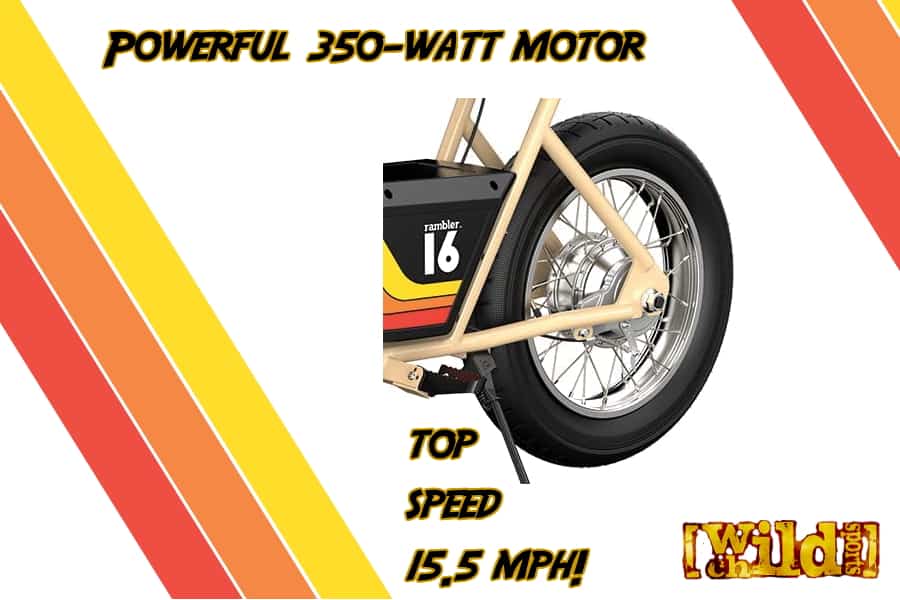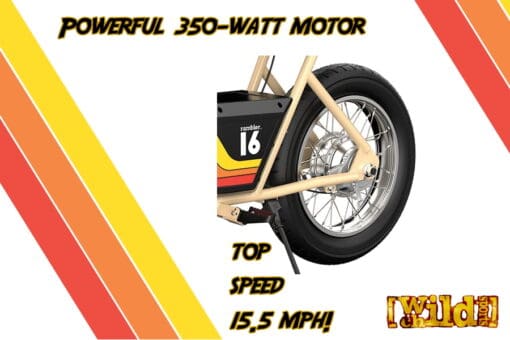 What is the range of the Razor Rambler 16?
With each charge you can travel up to 11.5 miles and can run for up to 45 minutes of continuous riding.  You can do this because the Rambler 16 is powered by a 36-volt rechargeable battery.  The initial charge time is 12 hours.  You should recharge the battery after each ride.  The recharge can take up to 8 hours.  It's not recommended to charge for more than 24 hours so be sure to unplug the charger when not in use.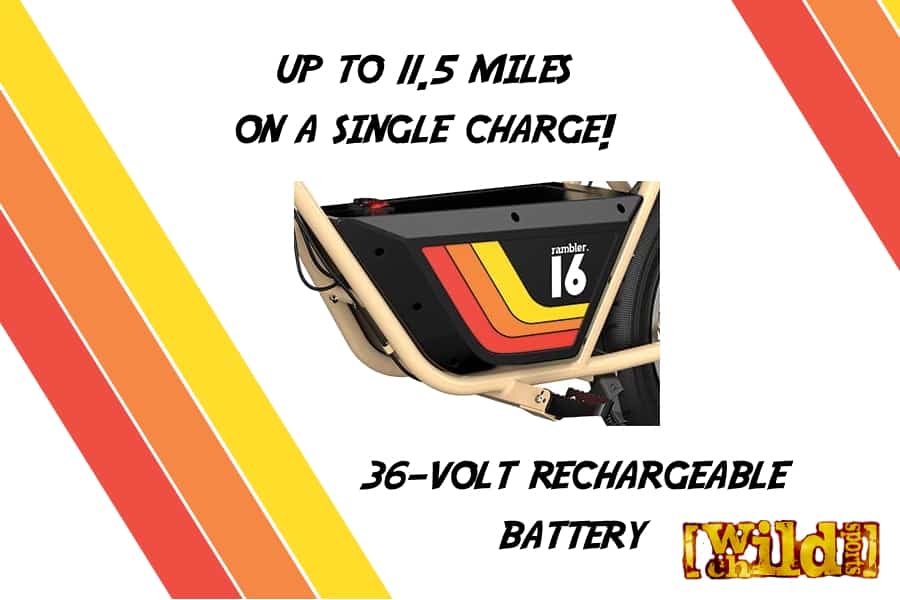 How to accelerate and slow down
The Rambler 16 has a twist grip throttle for quick and easy acceleration on the right handlebar.  In addition, a caliper-style handbrake on the left side is connected to the rear drum brake for smooth and easy stopping.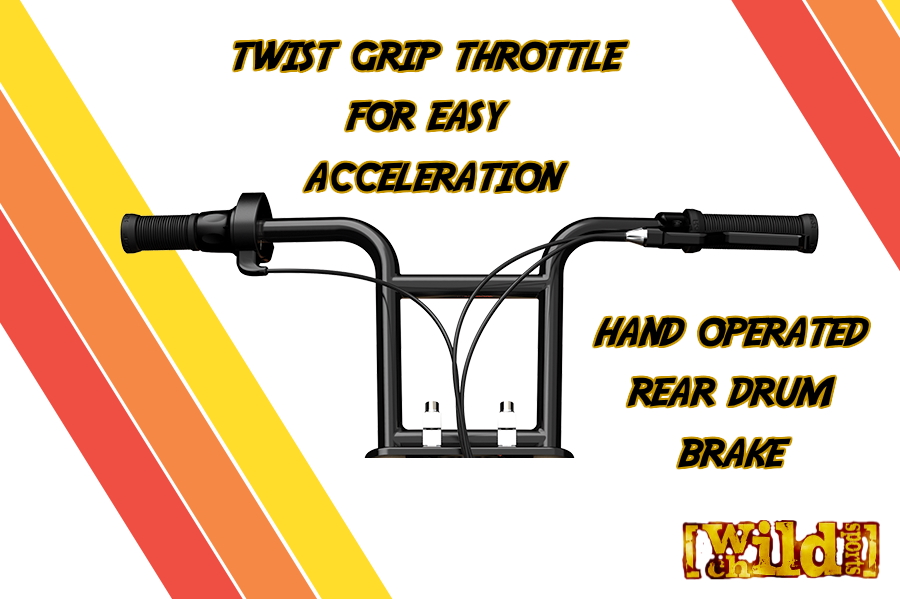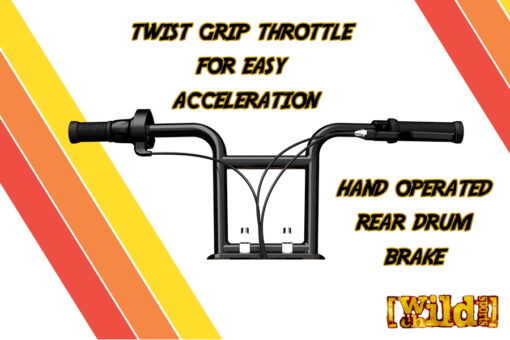 Is this Rambler comfortable and strong?
Razor's Rambler 16 is definitely a sturdy mini-bike.  It is constructed with high-quality steel construction designed to be a long-lasting durable electric ride ready to withstand rugged terrain.  From a comfort standpoint, the Rambler is equipped with a comfortable cushioned banana style MX bench seat to help you with a smooth ride wherever you may be headed on your next adventure.  The seat height is 25.9 inches high letting some of those taller riders ride in comfort too.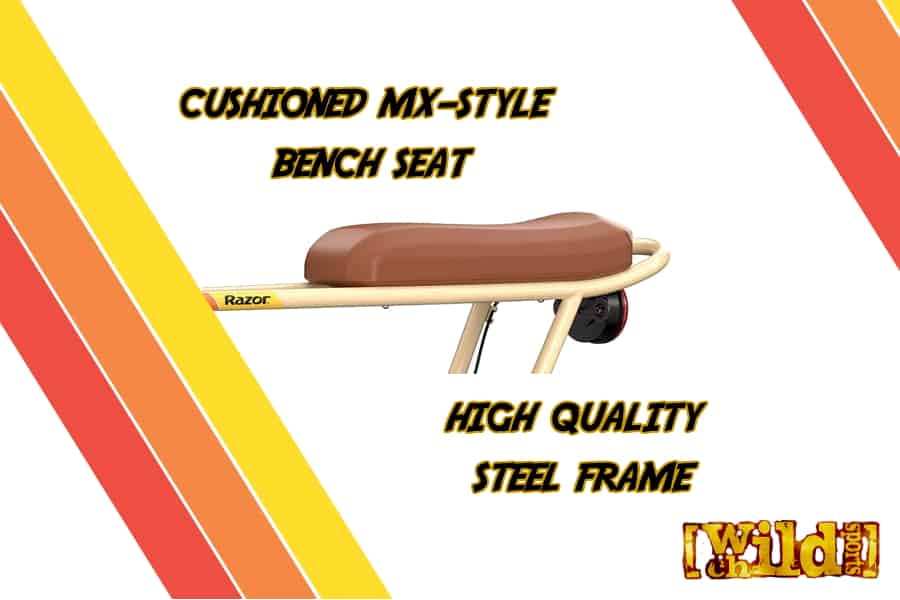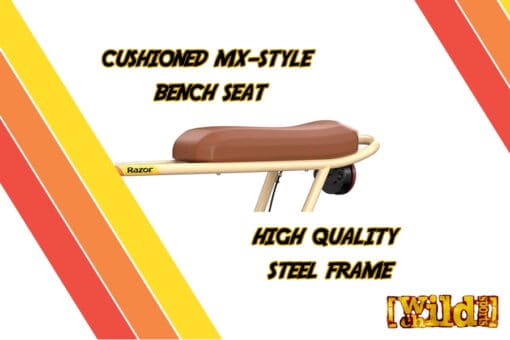 What about lights?
Yep!  The Razor Rambler has it all.  It comes with a super bright front LED headlight as well as a brake-activated taillight,  so you can ride where you want when you want.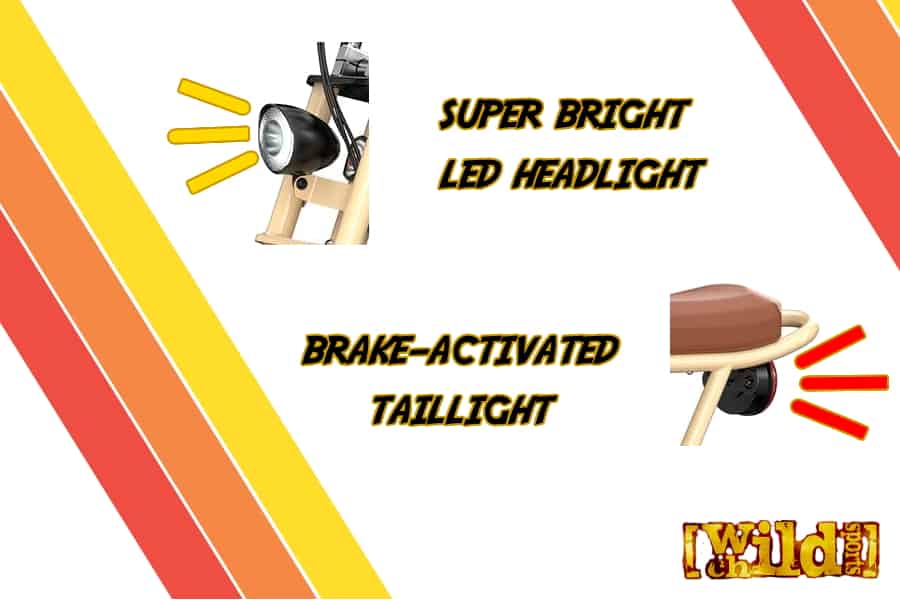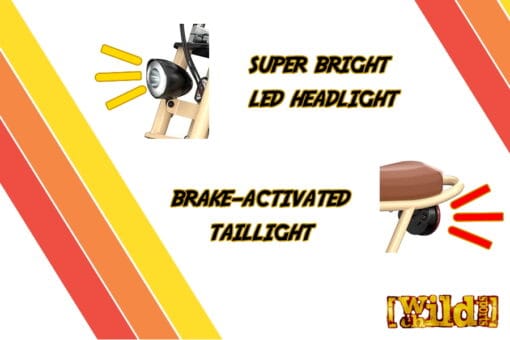 What size tires does it have?
Designed for a smooth comfortable ride, the Rambler 16 features extra-wide 16-inch air-filled tires ready to tackle any smooth or rough surfaces.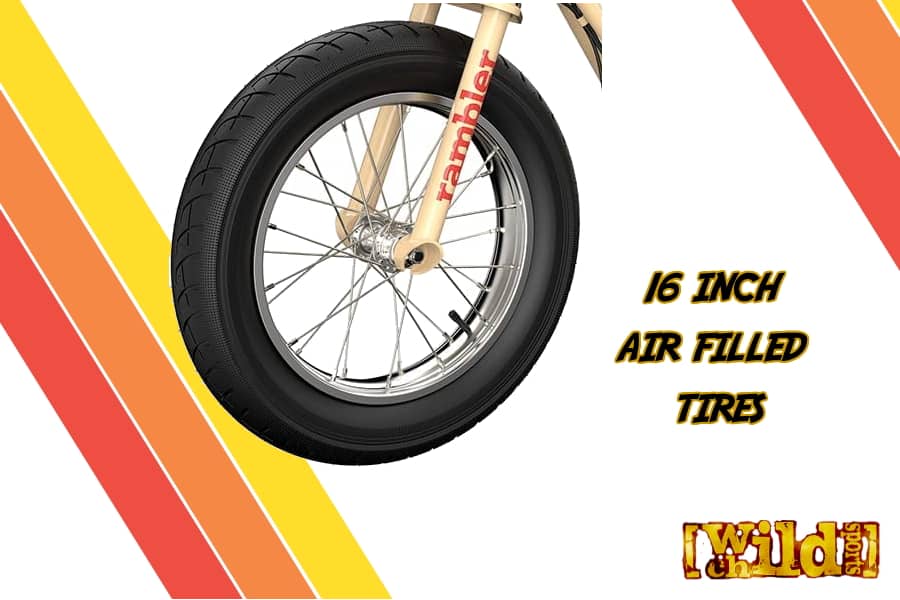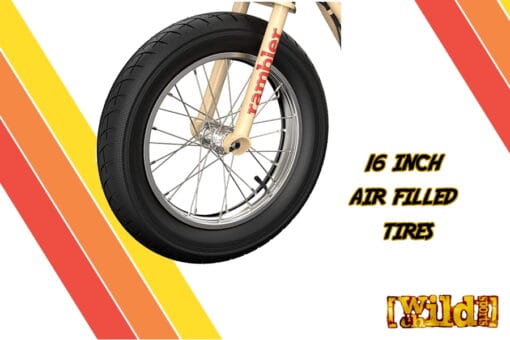 Where can you buy the Razor Rambler 16 Electric Minibike and what's it going to cost?
You can find the Rambler at most retailers that carry Razor products.  We've found that you can usually get one on Amazon at a reasonable price.  Click below for current pricing.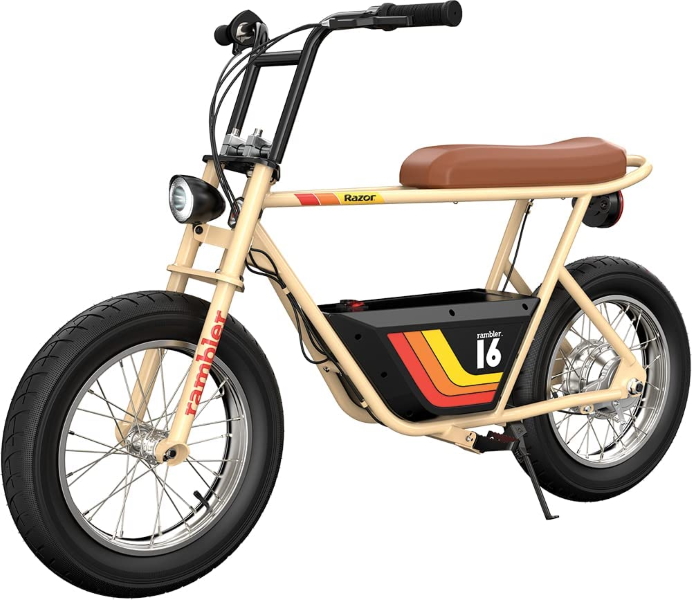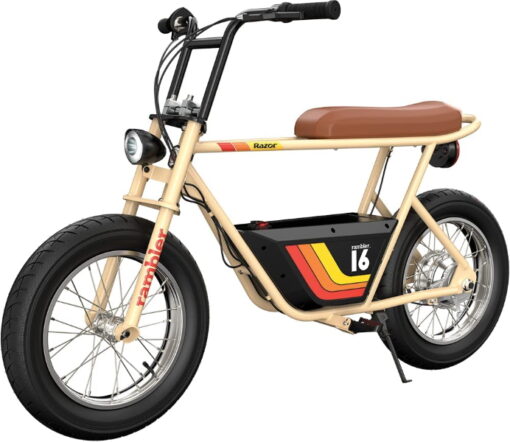 Check out the Rambler 16 in Action
Specs and Features of the Rambler 16 Electric Minibike
Running Features

Total Trip Distance: Up to 11.5 miles (18.5 km) on a single charge
Top Speed: Up to 15.5 mph (25 km/h)
Continuous Run Time: Up to 45 minutes

Controls

Acceleration: Twist grip throttle (right handle)
Braking: Hand-operated rear drum brake (left handle)
Headlight: LED turned on with thumb switch on handlbar
Taillight/Brakelight: automatic on with hand brake operation
Power switch on battery caseing

Construction

Frame: Heavy duty steel
Front fork: Dual-crown, moto-style, steel
Grips: Soft, rubber
Tires: Spoked with 16″ (406 mm), pneumatic
Foot Pegs: Folding, steel
Kickstand: Retractable, steel

Power

Motor: 350-watt, variable-speed, brushless, rear-wheel hub drive
Battery: 36V (three 12V) sealed lead-acid , rechargeable
A battery charger is included

Size and Recommended Rider Specs

Recommended Age: 18+
Max Rider Weight: 220 lbs (100 kg)
Rambler 16 Dimensions:

Length: 53.1″ (135 cm)
Width: 25.2″ (64 cm)
Height: 33.5″ (85 cm)

Rambler 16 Weight: 63.4 lbs (28.8 kg)
Final thoughts on the Razor Rambler 16
Again, Razor hit it out of the park with the Rambler 16.  They've put together a stylish retro minibike built for the more advanced rider, great for your teens moving off of their smaller Razor Dirt Rockets  This is a fantastic minibike for a rider who wants to get around quickly and easily.  It gives you a smooth comfortable ride on two wheels, throttling with a twist grip throttle and braking with a hand operated brake.  Check it out today!
If you liked this Razor Electric Minibike, be sure to check out some of these other great electric dirt bikes brought to you by Wild Child Sports!
And remember to always educate your child on motorcycle safety and have them always wear the appropriate safety gear!