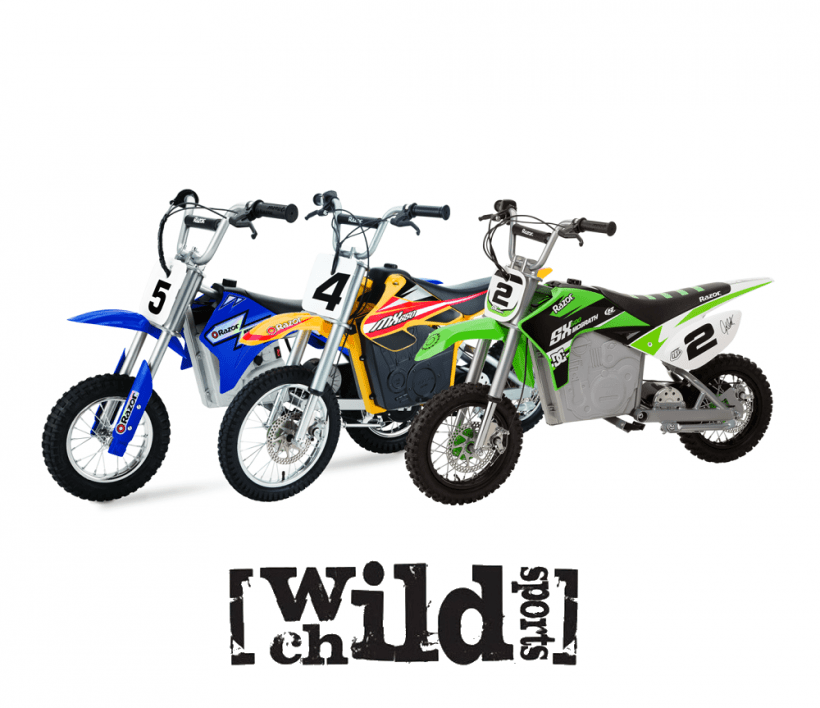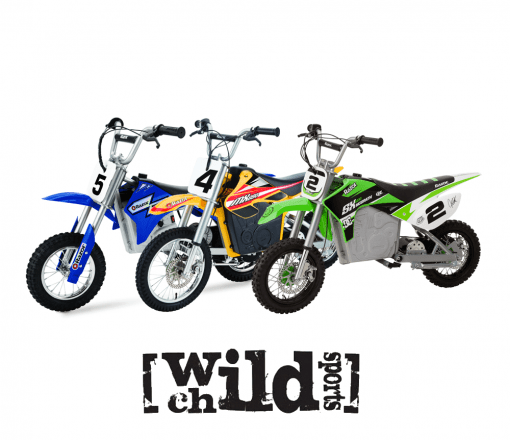 Here at Wild Child Sports we are all about outdoor fun! Whether its riding an electric dirt bike or electric skateboard or even just pedaling around on a BMX bike, we want you to get outside and have fun! One of our favorite outdoor toys has to be the Razor dirt bike electric. Not only are these dirt bikes fun for kids, but a lot of adults can jump on one of these and have a blast too.
If you're ready to make your purchase, be sure to check out our Razor Dirt Bike Buyers Guide. If you're still on the fence, then check out our 8 reasons why you need to buy a Razor dirt bike electric!
Reasonable Cost
When people hear the word dirt bike, they immediately think that they are going to have to have to fork out hundreds or even thousands of dollars. While this is very true in some cases, you can pick up a Razor dirt bike for under $250! The cheapest Razor dirt bike that you will find will be the MX350. The most expensive will be the MX650 (around $500). These electric dirt bikes won't break the bank but definitely pack some serious punch!
Low Maintenance 
People that don't have a lot of experience with dirt bikes tend to think that there is a lot of maintenance required to keep a bike up and running. This is definitely the case when you're talking about some of the higher end gas powered dirt bikes out there. However, Razor dirt bikes are electric and designed to require minimal upkeep. You won't have to mess with gasoline or oil. Sure, you need to know how to maintain the battery, check tire pressure and maybe replace a fuse here or there. With that being said, Razor gives you a detailed owner's manual with instructions to facilitate with this stuff.
Reputable Manufacturer 
If you've done any amount of research on electric dirt bikes, you've probably learned that there is definitely a lot of junk out there! Razor has been in the game for a long time and produce good quality electric toys. They also provide its customers with various owner manuals and how to videos. Sure, Razor dirt bikes may not be perfect but at these price points they are hard to beat!
Easy to Ride
Razor makes it super easy to get outside and ride one of their electric dirt bikes. All that you need to do is flip a switch, get on the bike, twist the throttle and GO! When you're done, flip the switch back off and plug in the charger.
Fun for All Ages
With their smaller size, you might think that Razor dirt bikes are designed just for kids and teens. WRONG! The Razor MX650 (the largest and fastest Razor dirt bike) has a maximum rider weight of 220 pounds.
Great Entry Level Dirt Bike
Razor electric dirt bikes are great entry level bikes for a number of reasons. As we mentioned earlier, they're pretty inexpensive. If you or your child end up not liking the bike (that won't happen), then you won't be out of pocket too much cash. Next, Razor dirt bikes use twist grip throttles as well as hand operated brakes. These features teach you or your child how to throttle and brake the same way that you would on a bigger, faster dirt bike.
Size and Weight
A Razor dirt bike is going to be both smaller and lighter than your traditional dirt bike. This is especially beneficial for younger, smaller riders. It allows them to have their feet touch the ground and hold the bike up. As simple as this might sound, it really does help a beginner rider to gain confidence.
Quiet & Environmentally Friendly 
This is another factor that might seem somewhat insignificant to the older, more experienced rider but very important to the first time rider. Gas powered dirt bikes are loud and intimidating especially to some younger kids. Razor electric dirt bikes are much quieter. When the dirt bike is stopped, you hear nothing. When it's moving, the loudest thing that you'll hear is the chain moving along the gears.
At the end of the day it's all about having fun. As you've learned, a Razor dirt bike electric is going to be a great option for a lot of people both young and old. So what are you waiting for?


Still need some more help? Be sure to take a look at some of our detailed Razor dirt bike electric reviews!
And remember to always educate your child on motorcycle safety and have them always wear the appropriate safety gear!