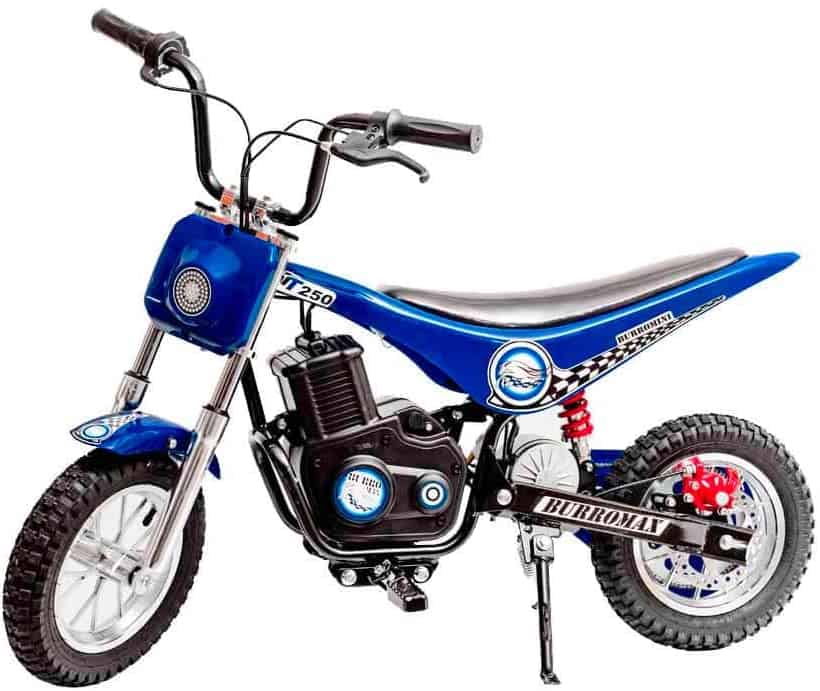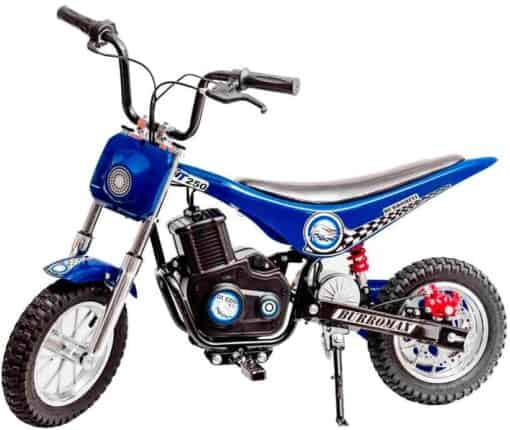 Electric Mini Bikes – Burromax TT250 Mini Bike
We came across the Burromax electric mini bikes awhile back and we really like what they are doing with their products. Burromax is a St. Louis, Missouri based recreational vehicles manufacturer. Burromax has 3 different models of electric mini bikes. Today, we are going to be taking a look at the TT250.
Who is the Burromax TT250 designed for?
This electric mini bike has a maximum rider weight of 250 pounds. Yes, that means that parents can have fun on this electric mini bike too!
One of the coolest features of this mini bike is the speed selector. It allows the bike to ride at a top speed of 7 mph or 14 mph. This is a great safety feature for beginner riders that are just starting out and need to gain confidence before riding at a faster top speed. Parents love this feature too!
How big is this mini dirt bike
?
The Burromax TT250 weighs 54.6 pounds. Here are the dimensions of this Fit Right mini bike:
Length: 43.3 inches
Width: 11 inches
Height: 24.8 inches
How fast does the Burromax TT250 go?
The top speed of the TT250 is 14 mph with up to 50 minutes of continuous use on a full charge. The charge time for the TT250 is 6-8 hours.
Where can you buy the Burromax TT250 electric mini bike?
Here is where you can find the current price of this mini bike:
Burromax TT250 Specs & Features
250 watt electric motor
Heavy duty steel frame
Full suspension
2-12V 7Ah batteries with UL approved 24V 1.5 amp battery charger
2 different speed selections
Chain drive
Rear disc brake
Twist grip throttle
Adjustable handlebars
Aluminum alloy rims
Retractable kickstand
Colors include white, red, blue or black
Check out the Burromax Electric Mini Bikes in Action!


So what are you waiting for? Get your Burromax TT250 TODAY!
If you liked these electric mini bikes by Burromax, be sure to check out some of these other great mini bikes brought to you by Wild Child Sports!