Looking to head for the hills and have some fun in the snow, but don't want to cram your car with a bunch of bulky gear?  Here's a quick solution.  Get some inflatable snow sleds, save space and enjoy the ride.  These inflatable fun toys come in all sizes and shapes.  They are built for both for kids who are just learning the fun of sledding as well as the adults who still want to sled like the kids.  Let's take a look as some of the coolest ones around.
Here's the list of our top rated inflatable snow sleds.
Snowmobile Style Inflatable Snow Sled
First up is a cool one that is made to fit the larger riders.  This inflatable sled is built tough.  Made with the ultra thick K80 snow vinyl designed to withstand temperatures as low as negative 25 degrees!  It has a reinforced rubber base with grooves to provide a straight downhill ride, improving the overall performance.
For your safety and enjoyment there are 2 heavy duty handles for a great grip as you rip down the hill as well as a handy rope to pull it back up for another run.
At a total length of over 75 inches (that's over 6 feet long!) the snowmobile sled is designed for riders 14 and up, but could also work for parents taking kids on their first rides.  It's up to you, so play it safe!
You can also find the snowmobile style inflatable snow sleds in smaller sizes for the kids.  Here's one that may be just the right size for the beginner sledder in the family.
Classic Toboggan Inflatable Snow Sled
Next up, the Toboggan.  Who could go sledding without the classic style toboggan sled.  Only this one is an inflatable toboggan, so none of that bulky stuff to tie down on the top of the car.
This sled can take up to 2 riders at a time and has a max load capacity of 250 pounds.  So yeah, if you are a big guy this might just be your ride this winter.  It also comes with rapid inflate and deflate valves so you don't have to waste your breath for half of the day filling it up.
At 59 inches in length with a rope at the front along with 2 sturdy side handles there's plenty of room.  Also designed for a straight ride down the hill this toboggan sled is built with a reinforced rubber base that is grooved to keep you going.  Like the snowmobile above, this version of the toboggan inflatable sled is manufactured with the same ultra thick K80 snow vinyl so you can be sure it will last in some of the harshest weather.
Alpine Mountain Sleigh Inflatable Snow Sled
Fairly similar to the toboggan, the inflatable alpine sled is designed to carry up to 2 riders or up to 250 pounds.  It's also made of the durable K80 snow vinyl material and a heavy duty reinforced rubber base to withstand the unexpected as you race down the hill.  Specially designed with directional grooves help the alpine sled keep going straight for endless fun!
Snow Tube… an Inflatable Snow Sled?
Yes, it goes without saying that a tube is inflatable.  We just had to include it on the list as an inflatable sled because they are just so popular.  They come in all different types now too!  Check out some of our favs!
Let's get started with a top of the line classic inflatable snow tube.  This is the heavy duty kind you might find at a ski resort's tube run.
Bradley snow tube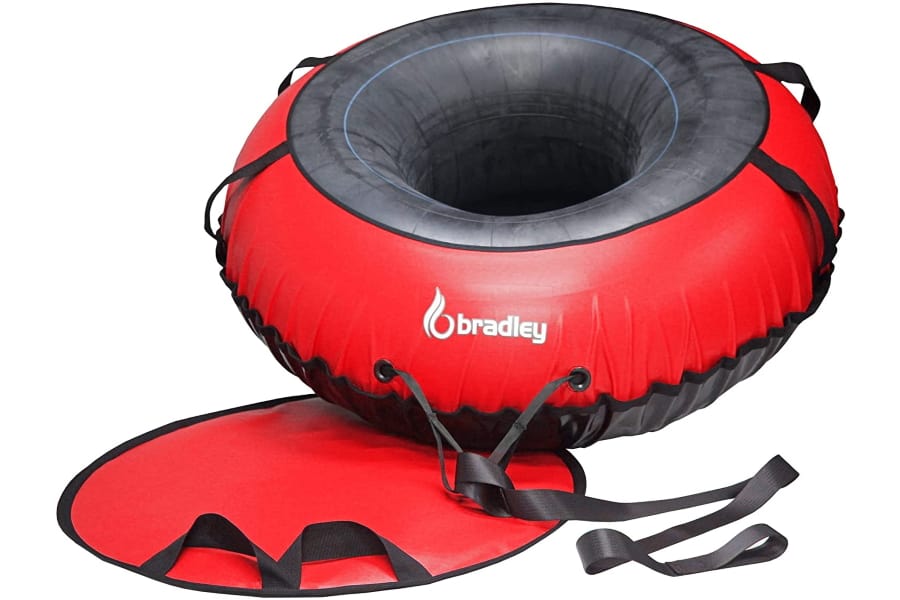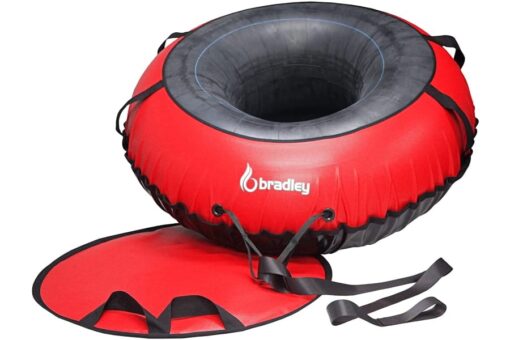 This is the Bradley Ultimate Snow Tube.  You may argue that it's technically not a sled, but it is inflatable and is used just like one.  The ultimate version you see here is 50 inches in diameter when inflated.  It also comes with a padded insert that measures 36 inches in diameter for making the ride a bit smoother.  This is made with a high quality rubber tube and comes with a 1300 denier polyester canvas top coated in vinyl for superior durability from the harmful UV rays and general wear and tear.
The bottom is made with a heavy duty slick industrial vinyl with RapidGlyde anti-friction technology.  The ultimate snow tube is even made to be towable so you don't just have to be heading down the hill to have some fun in the snow.  I can think of all kinds of ways this could be fun!  This is one of the more pricey snow
Standard Economical Inflatable Snow Tube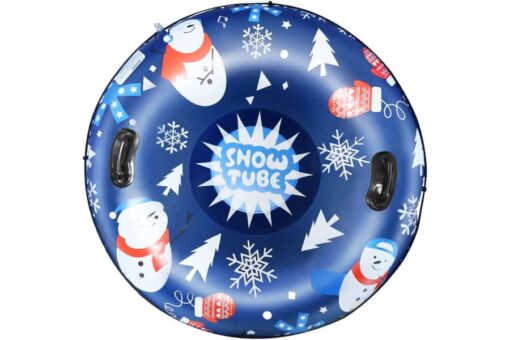 If you are a looking for a quality snow tube that will get the job done this is a good one.  It's still a high quality tube, but not quite like the Bradely mentioned above.  This one is a simple pvc material designed to be tough in the snow.  It also has a bottom made of thicker material to protect it from scratches or other obstacles one might find on the tube run.  Generally this type of tube can be found for around $30 or less so check the price today.
Other Fun Style Snow Tubes you may like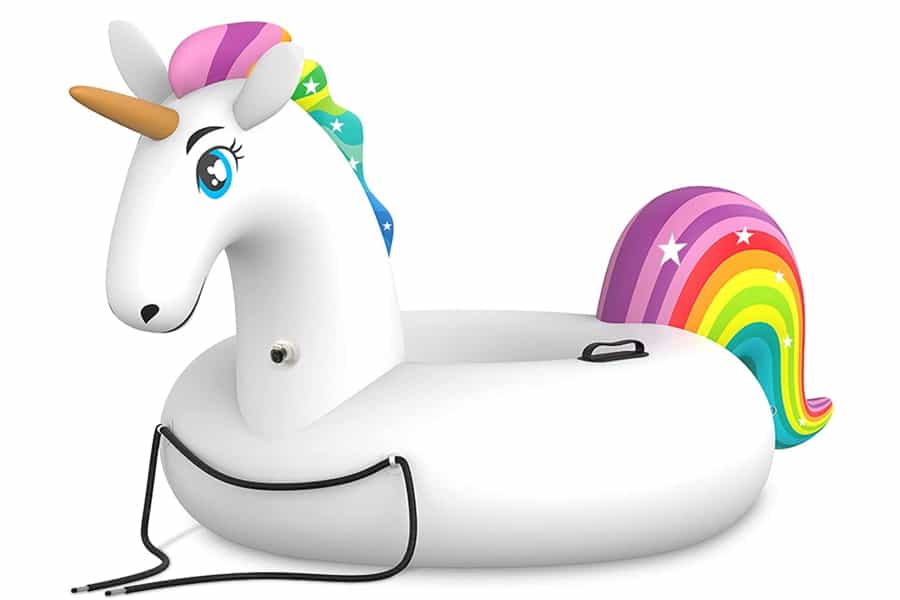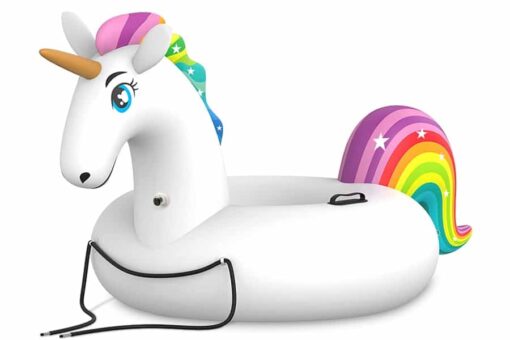 Unicorn Inflatable Snow Tube
What could be more fun than prancing down the hill on your own rainbow unicorn snow tube.  As shown in the picture it does come with a rope, but this one does not come with its own pump, so be prepared.  The heavy duty PVC material is .6 mm thick and this tube measures 47 inches in diameters so it's big enough for kids and adults alike.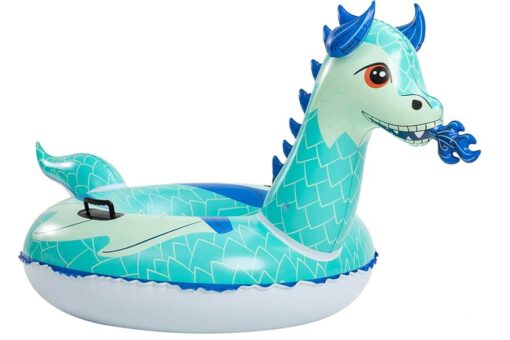 Dragon Inflatable Snow Tube
Similar to the Unicorn the Dragon tube is made from heavy duty .6mm thick PVC material.  It's also 47 inches wide and designed for most riders in the family.  Although, with scales, horns and the blue flame you'll be sure to get a different vibe as you go down the hill.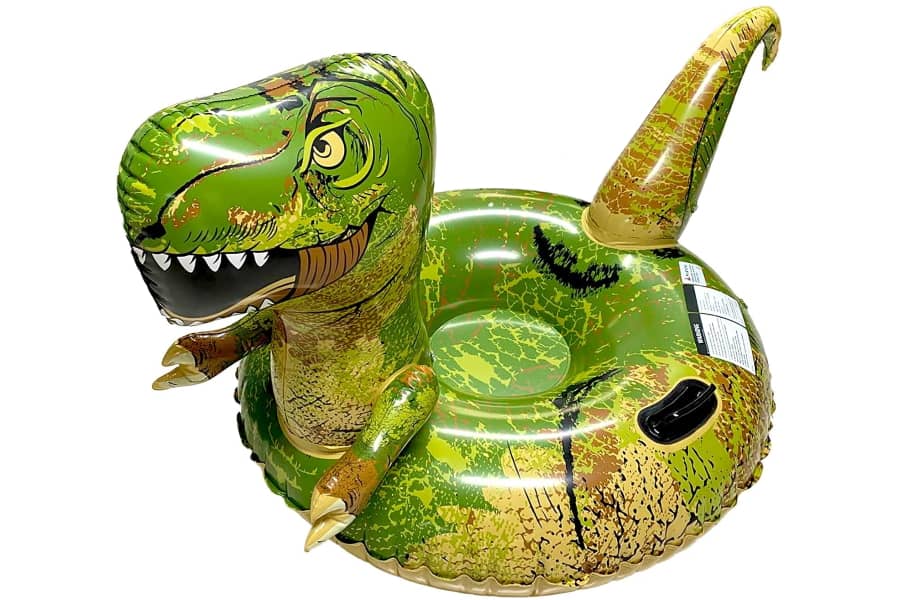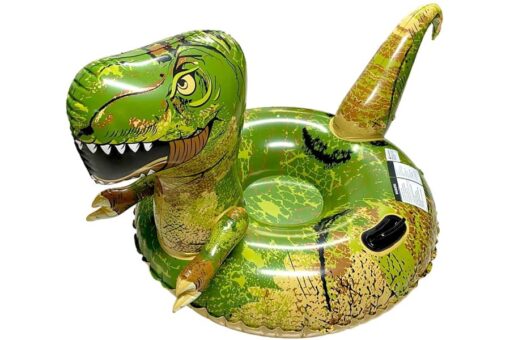 Dinosaur Inflatable Snow Tube
This dino snow tube is made with heavy duty K80 PVC.  It has 2 layers on the bottom for added protection.  The handles are sturdy and strengthened for stability.  They are also large enough to use with gloves, a must for any sledder heading down the hill.  The vivid appearance of this ferocious dino with its sharp teeth and claws is sure to clear the path as you scream down the hill.
Llama Inflatable Snow Tube
Nothing says super cool like a llama snow tube.  By now you've probably guessed that the standard size for the snow tube is about 47 inches.  This one fits right in with that same size.  Also made of .6mm PVC for a strong but smooth ride down the hill.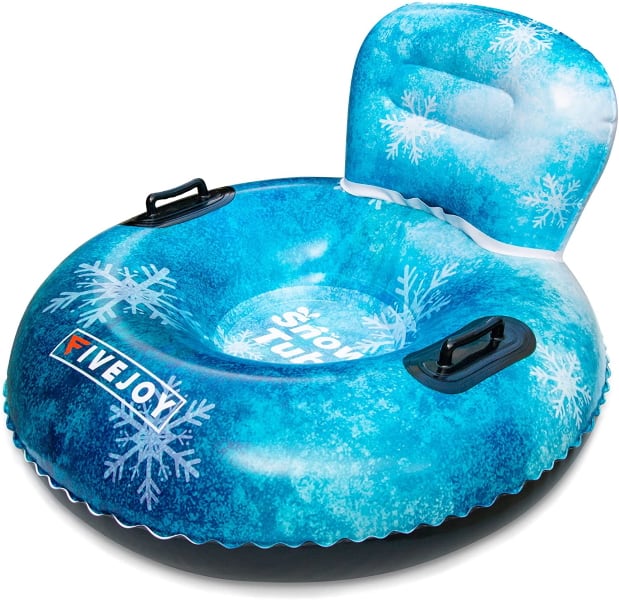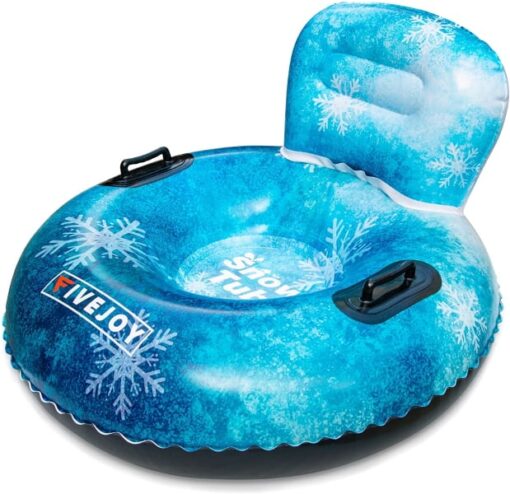 Snow Tube with Backrest
Sometimes instead of just looking chill you need to chill.  What better way to chill as you speed down the hill than with a comfy snow tube fully equipped with a backrest to make the ride really nice! Also measuring in at 47 inches this PVC made tube with a backrest also has sturdy handles for hanging on when you hit the bumps in the road as you surely will with any sledding adventure.
Bottom Line on Inflatable Snow Tubes
Bottom line is that there are a bunch of inflatable snow sleds you can choose from.  Here are a few things to consider as you make your purchase.  One of the best things about all of these is they are smaller and easier to transport than a full sized hard body sled when deflated.  They also make it easy to store until you need them.  Imaging having a garage full of toboggans versus being able to fold up your inflatable toboggan.  It makes a big difference!  Also consider the usage and the terrain you will be sledding at.
I know we all want the perfect sledding hill with a wide open smooth ride, but lets face it, unless you are at a resort with a well groomed run you might be facing some obstacles, especially if the snow isn't deep enough.  Make sure you get one that will be durable enough to meet your needs.  Lastly, consider the rider.  Younger riders may need a smaller sled or tube if going down alone or you may need an extra large one if you intend to sled with your young rider.  Check out the 2 person inflatable snow sleds if that's the case.
Hey!  Thanks for stopping by Wild Child Sports today.  Be sure and check out some of the other great winter sports gear posts.  Here's a few we would recommend.